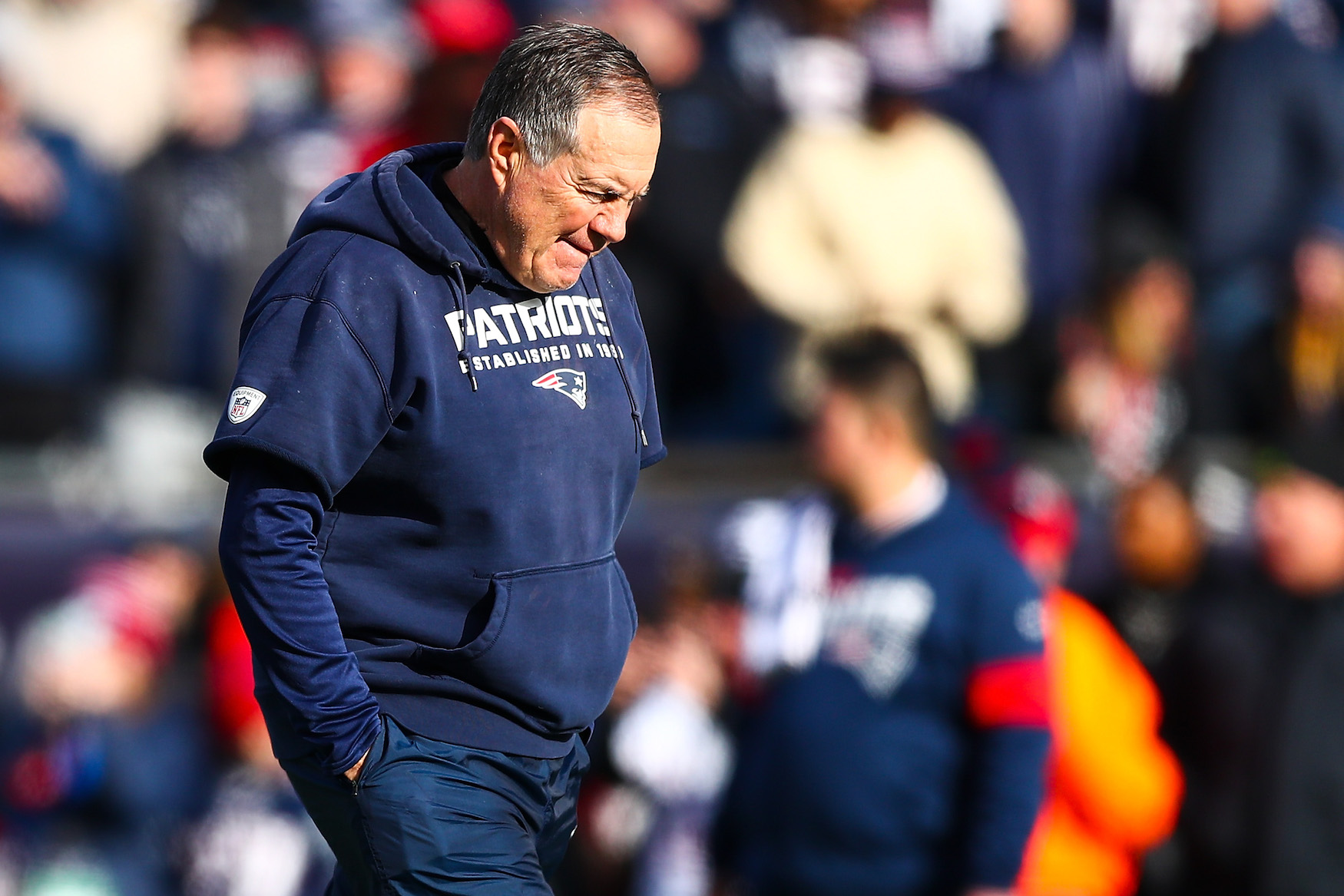 The New England Patriots' COVID-19 Opt-Outs Are Already Scaring NFL Oddsmakers
While Bill Belichick is a coaching legend, NFL oddsmakers are doubting his ability to overcome the Patriots' COVID-19 opt-outs.
While the 2020 NFL season is yet to begin, this year hasn't been the easiest for the New England Patriots. The Foxborough-based club started things off with a playoff loss to the Tennessee Titans; once free agency opened, Tom Brady left town and joined the Tampa Bay Buccaneers. Now, COVID-19 has made things worse, with multiple Patriots players opting out of the upcoming campaign.
Unsurprisingly, the NFL oddsmakers have noticed those changes. For all of the Patriots' recent success, their current betting lines aren't looking too promising.
The New England Patriots were hit hard by COVID-19 opt-outs
When you lose your franchise quarterback during the offseason, there will probably be some growing pains. For the New England Patriots, however, things have continued to get worse.
After signing Cam Newton to a one-year deal, it seemed like Bill Belichick had gotten his roster more or less in order. Thanks to the NFL and NFLPA's new agreement regarding the coronavirus pandemic, his problems multiple in a matter of hours.
In recent days, six New England Patriots have opted out of the 2020 campaign. While there's absolutely nothing wrong with that—NFL players are real human beings with lives and families, not gladiators performing for our amusement—it does put the team in a tough situation.
As noted by ESPN's Mike Reiss, the Patriots will be without "starting right tackle Marcus Cannon, starting safety Patrick Chung, reserve running back Brandon Bolden, fullback Danny Vitale and reserve center/guard Najee Toran." Veteran linebacker Dont'a Hightower also opted out, putting New England in an even worse position.
Oddsmakers are already concerned about the New England Patriots' opt-outs
Coming into the 2020 season, the New England Patriots' stock had fallen a bit. After the latest batch of opt-outs, however, the NFL oddsmakers are even less optimistic about the club's postseason chances.
According to Nick Goss of NBC Sports Boston, the folks at DraftKings Sportsbook don't even think the Patriots are the best team in their own division.
"The Patriots were the betting favorites to win the AFC East after they signed quarterback Cam Newton a month ago, but that's no longer the case following Tuesday's news," Goss explained. "The Buffalo Bills are now slight favorites to claim the division crown with +120 odds, while the Pats are close behind at +130 odds. The Patriots' odds to win Super Bowl LV were +1700 after Newton's signing, and now they're at +2200. New England's odds to reach the playoffs also decreased a little bit."
2020 will put Bill Belichick's coaching skills to the test
If you were picking one person to lead your favorite NFL franchise, Bill Belichick would have to be toward the top of the list. This season, however, will be a new test for the Patriots' coach.
While he was fortunate enough to spend two decades with Tom Brady, Belichick has gained fame for his personnel decisions and creation of 'the Patriot Way.' Although that concept means different things to different people, it's generally understood to be an organizational culture preaching preparation and accountability; that's allowed New England to find continued success by slotting no-name players into the lineup as needed.
Now, that philosophy is being put to the test. Beyond simply replacing Tom Brady, Belichick will have to deal with six, if not more, unexpected roster changes; he'll also be trying to build a team with a smaller training camp roster and no preseason games.
The scale of that challenge, it seems, hasn't been lost on the NFL oddsmakers. Betting against Bill Belichick, however, is always a risky proposition.