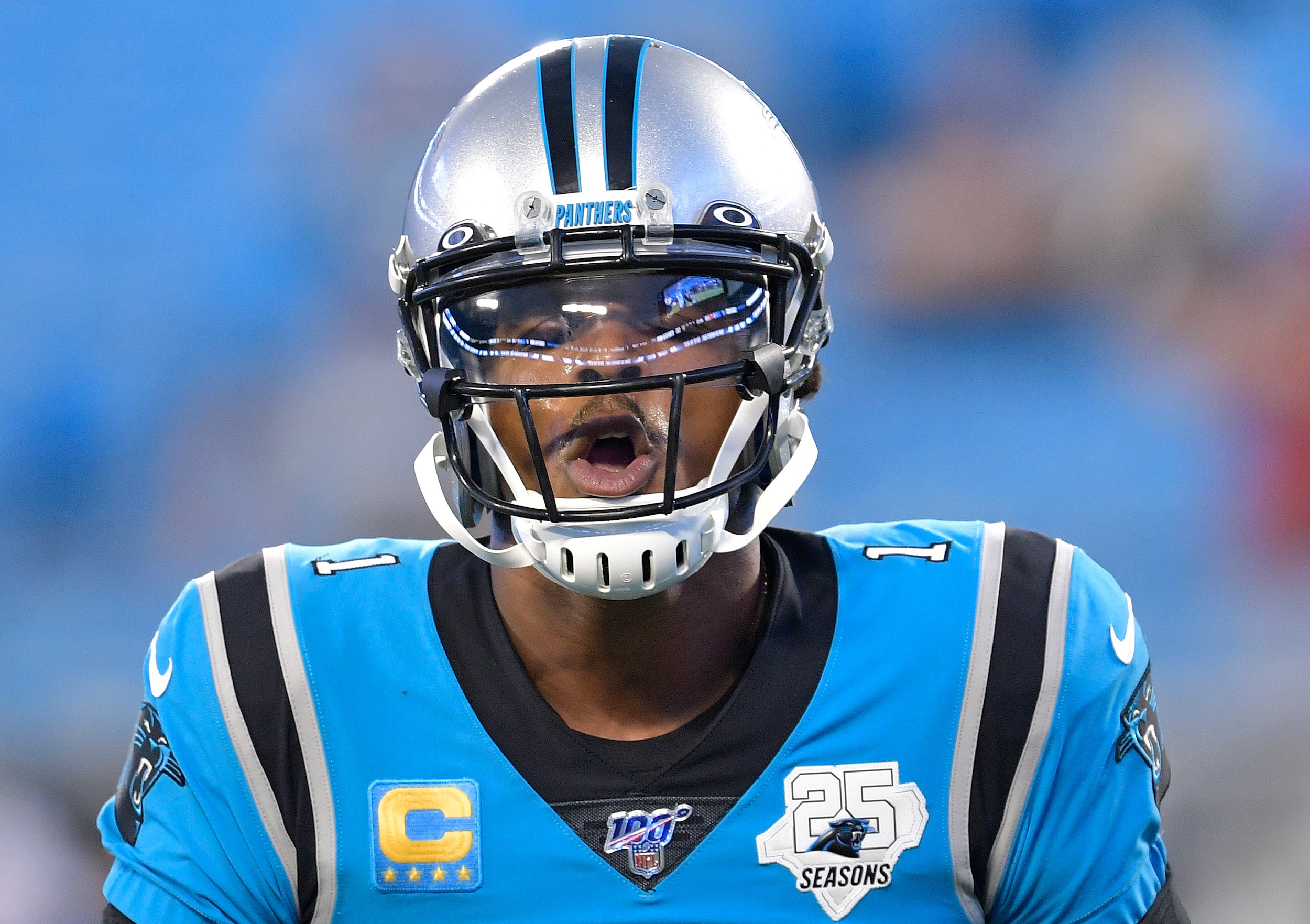 Cam Newton Can Earn $4 Million From the New England Patriots Without Winning a Single Game
While Cam Newton's Patriots contract might not carry a large base salary, he can earn $4 million without winning a single game.
When a former Heisman Trophy winner and first-overall pick hits the open market, you'd usually expect them to land a massive contract. Cam Newton, however, had a different experience. While he did join the New England Patriots, the quarterback only agreed to a one-year deal with a relatively small base salary.
Despite those details—Newton's base salary is just over $1 million for the season—the quarterback does have an opportunity to earn some additional cash this coming year. Thanks to incentives, Cam can take home almost $4 million without winning a single game in Foxborough.
Cam Newton signed a small contract with the New England Patriots
When a football team struggles, most of the blame tends to fall on the head coach and quarterback. That's exactly what happened in Carolina after a disappointing 2019 campaign.
Before the season ended, Ron Rivera lost his job. The Panthers replaced him with Matt Rhule, and, unsurprisingly, the new coach wanted his own quarterback under center. The club allowed Cam Newton to look for a trade and, when no takers materialized, ultimately released him.
While it took Newton some time to land a job—most teams looking for quarterbacks had already handled their business by the time he hit free agency—he eventually signed with the New England Patriots. The contractual details, however, reflect how far Cam's stock had fallen; he agreed to a one-year deal with a base salary of $1.05 million.
An incentive-laden contract
Upon first glance, it may seem hard to understand why Cam Newton would have signed a one-year contract with such a small base salary. Looking at the bigger picture, though, there are two factors at play.
First and foremost, the Patriots will give Newton a chance to prove that he's healthy and still able to lead a team to success. With all due respect to Jarrett Stidham and Brian Hoyer, Cam is the most talented quarterback in New England. Barring any setbacks, he should claim the starting job without too much trouble and get a chance to show what he can do.
Beyond that opportunity, the deal does carry more than $6 million in incentives. As Field Yates laid out on Twitter, Newton can make up to $700,000 simply for being active for all 16 games of the regular season; he'll also take home additional cash depending on how much he plays, his own individual performance, and how far the Patriots go in the postseason.
Cam Newton could make $4 million without winning a single game
Signing a one-year contract with a $1.05 million base salary and $550,000 guaranteed might not seem like a massive payday by NFL standards. When you break down the incentives, though, Cam Newton can make a solid salary without doing anything too challenging.
Even if you set aside the Pro Bowl, All-Pro, and playoff-related bonuses, Newton can still cash in based on his position on the active roster. Even if Cam doesn't win the starting job, he should be more than good enough to stay on the active roster as the backup QB; assuming he's active for all 16 regular-season games, that will add another $700,000 to his bank account. Similarly, it's not a stretch to see him starting every Patriots game in 2020. Even if New England goes 0-16 on the year, his active roster bonuses and playing time incentives will add $2.95 million to the quarterback's base $1.05 million salary.
While Newton's health is the elephant in the room—he hasn't played a 16 game season since 2017—there's still financial upside for the quarterback. Playing on a one-year deal might not be ideal, but earning $4 million, independent of any individual feats beyond simply playing football, isn't a bad consolation prize.