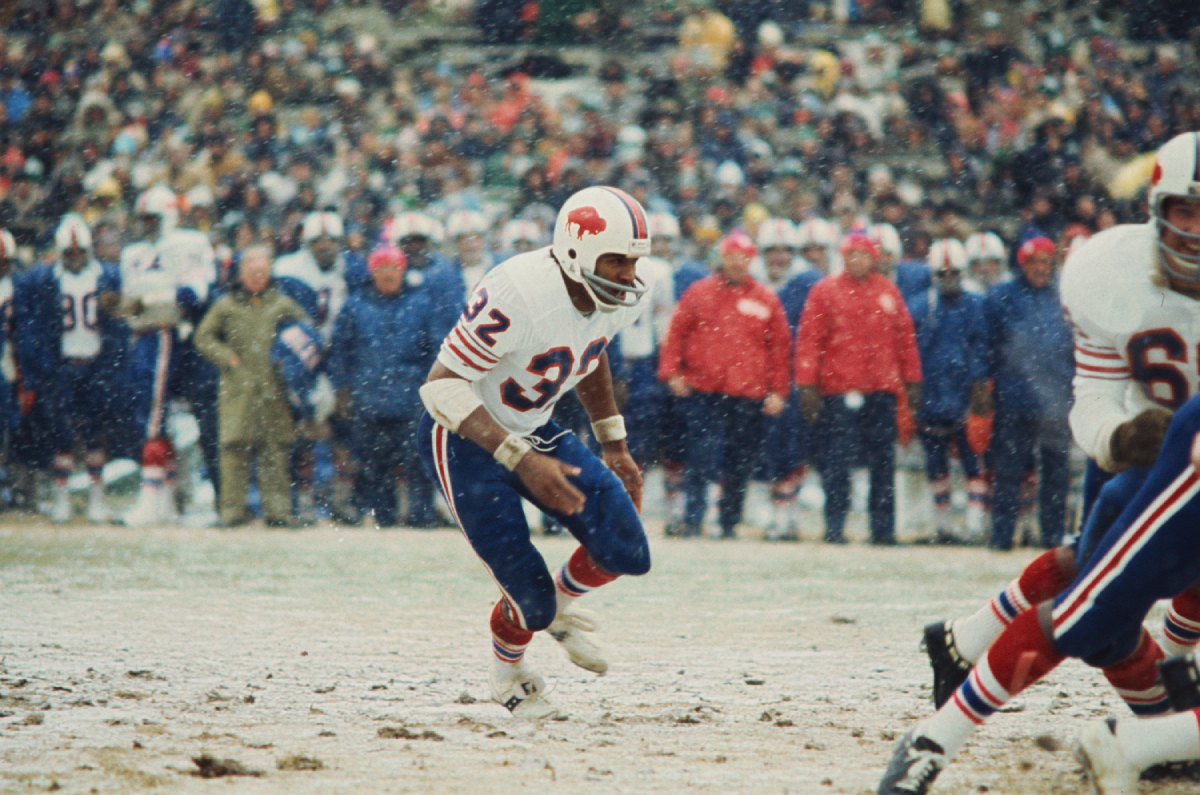 O.J. Simpson Had a Few Things to Say About Cam Newton in New England
Former Heisman Trophy winner and NFL MVP O.J. Simpson weighed in on the New England Patriots' signing of Cam Newton.
O.J. Simpson might not have the greatest reputation in the world, but he does have a solid football background. The NFL Hall of Famer, who spent nine seasons with the Buffalo Bills, had a little bit to say about his former team's AFC East rival, the New England Patriots. Simpson said the signing of former No. 1 pick Cam Newton will prove to be beneficial for the Pats.
O.J. Simpson's football career
In just two seasons at USC, O.J. Simpson rushed for 3,423 yards and 36 touchdowns and collected a Heisman Trophy during the 1968 season. Simpson was fast, elusive, and had a nose for the end zone. He wound up being selected first overall in the 1969 draft by the Buffalo Bills.
With the Bills, Simpson, although he made the Pro Bowl in his first season, struggled early in Buffalo. It wasn't until the 1972 season under new head coach Lou Saban that Simpson busted loose. In 1972, Simpson exploded for 1,251 rushing yards, beginning a string of five straight seasons of running for better than 1,000 yards. In 1973, he rushed for 2,003 yards and 12 touchdowns in a time when the NFL was playing just 14 games per season.
He added a 1,817-yard season in 1975 and racked up 16 touchdowns. From 1972-1976, Simpson led the league in rushing four out of five seasons and made the Pro Bowl each season. In 1973, he was named AP Offensive Player of the Year and was voted the NFL's MVP. He finished his career with 11,236 yards and 61 touchdowns. He was inducted into the Pro Football Hall of Fame in 1985.
Cam Newton picked up by the New England Patriots
When Tom Brady bolted from New England after 20 years to sign a free-agent deal with the Tampa Bay Buccaneers, the Pats were in trouble at quarterback. Jarrett Stidham was slated to have the starting nod over veteran backup Brian Hoyer. Stidham had thrown just four passes in the NFL and one of them was completed to the opposing team.
Cam Newton, however, was still unsigned after the Carolina Panthers released him after spending nine seasons with the team. Newton was the No. 1 player taken in the 2011 NFL draft. He had three Pro Bowl seasons and was named the league's MVP in 2015 when he led the Panthers to a berth in the Super Bowl.
Newton had been very durable throughout his career until last season when a foot injury limited him to two games. After he was released in the offseason, he didn't appear to have drawn much interest until the Patriots signed him in June. He'll go into the season with a legitimate shot as the starter.
Simpson weighs in on Cam Newton with the Patriots
When Cam Newton signed a one-year deal with the New England Patriots at the end of June, it gave the Patriots the veteran quarterback they needed to replace Tom Brady. Some have said Newton will fit in nicely with the team, while others have wondered how he and Bill Belichick will get alone. O.J. Simpson tweeted his thoughts and thinks Newton will thrive in New England.
"Cam Newton is a true superstar," Simpson said in a video posted on his Twitter page. "If he's healthy, oh my God, it will be just as impactful as Brady going to Tampa. A couple of my friends said they didn't think Cam was a Bill Belichick type of guy. I said what does that mean – Belichick type of guy? He likes players. Over the years, he's brought in (Albert) Haynesworth, he brought in Corey Dillon, he brought in Ochocinco, (LeGarrette) Blount. Last year he brought in Antonio Brown.
"As long as you can follow the Patriots rules and produce on the field, that's a Belichick type of guy. Cam Newton is a superstar, and a healthy Cam Newton is going to be big in New England."