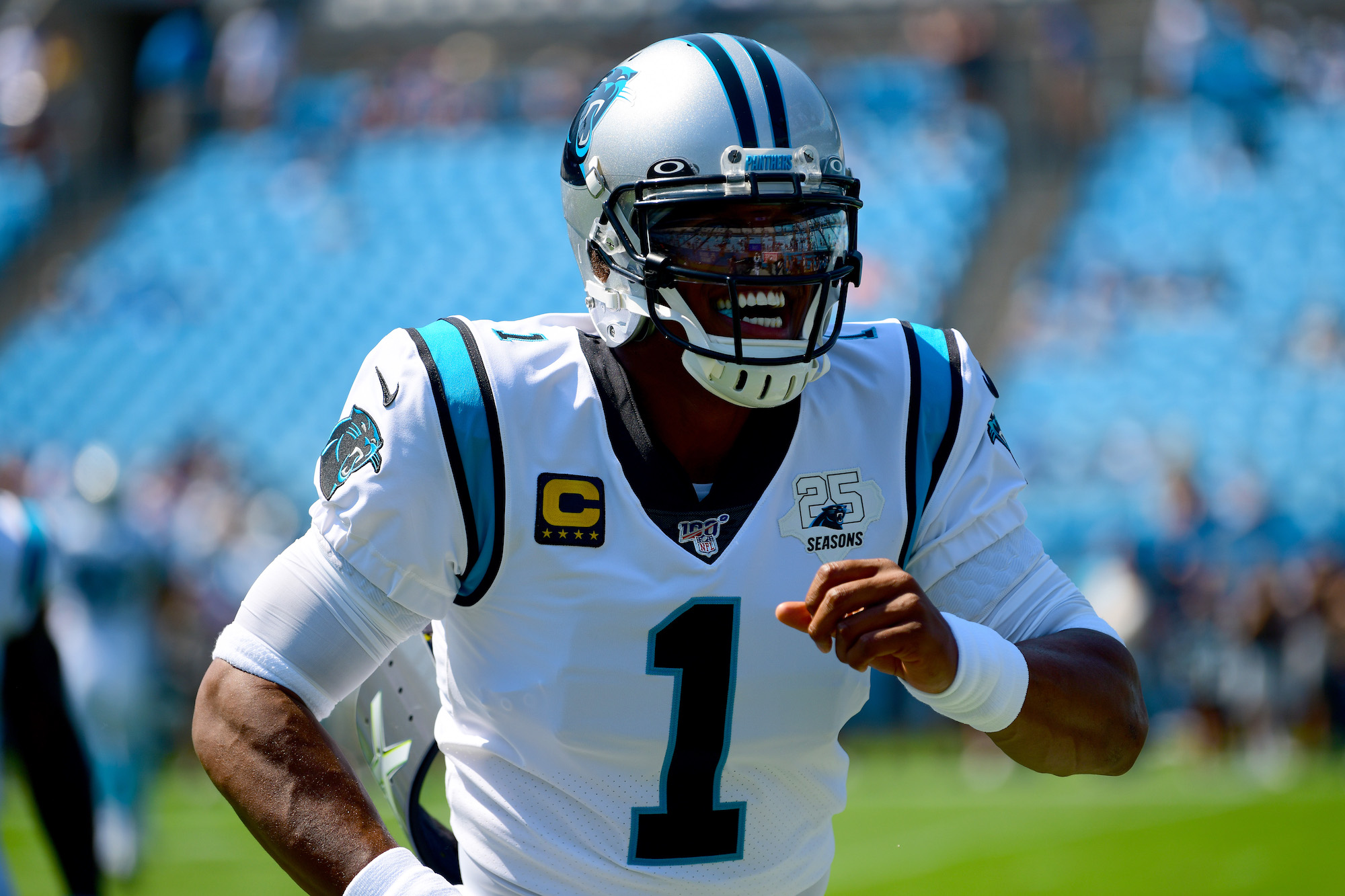 Cam Newton is 'Tired of Being Humble' But That Won't Solve His Biggest Problem
Cam Newton is confident that he can make an impact with the New England Patriots. Positive thinking, however, doesn't address the quarterback's biggest issue.
While confidence is essential for every professional athlete, it's especially important for NFL quarterbacks. When you're standing under center, the game is literally in your hands; there's simply no time for second-guessing when a defensive end is breaking into the backfield. Thankfully for New England Patriots fans, Cam Newton won't be short on self-belief when he takes the field this fall.
In an Instagram post, the new Patriots quarterback announced that he "tired of being humble" and "the best." Unfortunately for Cam Newton, a positive mindset might not solve his biggest problem.
Cam Newton has a chance to prove himself with the New England Patriots
When a former first-overall pick enters free agency, he usually has his pick of teams and commands a massive salary. Cam Newton, however, had a markedly different experience.
The Carolina Panthers began cleaning house last winter, firing head coach Ron Rivera and replacing him with Matt Rhule. The retooling effort continued in the spring as the club allowed Newton to seek a trade; when no takers materialized, they released the quarterback and signed Teddy Bridgewater.
Due to a combination of factors—Newton has had injury issues and hit the open market after most teams had targeted their preferred quarterback—Cam found himself without a job. Everything changed at the tail end of June, however, thanks to the New England Patriots.
While Newton's contract will leave something to be desired financially, it does give the quarterback a decent opportunity. Given the Patriots' depth chart, he'll enter the season with a good shot at the starting job; that means he'll have 16 games to prove he can return to form and earn a bigger contract next for 2021.
Confidence won't be a problem for the quarterback
Due to injuries, we haven't seen Cam Newton hit the gridiron since September. That layoff, however, hasn't affected the quarterback's confidence.
On Sunday night, Newton took to Instagram and made that reality clear. He shared two videos of himself working out; they came with the caption, "Note to self: You are great, you are the best, you are a dog, you are a monster, you are the lion!! – My Conscious. Never let 'THEM' make YOU affect YOU." That wasn't his only message, though.
"I'm getting tired of being humble now," Newton said, as transcribed by Kevin Prata of NFL.com. "I'm really a killa. I'm really a killa," he said. "You hear me? I'm getting tired of all this humble s–t. Because, when you're humble, they start taking advantage of you. When you don't say nothing, they start taking advantage of you. But the hyenas can be doing all of this, the elephants can be doing all of what they do, the giraffes, the antelopes, the chimpanzees, even the gorilla. But there's one [expletive] animal in the jungle and when he roars, everything stops. And I'm about to [expletive] roar."
A foot injury, not confidence, is Cam Newton's latest problem
Every NFL fan wants their starting quarterback to be confident. Cam Newton's issue, however, wasn't related to self-doubt; instead, it's the reality of returning from a season-long foot injury.
As Steven Ruiz explained on For The Win, Cam's poor passing stats can be traced, at least in part, to his foot problem. The quarterback primarily struggled on throws to his right; the quarterback seemed to be compensating for his injury and altering his throwing motion. While Newton should be physically good to go this fall—other players have returned from a Lisfranc injury without too much trouble—that doesn't mean his problem will automatically become a thing of the past.
When an athlete tears their Achilles or ACL, for example, physical recovery isn't their only obstacle; there's also a mental hurdle. While they may be perfectly capable of playing at 100%, it's not easy to ignore a major injury. Newton's foot should be fully healed by Week 1, and he may think he's the lion in the Patriots locker room, but the real test will be his first throw to the right and scramble out of the pocket. Given how essential footwork is to a quarterback's game, nothing can be taken for granted.
At this point, though, we'll have to wait and see Newton will feel and perform in New England. While believing he's the star quarterback on the squad is all well and good, confidence has never been his issue. No one doubts Cam's talent; his ability to stay healthy and return to his MVP-caliber best, however, is a different story.