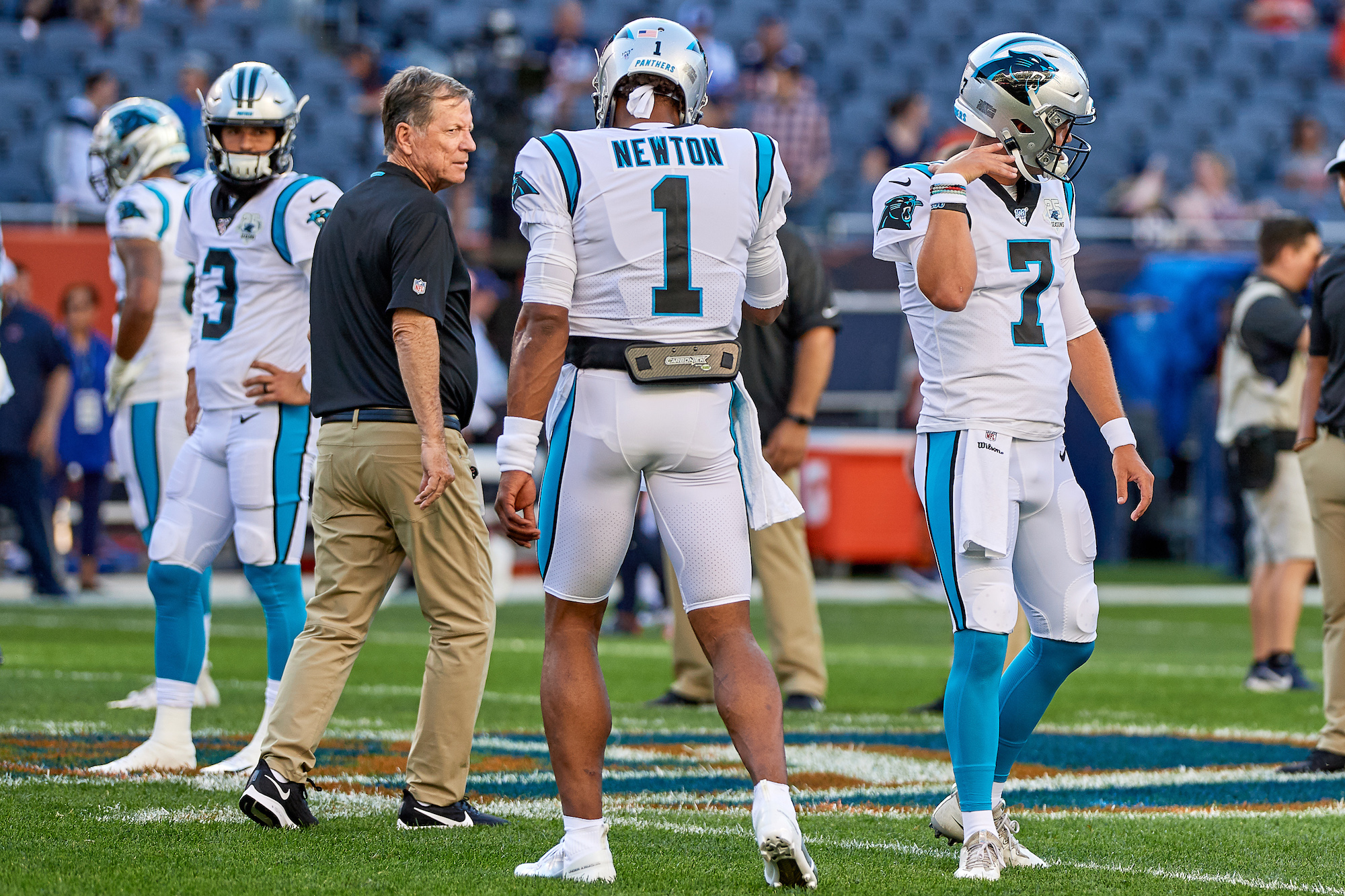 Cam Newton Can Thank Norv Turner for His New Job With the New England Patriots
On Sunday, Cam Newton reportedly came to terms with the New England Patriots. It seems like he can thank Norv Turner for his new contract.
On Sunday night, Adam Schefter first reported that Cam Newton was joining the New England Patriots. While most of the subsequent conversation focused on Bill Belichick and how the deal will affect the AFC East, the quarterback got some help from another coach: Norv Turner.
Turner might not be coaching a team or calling plays anymore, but he was the last offensive coordinator to work with a healthy Cam Newton. His support also played a role in the quarterback landing a new job.
Cam Newton is the newest member of the New England Patriots
Over the past two decades, it has become almost impossible to imagine anyone other than Tom Brady leading the New England Patriots offense. Come the fall, though, there's a good chance we'll see Cam Newton under center.
After a season of speculation, Brady made things official this spring and hit free agency. The quarterback broke up with Bill Belichick and headed south to sign with the Tampa Bay Buccaneers; while there have been a few notable missteps in Florida, he's already made his new club relevant again.
While Bruce Arians was presumably thrilled with his new star, Belichick was left with a decision to make. The 2020 NFL draft came and went without the Patriots landing a quarterback; with each passing day, it seemed more and more likely that Jarrett Stidham or Brian Hoyer would be leading the team onto the field in Week 1. That all changed on Sunday night.
Based purely on his talent, Newton has become the favorite to claim the Patriots starting job. While he'll have to win over his new coaches and remain healthy, landing with the Patriots seems like one of the best possible scenarios.
Norv Turner gave Bill Belichick a rave review
As any Carolina Panthers fan can tell you, it's been a while since we last saw a healthy Cam Newton take the field. Nov Turner, however, hasn't forgotten what the quarterback can do when he's at 100%.
Turner, who served as the Panthers offensive coordinator from 2018 until Ron Rivera's firing in 2019, also isn't shy about praising Newton. Some of that praise, it seems, helped the quarterback land a job in New England.
According to Albert Breer of Sports Illustrated, Cam's former coordinator "was one of the coaches Belichick called for a reference on Newton, with Turner offering a strong recommendation to the New England coach a couple months back." What did Turner tell Belichick on that call? It's probably not too dissimilar to what he told Breer.
"My whole deal is, when Cam was healthy, and we were there with him [in 2018], we were 6–2," Turner explained. "Just look at the tape—played his ass off. His issue was more health than anything else, and from what I understand, I don't think these are health issues that he can't overcome. He's had the time off now. I think he'll be great."
Can Cam Newton live up to Norv Turner's endorsement with the Patriots?
While we'll know how much of a role Norv Turner's endorsement played, Cam Newton landed a contract with the New England Patriots. Now, it will be up to the quarterback to prove his former quarterback right.
As Turner said, no one is really questioning Newton's talent; even if he's not the perfect quarterback, he's automatically ahead of Jarrett Stidham and Brian Hoyer. Injuries, however, are another concern. While it's not exactly fair to blame Cam for a nagging shoulder issue and an unlucky Lisfranc fracture, it's reasonable to ask questions about the quarterback's ability to play for an entire season. Time should have healed those wounds, but we won't know for sure until the season begins.
Through that lens, Newton's one-year deal with the Patriots is good for both parties. New England gets a talented quarterback but doesn't take on too much risk if he suffers another setback. Cam, on the other hand, gets a chance to prove he can stay healthy and win games without tying himself down long term; if he plays well, there's another payday around the corner in 2021 free agency.
Can Cam Newton live up to both Norv Turner's praise and the New England Patriots' expectation? At this point, only time will tell.