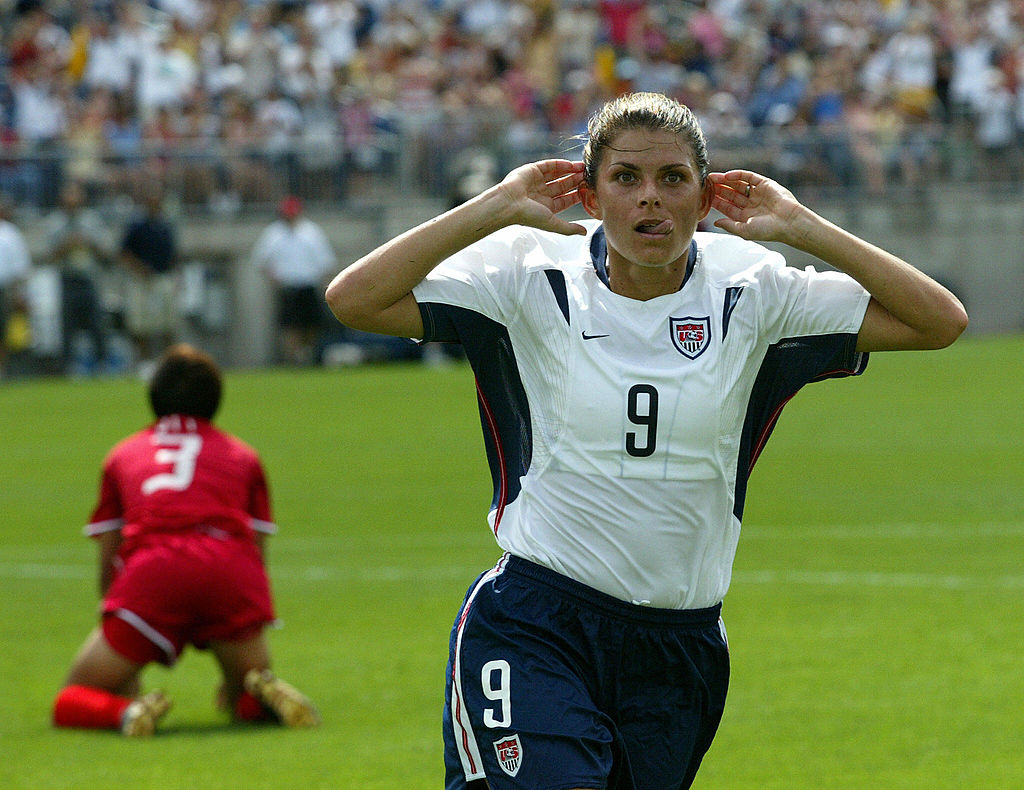 What Happened to Former Soccer Star Mia Hamm?
Soccer star Mia Hamm won two World Cups and two Olympic golds with the United States Women's National Team.
Few women in American team sports have achieved what Mia Hamm did as a longtime member of the women's national soccer team. Overshadowed at times by Michelle Akers and Abby Wambach, Hamm nevertheless piled up impressive numbers for the most accomplished women's team in the world.
Mia Hamm was a key piece of the USWNT's success
Above all else, Mia Hamm was a winner. She twice earned Olympic gold medals and played on two World Cup champions – earning the tournament MVP award in 1995 — in a career with the national team that began when she was just 15 years old.
Hamm played for the national 276 times from 1987-2004 and owned the record for most international goals scored by a man or woman until Wambach surpassed her total of 158 in 2013. Her exploits led to Hamm being selected the FIFA World Player of the Year in 2001 and 2002 after being honored as the U.S. Soccer Federation Female Athlete of the Year five consecutive times beginning in 1994.
For all the scoring that Hamm did she was also the key playmaker at forward and midfield, racking up a USWNT-record 144 assists before retiring at the age of 32.
Hamm and Michelle Akers were the only Americans, male or female, selected to the FIFA Player of the Century Team in December 2000.
The USWNT wasn't her first dynasty
As hard as it may be to imagine, Mia Hamm played on a squad that was even more dominating than the United States Women's National Team. She was the centerpiece of the enormously successful University of North Carolina women's team while the Tar Heels were at their peak.
Hamm accumulated 103 goals and 72 assists from 1989-93 as coach Anson Dorrance's UNC juggernaut won four straight NCAA Division I championships by rolling up a 92-1-2 record. She led the nation in scoring three times and finished as the Atlantic Coast Conference's all-time leader in goals, assists, and points.
Hamm, who finished her college career with 11 hat tricks, earned her degree in political science in 1994.
Mia Hamm has remained connected to soccer
Mia Hamm was divorced from her first husband in 2001 after being married for six years. She married now-retired Boston Red Sox shortstop Nomar Garciaparra in 2003 and gave birth to twin girls in 2007 and a son in 2012.
Although she retired from playing in 2004 shortly after the Athens Olympics, at which she was selected to carry the American flag into the closing ceremony, Hamm has remained associated with the sport in several ways. She is on the advisory board of A.S. Roma of Italy's Serie A and has a stake in the Los Angeles FC of Major League Soccer alongside fellow celebrities Magic Johnson and Will Ferrell.
Hamm and two other former national team members, Kristine Lilly and Tisha Venturini Hoch, formed TeamFirst Soccer Academy to offer soccer clinics for girls and fantasy camps for older females. Hamm was selected for induction into the National Soccer Hall of Fame in 2007, her first year of eligibility.