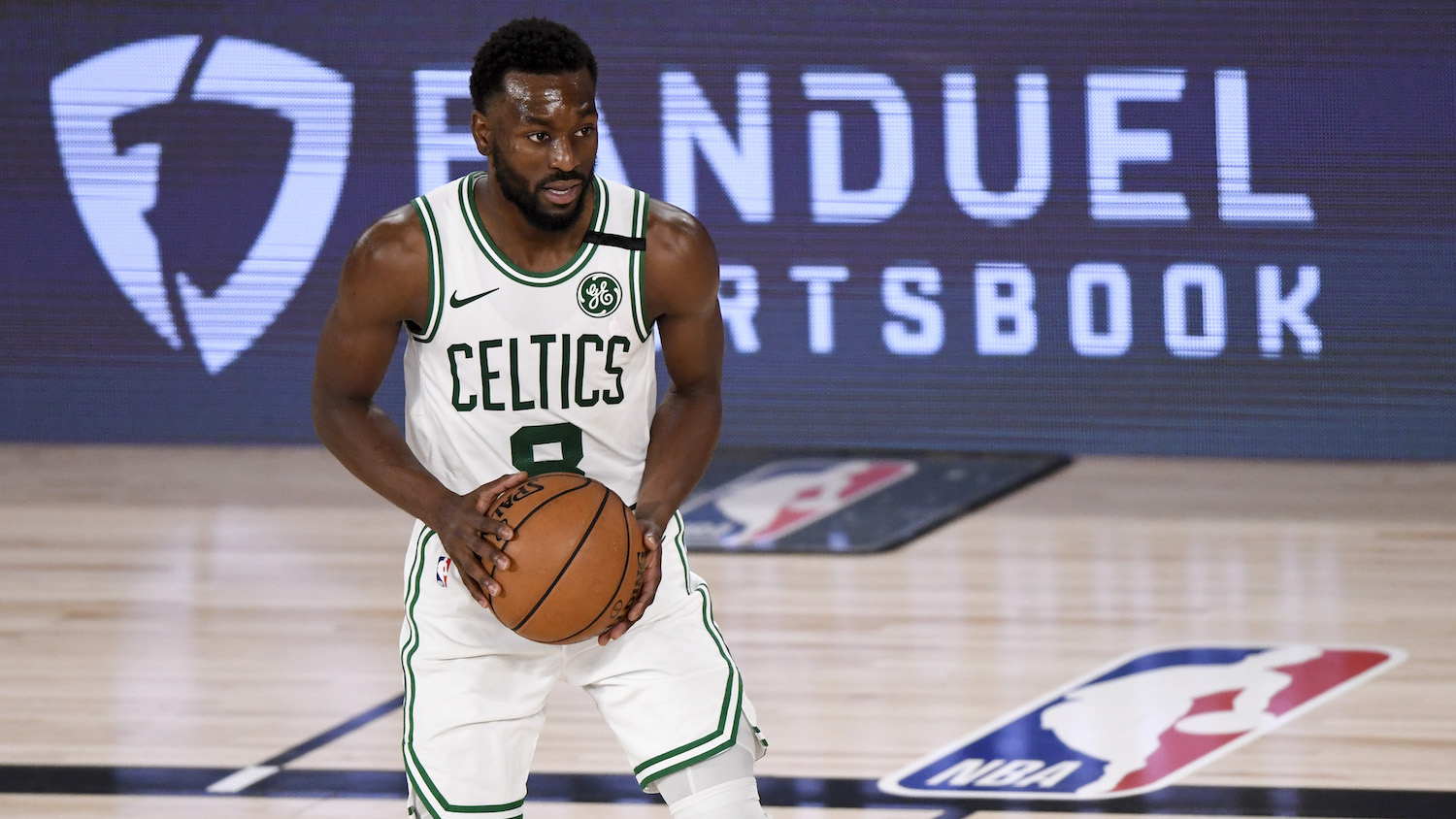 What Happened to Kemba Walker and Why Isn't He Playing for the Boston Celtics?
Kemba Walker is a four-time All-Star guard beginning his second season with the Boston Celtics. He won't be in the lineup to open the 2020-21 NBA season. What happened to him?
Last year, after playing his entire career in Charlotte, perennial All-Star guard Kemba Walker joined the Boston Celtics. He continued the trend he started three seasons earlier and made his fourth consecutive All-Star team. Walker played well but dealt with an injured knee throughout much of the season, which resulted in limited minutes during the NBA restart in Orlando.
This season, the Celtics and their fans envisioned a healthy Walker returning to the lineup and hopefully leading the team one step further to to the NBA Finals. However, thoughts of the playoffs are on hold as the Boston Celtics will tip off the 2020-21 NBA season without their starting guard in the lineup and he likely won't see any action in the foreseeable future.
Kemba Walker becomes perennial All-Star with Charlotte
After Charlotte drafted Kemba Walker with the No. 9 overall pick in the 2011 NBA Draft, the former University of Connecticut point guard quickly established himself during his rookie season, scoring 12.2 points and dishing out 4.4 assists per game. 
For the next three seasons, Walker showed consistency as he averaged 17 points per contest. Then, in the 2015-16 season, his points-per-game average crossed the 20-point mark for the first time and has stayed above it since. In 2016-17, as the main offensive weapon for the Charlotte Hornets, he averaged 23.2 points, 5.5 assists, and 3.9 rebounds per game. He earned his first All-Star nomination. 
Walker was a stalwart in the Charlotte lineup, especially during the last four seasons, when he played in 322 of the team's 328 games. Following the 2018-19 season, in which he scored a career-best 25.6 points per game, the Hornets and Celtics agreed to a deal that sent the veteran to Boston with a contract of $141 million over four years. 
Kemba Walker joins Boston Celtics last season
In Boston, Kemba Walker played as advertised, including a pair of 40-point efforts in December and January. In February, after making his fourth consecutive All-Star appearance, Walker began experiencing knee issues, which have dogged him for much of his career and required multiple surgeries.
Upon returning from the pandemic-induced hiatus and his left knee still not fully healed, medical staff limited Walker's minutes at the Walt Disney World bubble in Orlando. Despite his best efforts, it was apparent he was playing on a bad wheel.
There was no better evidence of that than Game 6 of the Eastern Conference Semis when Kemba Walker scored just five points in 51 minutes of action. Against the Miami Heat in the Eastern Conference Finals, he bounced back and averaged 19.7 points, just shy of his season average of 20.4, but it still wasn't enough as the Celtics lost in six games.   
What happened to him, and why is he not playing for Boston Celtics? 
In October, just days after wrapping up the 2019-20 season in the bubble, Kemba Walker received a stem cell injection in his knee. As part of the rehabilitation process, doctors put him on a 12-week strengthening program. 
In early December, Boston officials said they would provide a progress report on his status in early January. Until then, he would be sidelined. On Tuesday, Celtics head coach Brad Stevens provided reporters with an unofficial yet very concerning update on Walker's status, suggesting he was still "a long way away." 
While not good news, Kemba Walker has overcome knee issues in the past and managed to persevere to the tune of four straight All-Star seasons. Celtics fans are hoping he can replicate those efforts, and maybe this time it might end with an NBA title. 
Stats courtesy of Basketball Reference.