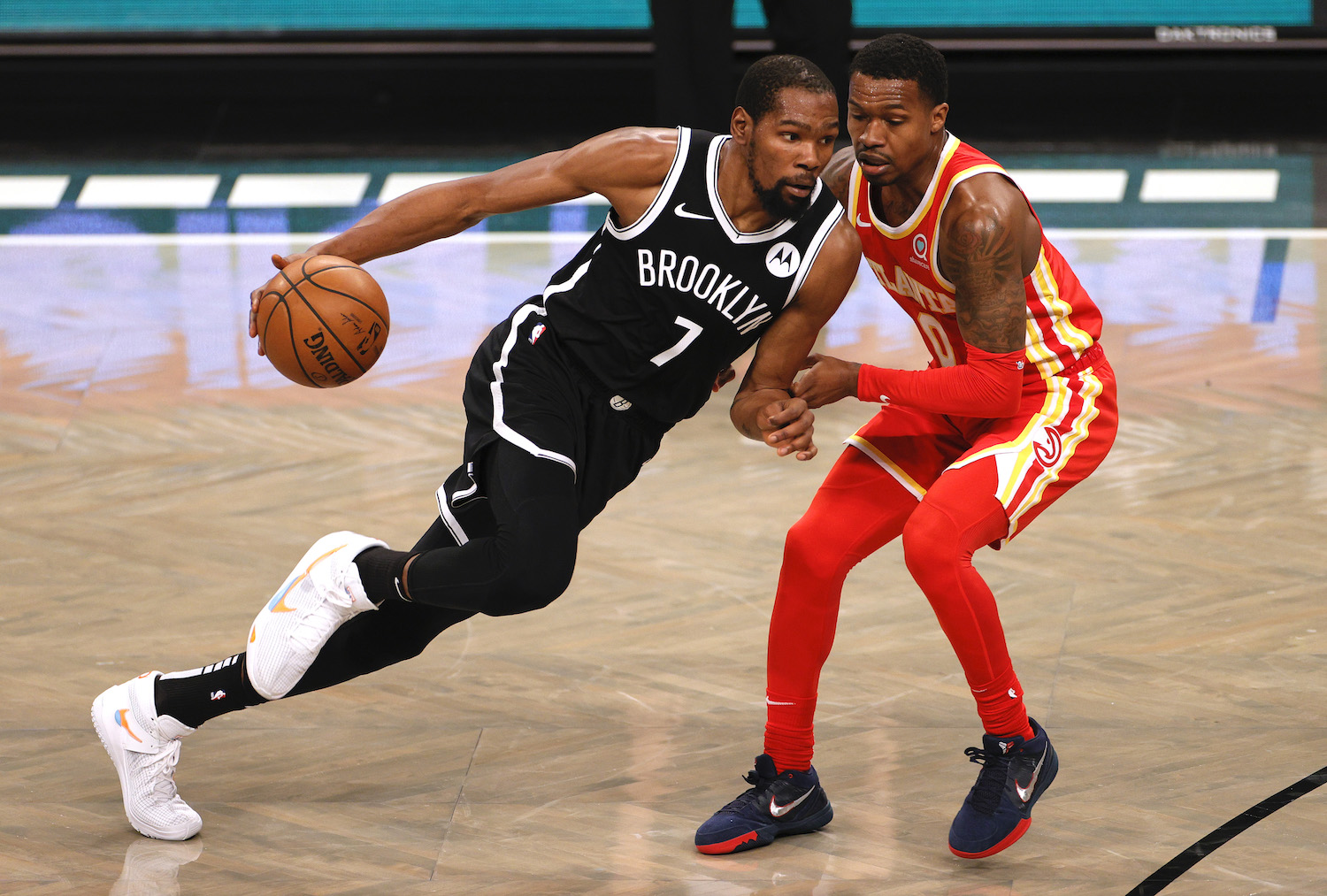 What Happened to Kevin Durant and Why Isn't He Playing for the Brooklyn Nets?
Kevin Durant missed all of last season with the Brooklyn Nets. In six games this season, he's averaged 28 points per game. Now he's out again. What happened to him?
Since NBA superstar Kevin Durant joined the Brooklyn Nets, he's spent more time on the bench than he has on the court. After missing the entire pandemic-riddled 2019-20 season while recovering from an Achilles injury, Durant debuted for Brooklyn on December 22. Just two weeks later, and the 10-time NBA All-Star is back on the shelf. What happened to him, and why isn't he playing for the Nets?     
Kevin Durant's impressive career 
Since making his NBA debut in 2007-08, Kevin Durant has been one of the game's best players. Individually, he's won every award there is, including Rookie of the Year (2008), NBA MVP (2014), and four-time scoring champion in 2010-2012 and 2014. 
He's also added the most important team hardware a couple of times, winning the Larry O'Brien Trophy with the Golden State Warriors in 2017 and 2018. Durant won the NBA Finals MVP both seasons.
The Warriors and Kevin Durant got painfully close to earning a three-peat during the 2018-19 NBA Finals against the Toronto Raptors, but the former University of Texas star first suffered a calf strain and then followed it up with a more serious Achilles injury. The Warriors lost in six games. 
Kevin Durant one of the first athletes to test positive for COVID 
Kevin Durant signed with the Brooklyn Nets in July 2019 but didn't play the entire 2019-20 season as he recovered from the Achilles injury. In March 2020, despite not playing, Durant made headlines when he tested positive for COVID-19 less than a week after Rudy Gobert was identified as patient zero for the NBA, which led to the league suspending operations.
Durant was one of four Nets players who tested positive at the time, although he experienced no symptoms. 
"Everyone be careful, take care of yourself and quarantine," Kevin Durant told The Athletic. "We're going to get through this."
Why is he not playing for the Nets?
After missing the entire 2019-20 NBA season, Kevin Durant made his much-anticipated Brooklyn Nets debut on December 22 against his former club, the Golden State Warriors. 
Durant looked solid and finished the 125-99 blowout win, scoring 22 points, grabbing five rebounds, and adding three assists. He was just getting warmed up. The future Hall of Famer posted a season-best 33 points in a win over Atlanta on December 30, and in six games, has averaged 28.2 points per contest. 
However, Kevin Durant won't be adding to those numbers anytime soon as his offensive production will be sidelined for the next seven days because he is currently in quarantine, following a recent exposure to someone who tested positive for COVID-19. 
ESPN reported Durant continues to register virus antibodies and tested negative for the virus three times in recent days. He is scheduled to miss the next four games against Utah, Philadelphia, Memphis, and the club that drafted him, Oklahoma City.   
As long as Durant continues to test negative, the soonest he would be eligible to return is for a matchup on January 12 against the Denver Nuggets.