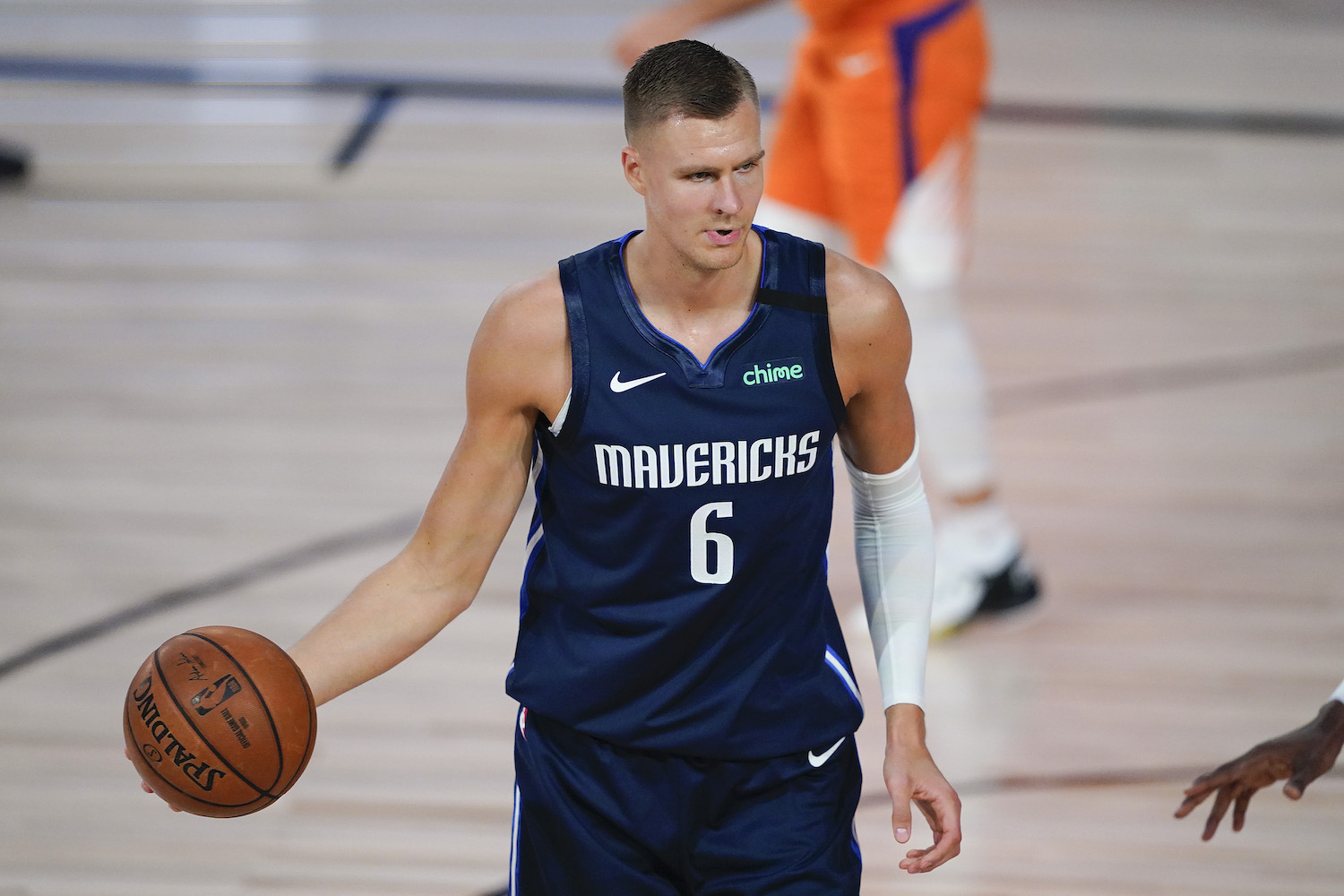 What Happened to Kristaps Porzingis and Why Is He Not Playing for the Dallas Mavericks?
In 2019-20, Kristaps Porzingis played his first season with the Dallas Mavericks and averaged more than 20 points. He's not in the lineup early in the 2020-21 NBA season. What happened to him?
Last year, after playing the first three seasons of his career in New York City with the Knicks, Kristaps Porzingis started for the Dallas Mavericks. He played well, averaging more than 20 points before he suffered a season-ending knee injury during the playoffs in Orlando. 
This year, the Mavericks and their fans envisioned a healthy Porzingis returning to the lineup and teaming up with Luka Doncic with the hopes of making a deeper run in the NBA playoffs. However, any thoughts of the playoffs are temporarily on hold to start the 2020-21 NBA season with the 7-foot-3 power forward on the sideline and a return date that remains a mystery.
Kristaps Porzingis becomes All-Star in New York
It wasn't long after the New York Knicks selected Kristaps Porzingis with the No. 4 overall pick in the 2015 NBA Draft that the Latvian lived up to the hype. During his first NBA season, the 20-year-old Porzingis averaged 14.3 points, 7.3 rebounds, and 1.9 blocks per game. He finished second in Rookie of the Year voting and earned first-team All-Rookie honors.
Porzingis continued his ascendency in year two for the Knicks. That season he scored 18.1 points, hauled in 7.2 boards, and blocked 2.0 shots per contest. In 2017-18, he earned his first All-Star appearance and finished the season, scoring 22.7 points with 40 percent from 3-point range, grabbing 6.6 rebounds, and blocking 2.4 shots per game. 
Unfortunately, Kristaps Porzingis' season ended prematurely in February when he tore his ACL. He missed the end of the season and the start of the 2018-19 campaign. Then, midseason, Porzingis met with the Knicks and expressed his desire to leave. 
The two parties worked out a deal that sent him to the Dallas Mavericks in a multiplayer trade that also included Tim Hardaway Jr., Trey Burke, and Courtney Lee to Dallas in exchange for DeAndre Jordan, Wesley Matthews, Dennis Smith Jr., an unprotected 2021 first-round draft pick, and an additional top-10 protected 2023 first-round draft pick.
Kristaps Porzingis joins Mavericks last season
Kristaps Porzingis joined the Dallas Mavericks in January 2019. He didn't play the entire 2018-19 season and made his Mavericks' debut in October at the start of the 2019-20 season when he scored 23 points and had four rebounds in a win over the Washington Wizards. 
Porzingis had several impressive performances early in 2020, including a 38-point, 12-rebound effort against the Indiana Pacers. When the pandemic shut down the NBA in March, he was averaging more than 20 points and 9 rebounds per game. 
In Game 1 of the first-round playoff series against the LA Clippers, Kristaps Porzingis had deja vu and struck fear into the Mavericks' front office when he went down with another knee injury. He managed to play in Games 2 and 3 but was then sidelined with a torn meniscus. He missed the rest of the series and Dallas bowed out in six games. 
What happened to him, and why is he not playing for the Dallas Mavericks? 
In October, Kristaps Porzingis went under the knife to repair the damaged knee. He immediately began rehabilitation. In November, Mavericks president Donnie Nelson said January 1 was a target date for Porzingis to resume basketball activities. 
Dallas head coach Rick Carlisle provided an encouraging update this week to Mavericks fans on Porzingis' approaching return. 
"He looks good," Carlislie said in an interview with reporters. "He's enthusiastic. He's got a great vibe about how he's feeling and how he's progressing. There's no timetable yet. It's going to be at least January, but there are a lot of good signs."
While Kristaps Porzingis' absence will undoubtedly be felt to start the season, he's proven before he can overcome a serious knee issue and produce at a high level. Mavericks fans and Doncic are expecting the same from Porzingis if there's any chance of the team being a real threat in the Western Conference. 
All stats courtesy of Basketball Reference.