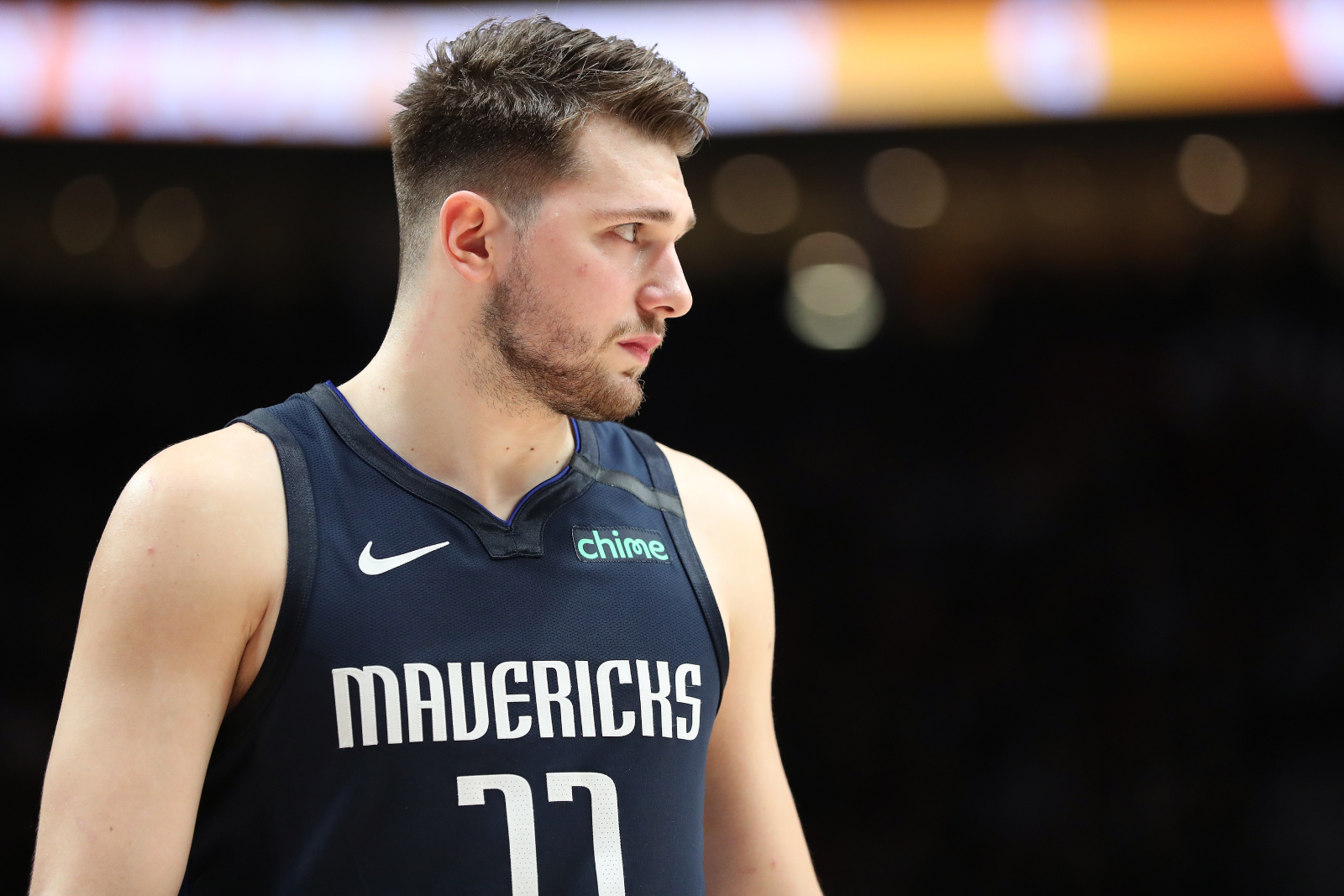 Luka Doncic's Agent Has Paid Millions for His Massive Mistake
Luka Doncic has a chance to make a ton of money in the NBA. However, his agent Bill Duffy has already paid millions for his big mistake.
Luka Doncic is one of the best young players in the NBA and has an opportunity to make a bunch of money in the league. His agent, Bill Duffy, will most likely help him make all that money, too. However, Duffy made a big mistake years ago with a client of his — former NBA player Anthony Carter — that has ultimately cost him $3 million.
Anthony Carter was an OK NBA player
Anthony Carter certainly wasn't a player like Luka Doncic, but he was good enough to hang around in the NBA for quite some time. 
Carter's NBA career began in 1999-2000 with the Miami Heat. He averaged 6.4 points per game and 4.3 assists in his first two seasons but only averaged 4.2 points per game and 4.4 assists in the next two seasons.
Carter ultimately became a journeyman. He played for the San Antonio Spurs, Minnesota Timberwolves, Denver Nuggets, New York Knicks, and Toronto Raptors, spending over a decade in the league.
His best season came for the Denver Nuggets in 2007-08 when he averaged 7.8 points per game and 5.5 assists.
Basketball-Reference estimates that he made somewhere near $17 million in his career. In comparison, Luka Doncic will make more than that in 2020-21 and 2021-22 combined.
However, Carter actually made a little bit more than that $17 million, but almost didn't, thanks to Bill Duffy's big mistake.
Bill Duffy made a big mistake with Anthony Carter's contract
According to The New York Times, Carter planned to exercise his $4.1 million player option to stay with the Miami Heat following the 2002-03 season. This was a lot of money back then for a guy who didn't have nearly the amount of talent as someone like Doncic or even a solid role player.
The New York Times put it frankly: "Picking up the option was a no-brainer. Carter was coming off a disappointing season in which he averaged 4.1 points on .356 shooting in 49 games. For a player with that stat line, $4.1 million was a fortune."
However, Duffy made a colossal mistake. He did not notify the Heat of Carter's decision by the deadline. Carter became a free agent.
The New York Times reports that the mistake cost Carter $3 million (at least). He then took a minimum contract with the San Antonio Spurs, which was worth around $750,000. That's compared to the $4.1 million he would have received had he stayed in Miami.
While this mistake was supposed to cost Carter a ton of money, it has actually cost Duffy money. He ultimately did the right thing and paid for what he did (or didn't do). Duffy set up a payment schedule in which he paid Carter the $3 million he missed out on, straight out of his own pocket.
Duffy finally finished paying Carter this year, per the Times.
The move ended up being extremely valuable to the Miami Heat. According to the New York Times, the Heat used the extra cap space to sign Lamar Odom. Then, the next year, Odom was at the center of a trade for Shaquille O'Neal, who ultimately led the Heat to a championship.
The Heat certainly benefited from Duffy's mistake. But how is Duffy doing?
Bill Duffy is still thriving, represents Luka Doncic and other stars
Carter is now an assistant coach with the Heat, and he never even considered firing Duffy.
"I didn't jump to any conclusions," Carter said, according to The New York Times. "I didn't say, 'What happened?' Because I knew what type of person he was. Things happen."
Duffy has still continued to become a great agent, too, and it has been because of the fact that he owns up to his mistake.
"I took ownership of it and took care of it and he was taken care of," Duffy said, according to The New York Times. "I've had Wall Street people call me and say: 'Man, that happens all the time. Everybody tries to hide from it. They try to pass the buck. You stood up for it. You took care of it.' I actually gained a lot of respect from people."
He now even represents NBA superstar Luke Doncic, as well as Rajon Rondo, and others according to the New York Times.
Doncic won the 2018-19 Rookie of the Year award and became one of the NBA's best players in 2019-20. He averaged 28.8 points per game, 9.4 rebounds, and 8.8 assists, setting himself up for a massive payday in the future. Additionally, Rondo has made an estimated $107.5 million in his career.
Bill Duffy is still a successful NBA agent and is still good at what he does. It all seems to be because of that massive mistake he made, too, as he didn't shy away from owning up to it.
Stats courtesy of Basketball Reference; Contract numbers courtesy of Spotrac