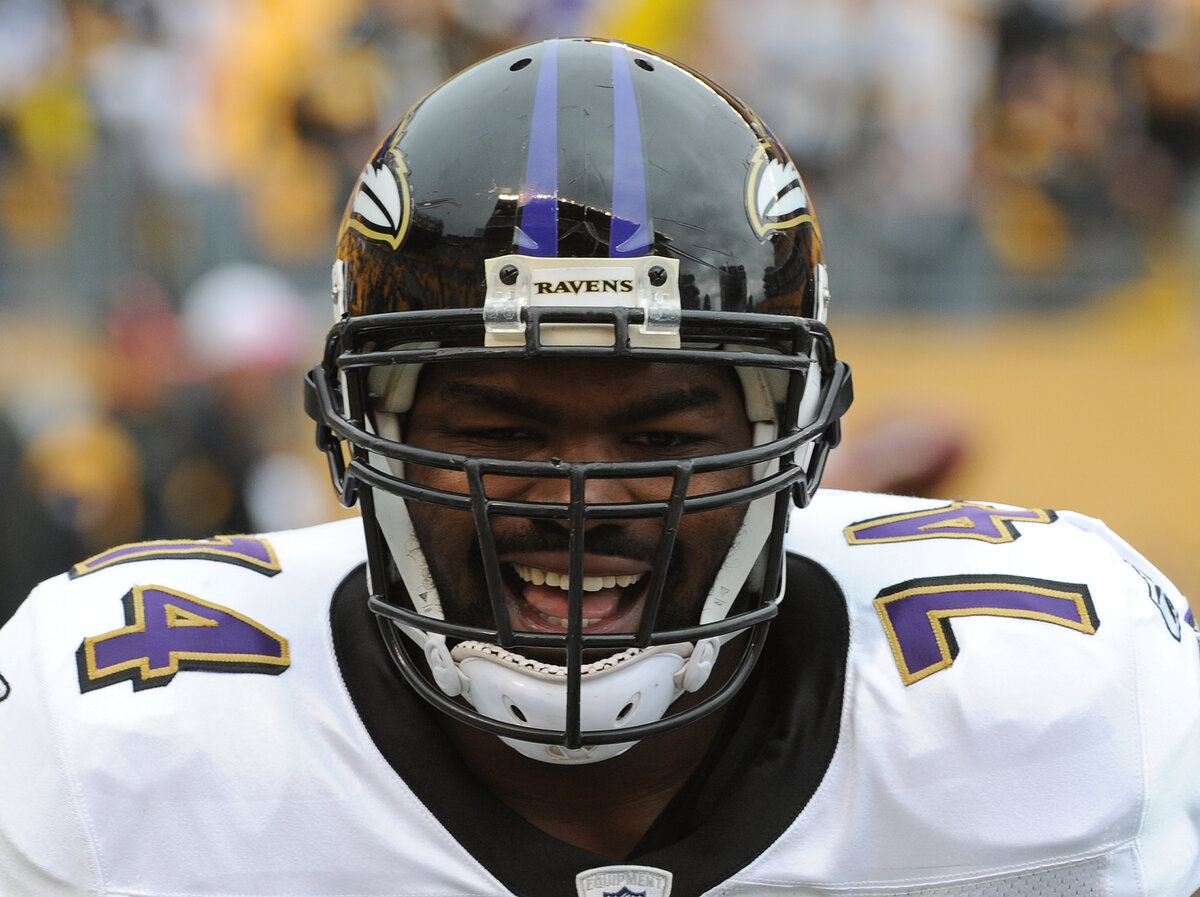 What Happened to Michael Oher, the Super Bowl Champion Who Inspired 'The Blind Side'?
Michael Oher rose to prominence both as the Baltimore Ravens' left tackle and subject of 'The Blind Side.' What is Oher doing in retirement?
Former Baltimore Ravens offensive lineman Michael Oher is known for more than serving as Joe Flacco's blindside.
A first-round pick in 2009, Oher — who spent five of his eight NFL seasons with the Baltimore Ravens — inspired The Blind Side, an Academy-Award-winning film about his journey from at-risk teenager to All-SEC lineman at Ole Miss.
Over a decade after winning a Super Bowl ring alongside Ray Lewis and the Ravens, where is Oher now?
Michael Oher played eight seasons in the NFL
The Baltimore Ravens had an excellent run in the late 2000s of drafting numerous future impact starters, including quarterback Joe Flacco and powerful running back Ray Rice.
Michael Oher joined the club in 2009 when the Ravens used the 23rd overall pick on the All-American offensive tackle from Ole Miss. Oher didn't miss a game in his first six seasons and grew into one of the league's top young offensive linemen.
Baltimore alternated Oher between left and right tackle at any given time. Despite not making a Pro Bowl or earning All-Pro honors, his presence paid major dividends.
Oher signed a four-year, $20 million contract with the Tennessee Titans after five seasons and a Super Bowl ring in Baltimore. However, the Titans cut Oher after only one season. He spent his last two seasons blocking for Cam Newton in Carolina.
'The Blind Side' focused on Oher's tragic upbringing
In the midst of his rookie season, Michael Oher became immensely popular for reasons beyond his play.
Warner Bros. Pictures released The Blind Side, starring Sandra Bullock and country singer Tim McGraw, in November 2009. The movie focused on Oher's real-life journey from foster homes to being adopted by Leigh Anne and Sean Tuohy.
Bullock earned the Academy Award for Best Actress in her performance as Leigh Anne Tuohy. Oher did not play himself in the movie. Quinton Aaron, an actor who also did security work, portrayed Oher.
What has Michael Oher done since leaving the NFL?
A concussion limited Michael Oher to only three games during the 2016 season, and Carolina cut him in July 2017 after a failed physical. 
According to Spotrac, Oher earned $34 million in the NFL. Despite only playing two seasons in Carolina, he made more money there ($13.7 million) than he did in his five seasons with the Ravens ($13.4 million). 
In June 2023, Oher was named to the 2024 College Football Hall of Fame Ballot. The results will be announced in early 2024.
Regarding the retired athlete's personal life, Oher has been married since November 5, 2022, to his longtime partner, Tiffany Roy. They have two sons and two daughters together. Oher's new book, When Your Back's Against the Wall: Fame, Football, and Lessons Learned Through a Lifetime of Adversity, will release on August 8, 2023. He regularly shares thoughts from his book as well as photos of his family on social media.
Oher has remained active in the charity community after retiring from the NFL. According to its official website, the Making It Happen Foundation, which Oher and his family operate, focuses on "opening doors to promote awareness, provide hope and improve the standard living and quality of life for all the children fighting to survive in the invisible cracks of our society."
Once upon a time, Oher was one of those children. Oher has dedicated his post-football life to helping those currently occupying the same non-existent place at the table he did while growing up in Tennessee. 
Cntract figures courtesy of Spotrac.