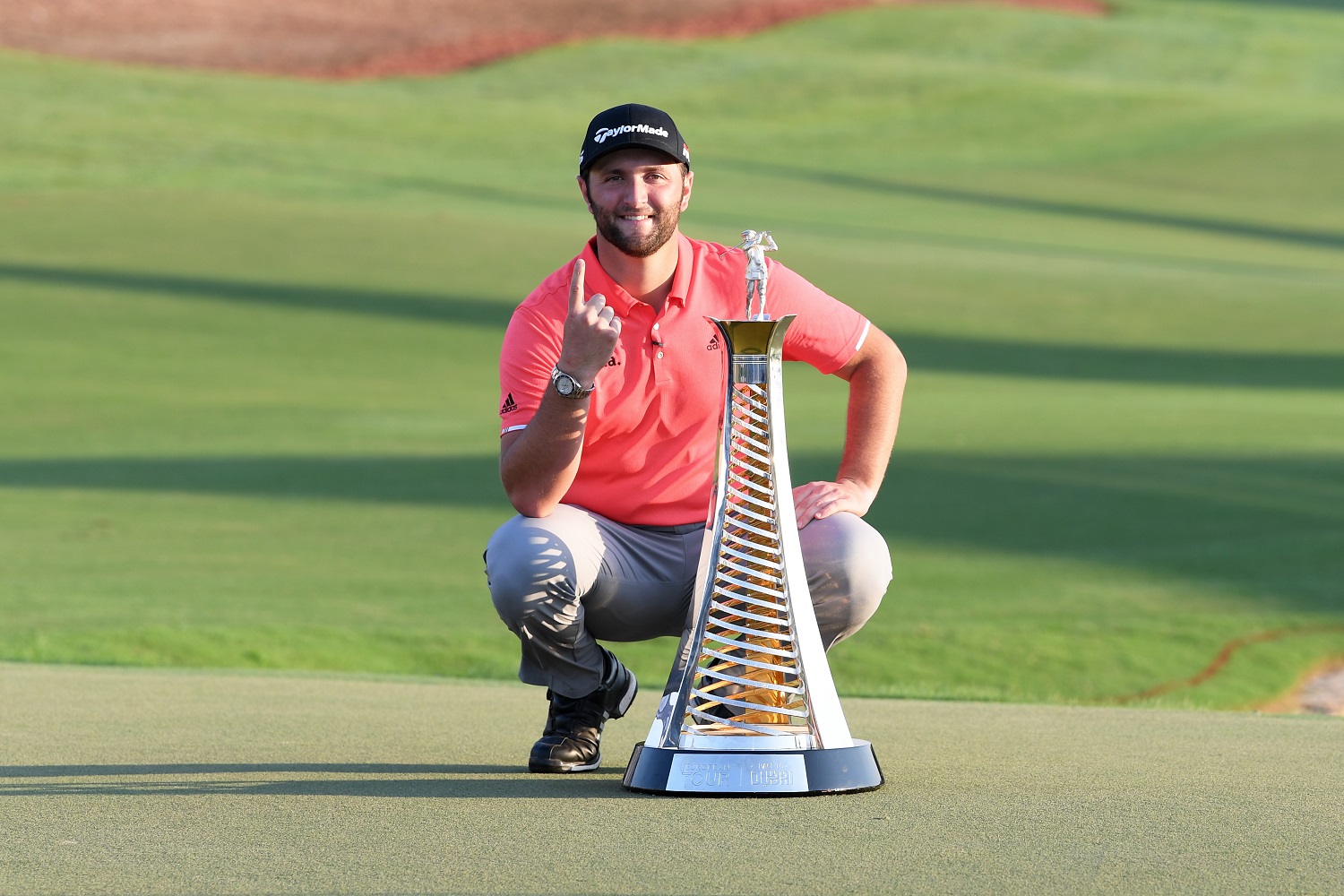 What Is PGA Tour Star Jon Rahm's Net Worth After Winning the U.S. Open?
PGA Tour star Jon Rahm is already a millionaire many times over at the age of 26 and has banked his first major championship.
One positive test result on June 5, 2021, robbed Jon Rahm of back-to-back victories in the Memorial Tournament, an event that many pro golfers treat as just one notch below the four majors and The Players Championship.
Fifteen days later, Rahm distanced himself from the most despised title on the PGA Tour: best golfer never to win a major. Thus, the U.S. Open did wonders both for Rahm's net worth and self-worth.
Jon Rahm experienced highs and lows in June 2021
Rahm, the Spanish-born golf star, was no longer subject to the worries about professional survival by the time he won the pandemic-delayed Memorial Tournament in Dublin, Ohio, in July 2020. That was already his fourth PGA Tour victory in four seasons on top of a strong resume on the European Tour.
Just 25 at the time, Rahm soared to the top of the very unofficial list of the best golfers to have never won a major championship. That title becomes burdensome to older golfers – Lee Westwood and Matt Kuchar can attest – but Rahm knew he had plenty of time left to break through.
By the start of the 2021 season, golf was returning to something close to normal despite the pandemic. Rahm rattled off a steady stream of top-10 finishes this spring before arriving at the Memorial Tournament hosted by Jack Nicklaus, who holds the career record for victories in majors. Rahm dominated the tournament and led by six strokes, when he learned at the end of the third round that he had tested positive for COVID-19.
Forced to withdraw, the talented young player lost out on his sixth PGA Tour title and a check for $1,674,000, which would have made for a nice boost to Rahm's net worth. The development sent Rahm into a mandatory quarantine that hindered his preparation for the U.S. Open two weeks later.
Against all odds, Rahm fired 69-70-72-67—278 at Torrey Pines to beat Louis Oosthuizen by one stroke.
What is Jon Rahm's net worth?
Celebrity Net Worth estimated Jon Rahm's net worth at $16 million after he earned $2.25 million for winning the 2021 U.S. Open. That qualifies as quite the nest egg for someone who graduated from Arizona State just five years earlier.
In his time at ASU, Rahm won 11 collegiate tournaments, second in school history to Phil Mickelson's 16, and twice earned the Ben Hogan Award as the nation's top college golfer. He also won the Mark H. McCormack Medal in 2015 as the No. 1 player in the World Amateur Golf Ranking.
Rahm turned pro after the 2016 U.S. Open and earned his PGA Tour card the following year. The 2017 season saw Rahm win on both sides of the Atlantic – the Farmers Insurance Open in January and twice in Dubai later in the year – to establish himself as a player to watch.
The Spanish-born star made a big change
Rahm went over $20 million in PGA Tour earnings during the 2020 season. As is the case with other top pros, endorsements are almost certainly a bigger slice of his annual income.
Forbes reported Rahm kicked off 2021 with a big move, switching allegiance from TaylorMade clubs to woods, irons, and balls manufactured by Callaway. Rahm boasted that he shot a 59 his first time out with the new equipment. He also agreed to wear apparel from TravisMathew, a subsidiary of Callaway.
His other endorsements have included software and consulting company Blue Yonder.
With at least 15 years left in his career, Rahm figures to be a big winner and big earner before he retires.
Like Sportscasting on Facebook. Follow us on Twitter @sportscasting19.