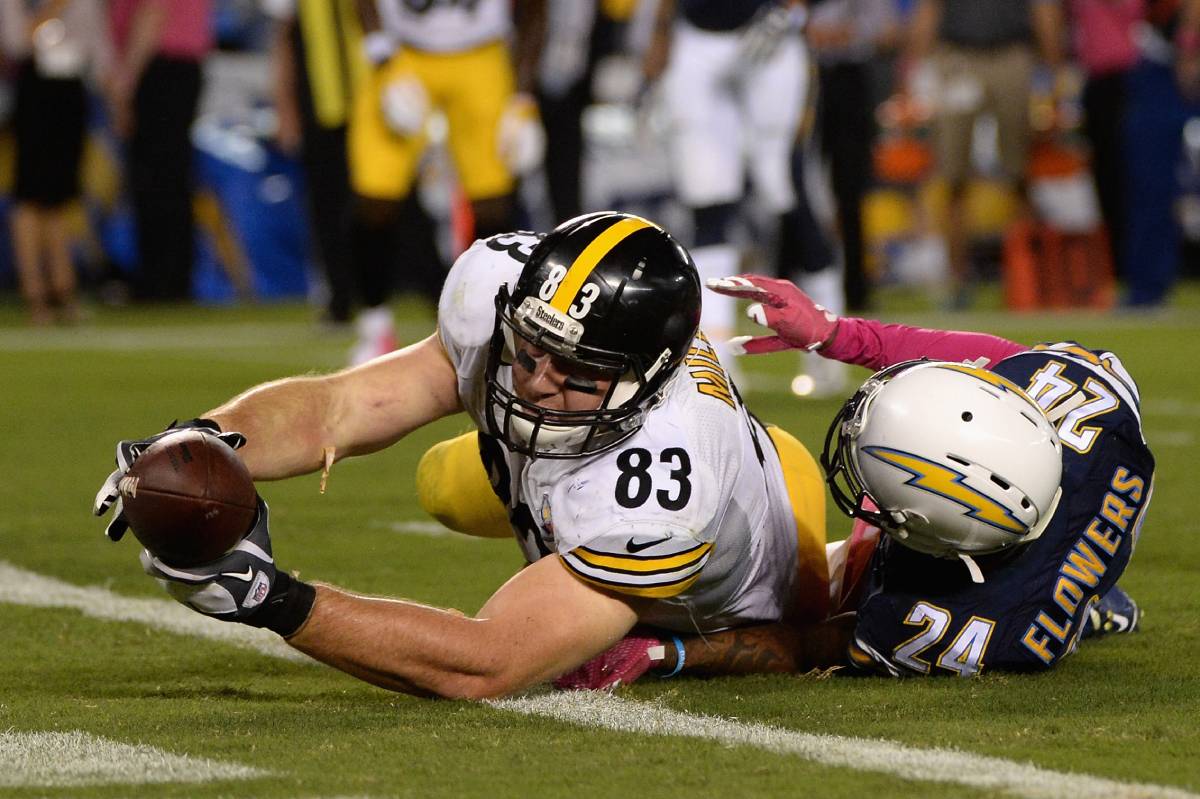 Whatever Happened to Steelers Fan Favorite TE Heath Miller?
Heath Miller won two Super Bowl rings in 11 seasons with the Pittsburgh Steelers. What is the former Pro Bowl tight end doing in 2020?
Heath Miller might be the best modern tight end who never topped 80 catches or 1,000 receiving yards in a season.
For over a decade, Miller served as a reliable tight end who could block, snag passes, or do anything in between. Without Miller's help, the Pittsburgh Steelers may not have won two Super Bowls in Ben Roethlisberger's tenure.
Nearly five years since his final NFL game, where is Miller now?
Heath Miller played 11 seasons with the Pittsburgh Steelers
An All-American tight end at Virginia who won the John Mackey Award — given to the nation's top tight end — Miller entered the NFL as the 30th overall selection in the 2005 NFL draft.
Standing six feet five inches and weighing 256 pounds, Miller started 15 games as a rookie and turned 39 catches into 459 yards and six touchdowns.
Those numbers were a sign of things to come for Miller, who usually caught between 40-60 passes for 500ish yards and a few touchdowns per year.
Miller retired averaging 54 catches, 599 yards, and four touchdowns per season. Although he didn't post video game-like numbers like Antonio Gates or Rob Gronkowski did elsewhere in the AFC, Miller served as an extremely reliable tight end for the Steelers.
Miller quietly had a terrific career
Heath Miller made two Pro Bowls and won two Super Bowls in his 11 years with the Steelers. Miller also caught 49 passes for 587 yards and four touchdowns in 15 postseason games.
What allowed Miller to enjoy that success was that he never needed to be a No. 1 target. At times, he didn't even need to be a No. 2 receiving threat.
Ben Roethlisberger spent the first half of Miller's career throwing to Hines Ward and Santonio Holmes. When those two departed, Roethlisberger turned his attention to players like Antonio Brown and Mike Wallace.
According to Pro-Football-Reference, Heath Miller was worth 59 approximate value in his career. That ranks 57th in Steelers history, an incredible feat given Miller was never really among the AFC's best tight ends.
Where is Heath Miller now?
Heath Miller retired after the 2015 season, his 11th in black and gold.
According to Spotrac, Miller earned over $44 in the NFL. He never made more than $6 million (technically, $6,020,000) in one season even as other tight ends cashed in.
In an interview earlier this year with the Bristol Herald Courier (Va.), Miller explained he's spent retirement mainly with his family. Miller added he wouldn't have it any other way.
"I've really enjoyed spending a lot of time with my family and helping my wife raise our kids. They are active and involved in a lot of stuff, so they keep us busy and keep us engaged. I've enjoyed going to their activities or sporting events or whatever they have going on."
Arguably Miller's favorite accomplishment from the NFL, he said, was he never played on a Steelers team which finished with a losing record.
That feat was nothing compared to winning two Super Bowls, of course.
"Those title teams were two different teams for sure – unique and special in their own right," Miller said. "What a privilege it was to be a part of those two teams and it wasn't bad to go to the Super Bowl in my first year."
Like Sportscasting on Facebook. Follow us on Twitter @sportscasting19.