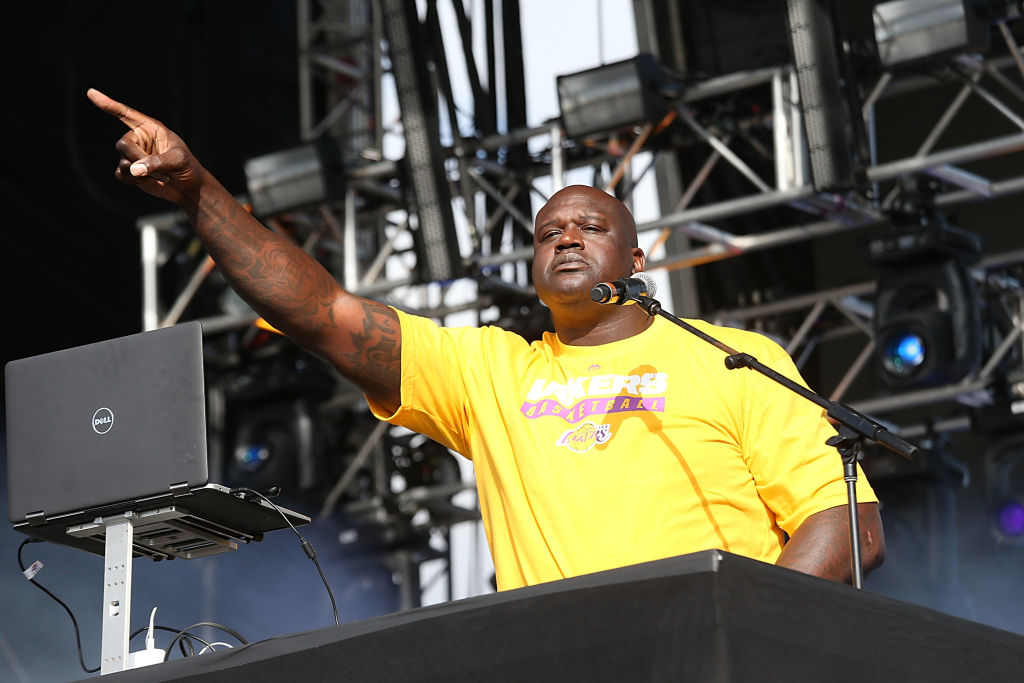 What's Going On With Shaquille O'Neal and Damian Lillard's Rap Feud?
Shaquille O'Neal and Damian Lillard are currently engaged in a rap beef. Which NBA star will come out on top?
Shaquille O'Neal has done just about everything imaginable, both on the hardwood and in his personal life. He won four NBA titles, is the world's tallest sheriff's deputy, and has appeared in countless movies, TV shows, and commercials. The big man also raps, which appears to have gotten him into a feud over the past few days.
If you're confused by that recent conflict with between Shaq and Damian Lillard of the Portland Trailblazers, then you're not alone. Let's take a look at this beef and try to break down the tale of the tape.
Damian Lillard's dual passions
First and foremost, Damian Lillard is obviously a basketball player. The guard established himself as an exciting prospect at Weber State and was selected sixth overall by the Portland Trailblazers in the 2012 NBA draft. He didn't waste any time adjusting to the pro game and finished his first season averaging 19 points and 6.5 assists per game; those numbers earned him the 2013 NBA Rookie of the Year title.
While Lillard's stats have only increased from that rookie campaign, he also has another interest: rapping. He released his first single, "Soldier in the Game," in 2015; his debut album The Letter O came out a year later. Since then, Lillard has dropped a third album, which included guest appearances from Lil Wayne and Jeremih.
Shaquille O'Neal's rap career
During his playing career, Shaq also decided to try his hand at rapping. He first released Shaq Deisel in 1993, with three more albums coming out over the next five years. They all sold well, with Shaq Deisel going platinum, but there was never any danger that O'Neal would hang up his sneakers for a musical career.
He also made a few famous guest appearances, rapping in Michael Jackson's "2 Bad" and featuring on Aaron Carter's "That's How I Beat Shaq." More recently, O'Neal has begun producing electronic music and performing at music festivals.
Damian Lillard vs. Shaquille O'Neal
Earlier this fall, Lillard appeared on "The Joe Budden Podcast," where he made some comments about Shaq's rap career. "I've heard Shaq's stuff," the Portland Trailblazers guard said. "I think he was viewed as Shaq… People wasn't looking at it like this is a real rapper. It was like, 'This Shaq rapping." Unsurprisingly, those comments made their way back to O'Neal.
In response, the NBA veteran dropped a diss track, comparing his championships to Lillard's struggles making it out of the Western Conference. "Students always talk about they better than the professor," the Los Angeles Lakers legend sung. "I'm an expensive Lamborghini/You're a barely charged Tesla/Take your time to respond, there is no hurry/You'll never beat Westbrook, never beat Steph Curry."
Lillard clapped back with his own verse, riffing of Shaq's "Deisel" nickname. "This a different era, you the past … said yourself that I'm a Tesla/No longer need diesel gas," he rapped. "Kind of like the Cavs ain't really need Diesel ass/And even Miami won that on the strength of Flash/You had a moment OG, you the pioneer, but I done reached the top at this point and the climate's clear."
All that's good about the NBA
While this rap beef might have come out of left field, everything appears to be in good fun. Shaq, as far as we can tell, is an easygoing guy and Lillard seems to be relishing his chance to go toe-to-toe with the big man; he even acknowledged O'Neal's place in NBA history in his verse.
If anything, the feud highlights one of the best things about the NBA: the players have, and proudly show off, their own unique personalities