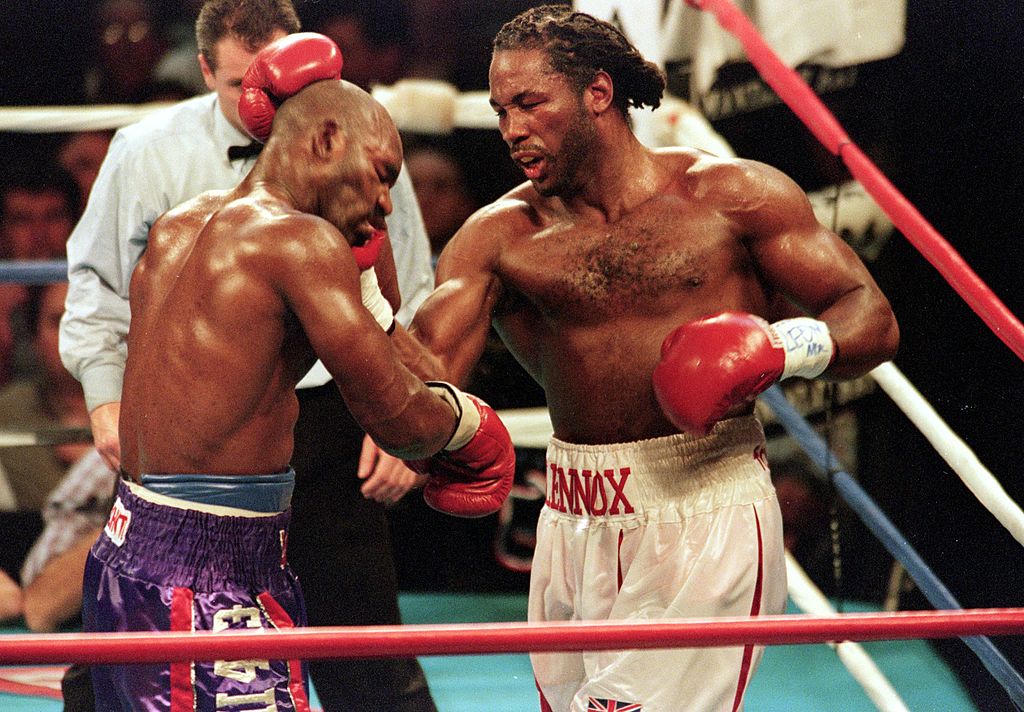 Where is Lennox Lewis Today and What Is His Net Worth?
Lennox Lewis was a three-time boxing world heavyweight champion who retired in 2004. Where is Lennox Lewis today, and what is his net worth?
Lennox Lewis had numerous memorable fights in his 14-year career including bouts with Evander Holyfield, Mike Tyson, and Vitali Klitschko. The three-time boxing world heavyweight champion retired in 2004 and still remains the last heavyweight to hold the undisputed title. Where is Lennox Lewis today, and what is his net worth?
Lennox Lewis grows up in the sport of boxing 
In 1984, a young 18-year-old Lennox Lewis dreamed big. He dreamed of winning the gold medal at the 1984 Summer Olympics in Los Angeles. Lewis' big dreams came up short that year when he lost by decision to American Tyrell Biggs in the quarterfinals. Biggs won the gold medal.
Coming up short in 1984 inspired Lewis to push harder in 1988. At the Seoul Olympics, he achieved his goal winning the gold medal in the super heavyweight division. With his victory, Lewis served notice to the rest of the heavyweights in the world of boxing and in 1989, he turned professional.
Just a year into his pro career with a 14-0 record, Lewis defeated Jean-Maurice Chanet for the European title, his first as a professional. A year later, Lewis had a rematch with Biggs. This time around was a much different result as Lewis manhandled the American winning in a third-round knockout. It was redemption and preparation for the bigger fights that loomed just around the corner.
Lewis becomes household name 
In January 1993, after defeating Donovan "Razor" Ruddock a few months earlier, the WBC crowned Lewis the heavyweight champion when Riddick Bowe refused to defend his title against Lewis. It wasn't exactly how he had dreamed of winning his first world title, but it was a title nonetheless.
He successfully defended the WBC title three times and had a 25-0 record when he faced Oliver McCall at Wembley in September 1994. In that fight, McCall stunned Lewis in a second-round knockout. Lewis remained undeterred and over the next four years won nine consecutive fights including a rematch victory over McCall, plus defeats of Henry Akinwande and Shannon Briggs. 
In March 1999, Lewis and Evander Holyfield battled for 12 hard-fought round. Lewis dominated the bout and was awarded the title in a controversial split decision. Seven months later Lewis removed any doubt who was the better fighter when he won decisively in 12 rounds and became the undisputed heavyweight champion of the world unifying the WBC, WBA, IBO, and IBF titles.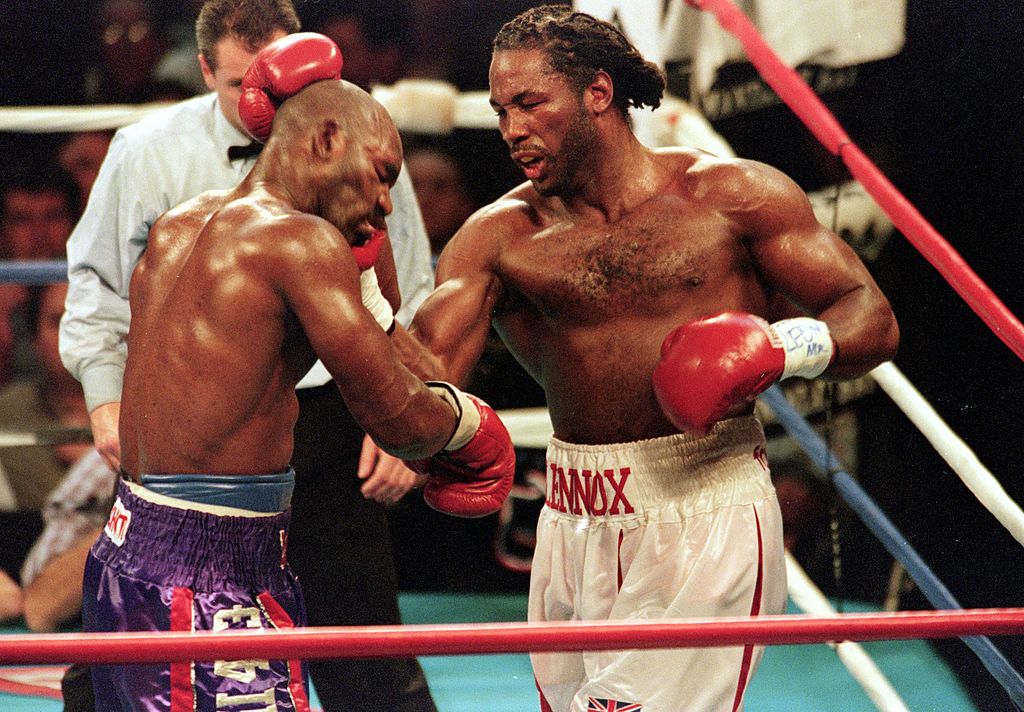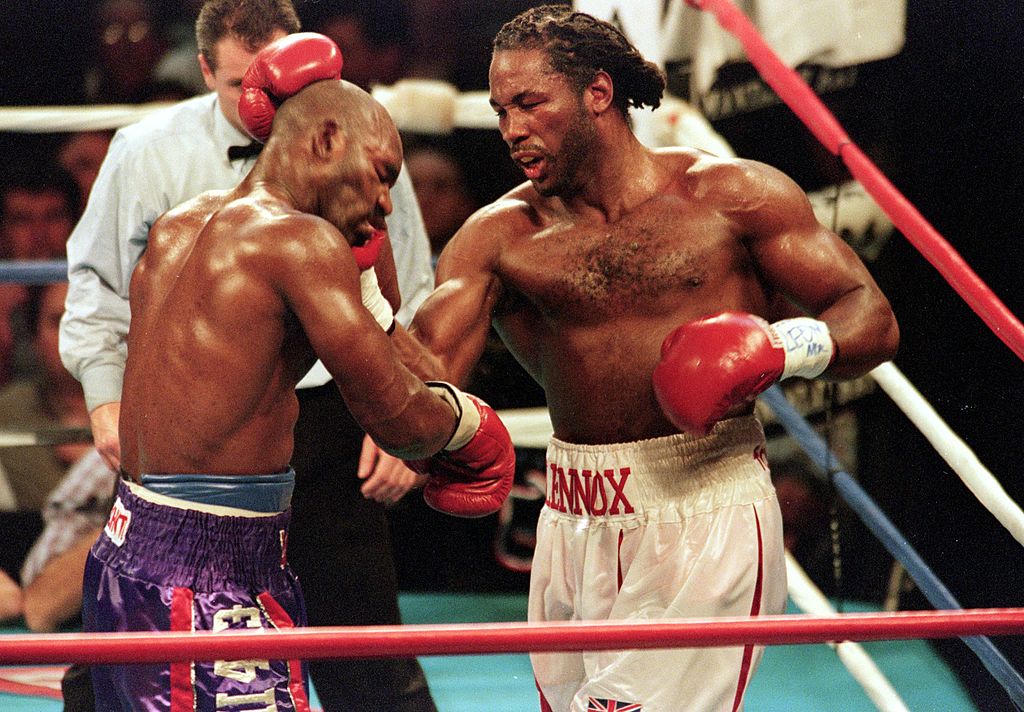 The highlight of Lewis' career came in June 2002 when he defended his title against Mike Tyson. In that bout, Lewis outmaneuvered and wore down Tyson with his pugilistic jabs. In the eighth round, with Tyson withering, Lewis finished him with a right cross.
Lennox Lewis defended his title one last time when he defeated Vitali Klitschko in 2003, then announced his retirement from the sport. He finished his career with a 41-2-1 record.
Where is Lennox Lewis today and what is his net worth?
Since retiring, Lewis has pursued numerous business ventures, philanthropy, and charitable projects. He is a contributor to the Muhammad Ali Center and Museum and is a representative for Laureus, a global-based sports charity that supports the use of sports for social change.
Lewis, who has an estimated net worth of $140 million, was honored by his birth country of England when Queen Elizabeth II awarded him a Commander of the Order of the British Empire (CBE). The honor is one rank below knighthood.
In 2008, he was inducted into Canada's Sports Hall of Fame, the World Boxing Council's Hall of Fame, and the World Boxing Hall of Fame. The following year, Lewis received induction into the International Boxing Hall of Fame. He's still very involved in the sport and can be seen working as a Fox Sports analyst calling boxing fights live on Fox and Fox Sports Pay-Per-View.