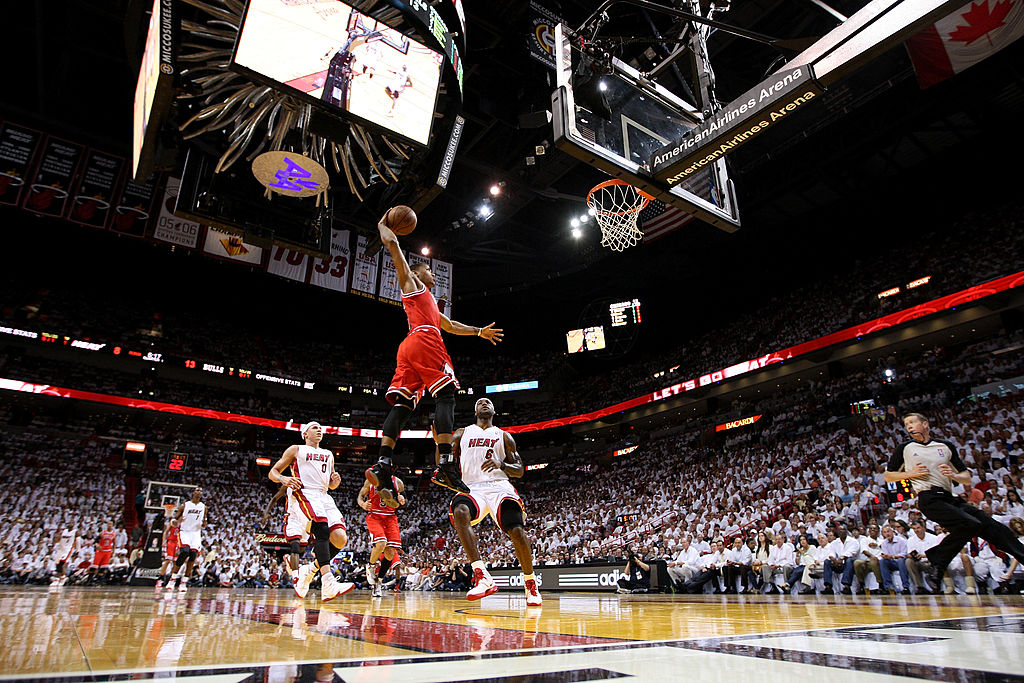 Where Would Derrick Rose Rank Among the All-Time Greats Had He Not Dealt With Injuries?
Derrick Rose was a star in the NBA. Where would he rank among the all-time great point guards had he not dealt with injuries?
When he was at his best, Derrick Rose was one of the best players in the entire NBA. However, injuries have derailed his promising career. While he has brought a little magic back the past couple of seasons, he could have been extremely good though the years if not for those injuries. Where would Rose rank among the all-time great point guards had he not dealt with injuries?
Derrick Rose immediately became a star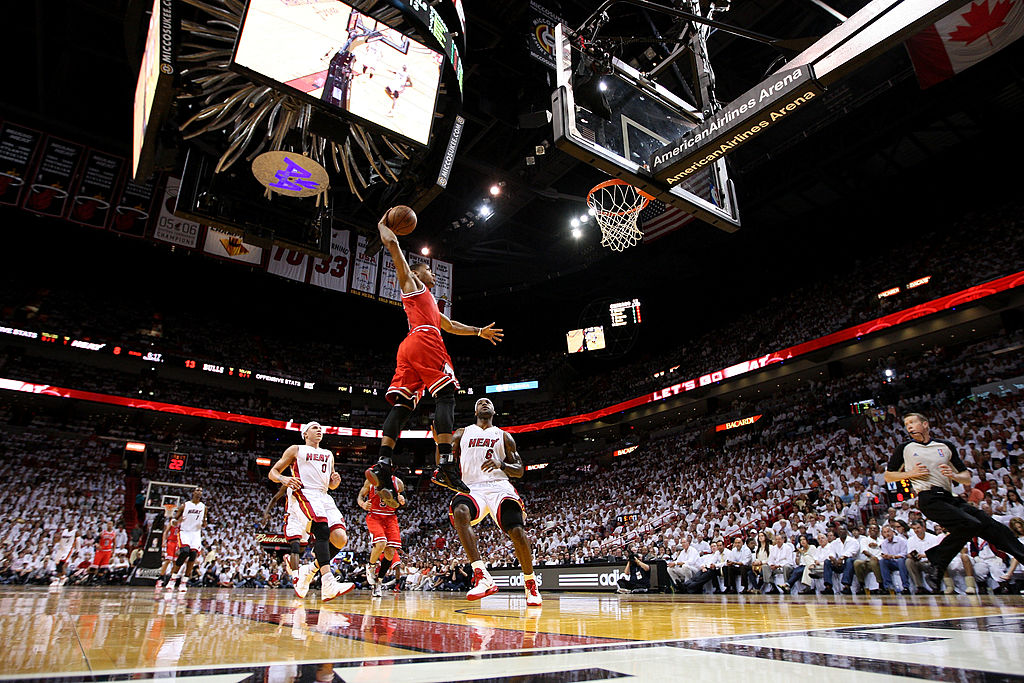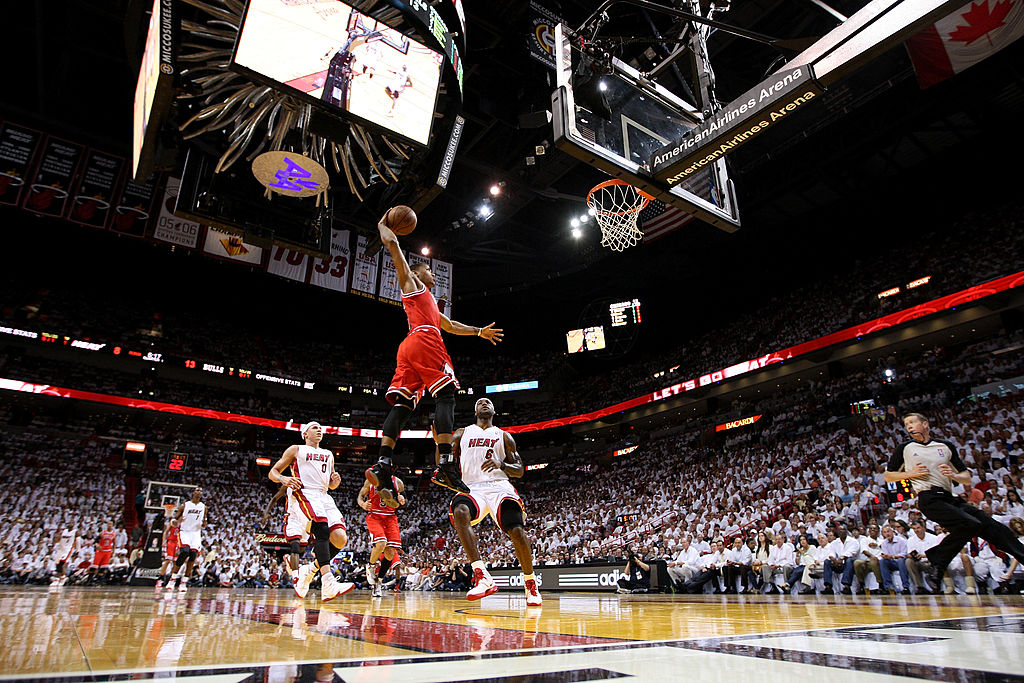 Coming into the league out of Memphis in 2008, Rose immediately became a star for the Chicago Bulls. Rose won the league's Rookie of the Year award during the 2008-09 season as he averaged 16.8 points per game to go with 6.3 assists. He then got even better his second season, earning his first All-Star selection. Rose averaged 20.8 points per game and six assists that season.
Then that next season it was Derrick Rose's world, we were all just living in it. During 2010-11, Rose became the youngest player to ever win the league's MVP award at only 22 years old. He averaged 25 points per game that year, 7.7 assists, and 4.1 rebounds. Every night, Rose was the most athletic guy on the court and teams could not figure out how to stop him. 
Rose led the Bulls to a 62-20 record that year and they went to the Eastern Conference Finals. Through only three seasons, it looked like Rose was on his way to becoming an NBA great. 
Then the injuries piled on.
Injuries started to slow him down
Rose only played in 39 games during the 2011-12 season due to injuries. He did, however, earn his third All-Star selection as he averaged 21.8 points and 7.9 assists. 
He has not earned an All-Star selection since, though. 
In the first round of the NBA playoffs that season, Rose suffered a torn ACL. He missed the rest of the playoffs and then did not play the entire 2012-13 season. Then during the 2013-14 season, Rose only played in 10 games as another injury kept him out for the majority of the season.
After not playing in fewer than 78 games each of his first three seasons, Rose has not played in over 66 games in a single season since. Rose played in 51 games for the Bulls during the 2014-15 season and in 66 for them during the 2015-16 season. That is in addition to playing in 64 games with the New York Knicks during the 2016-17 season. It was clear in each of those seasons, though, that Rose was not the guy he used to be. His statistics were not bad, he averaged 18 points per game with the Knicks in 2016-17. They were nothing like his MVP season, though.
Rose only played in 25 games during the 2017-18 season. He played in 51 with the Minnesota Timberwolves last season and averaged 18 points per game, and he was averaging 18.1 points per game this season in 50 games with the Detroit Pistons before the season was suspended. He has still looked like a good player these past two seasons, but he is not the man that could not be stopped early in his career.
Rose could have been a top 3 point guard
Rose's best season was when he was only 22 years old. Had he not dealt with injuries, he would have only gotten better. That's hard to imagine too as it does not get much better than 25 points per game and 7.7 assists. 
Ranking the best point guards of all-time is subjective. However, for the sake of the argument, let's go with Bleacher Report's top three of Magic Johnson, Steph Curry, and Oscar Robertson.
Curry's career averages are 23.5 points per game, 4.5 rebounds, and 6.6 assists. It is safe to say that if Rose would have improved after his MVP season, and if he had not dealt with several injuries, then his career numbers would be better than Curry's across the board right now.
It is hard to beat Robertson's career numbers as he averaged 25.7 points per game, 9.5 assists, and 7.5 rebounds. Rose's numbers could have at least been comparable, though. Additionally, Rose might not have reached Magic Johnson's 11.2 assists and 7.2 rebounds, but he could have easily surpassed his 19.5 points per game.
Yes, it is hard to just compare players by looking at stats, but they are a good measuring stick for how Rose could have stacked up against the all-time greats. Additionally, anyone who watched Rose during his MVP season knows that he was the most explosive player on the court every night. He definitely passed the eye test, in addition to putting up the numbers. If Rose would have stayed healthy, he would be nearing the tail-end of his career right now as one of the greatest point guards of all-time.