Who Has Made the Most 3-Pointers in NBA History?
Three-point shooting isn't just a skill in the NBA; it has become a necessity. Now more than ever, players are expected to have the ability to hit long-range shots and hit them at a high rate, especially since Stephen Curry started proving how dangerous a player can be when they are elite from beyond the arc.
So, since 3-point shooting has become king in the NBA, who are the all-time leaders and what player has made the most in league history?
Reggie Miller is No. 3 among NBA 3-point leaders, but James Harden is on his heels
At one point, Reggie Miller was No. 1 among the NBA's all-time 3-point leaders, as he held the record for several years after finishing his career with 2,560.
For nearly two decades, Miller was an automatic shooter with the Indiana Pacers, making 39.5% of his long-range attempts and shooting 4.7 per game. He led the NBA in 3-point field goals in two separate seasons during his career and drained as many as 229 in 1996-97.
However, Miller may move down to No. 4 relatively soon.
James Harden sits right below him on the all-time list with 2,506 (as of Dec. 8, 2021), and given that he made 121 threes in just 44 games during the 2020-21 season, the 2017-18 MVP will likely pass him this year.
Harden has made 3-pointers on three different teams in his career, sinking 320 as a third option on the Oklahoma City Thunder before making 2,029 in eight-plus seasons with the Houston Rockets. He has since made over 150 with the Brooklyn Nets after joining them during the 2020-21 campaign. The Beard makes his long-range attempts at a 36.3% clip and has led the NBA in 3-point field goals three different times in his career.
Stephen Curry is No. 2 on the all-time leaderboard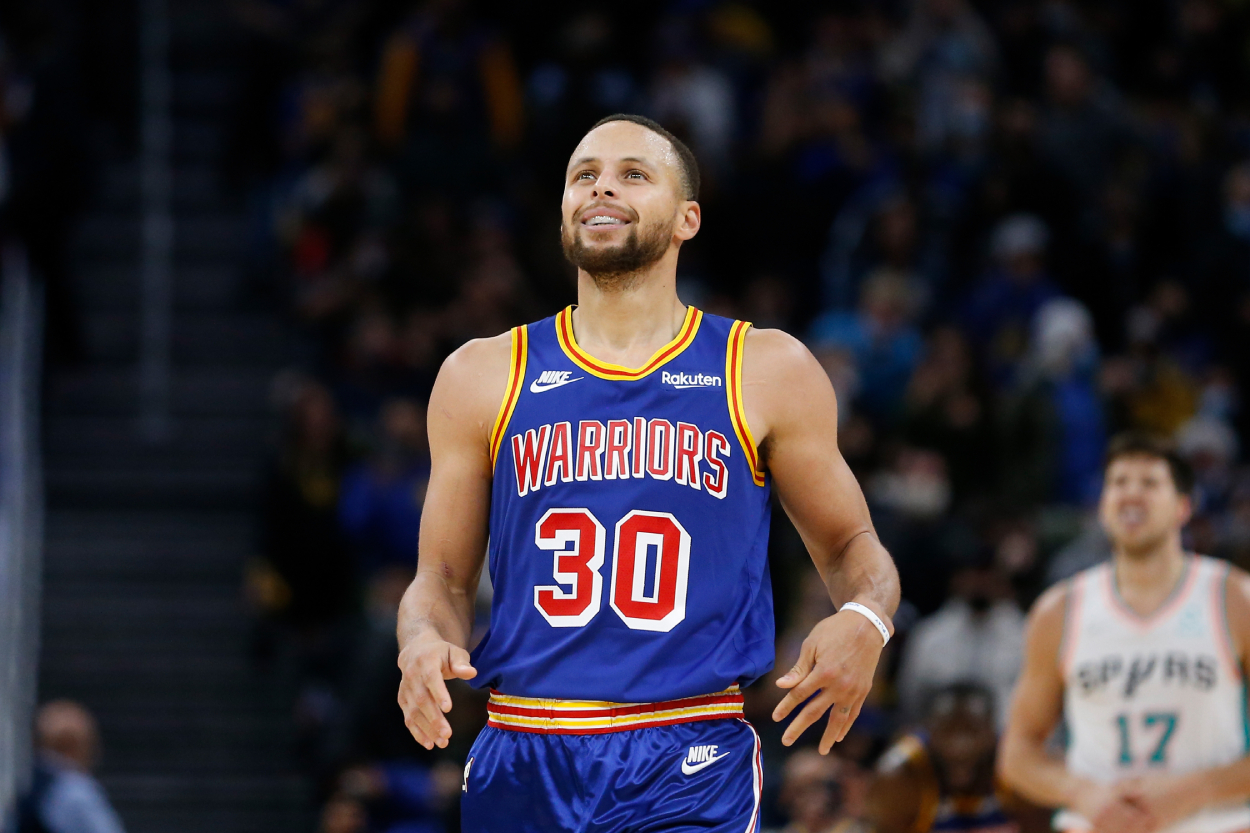 Stephen Curry has already proven he's the greatest shooter in NBA history throughout his legendary career with the Golden State Warriors.
Curry is second among the NBA's all-time 3-point leaders, but he won't be there for very long, as he has made 2,958 threes in his career (as of Dec. 8, 2021). That's just 15 fewer than the NBA record.
Steph has hit all his threes with the Warriors and has led the NBA in 3-point field goals in six different seasons, hitting as many as 402 in 2015-16, an NBA record. In fact, the three-time NBA champion and two-time NBA MVP is No. 1, 3, 4, 5, and 8 on the all-time single-season 3-pointers made list.
However, the most remarkable thing about Curry's shooting is the rate at which he makes his shots. Steph has made 43.2% of his deep attempts in his career.
There are great shooters, and then there's Stephen Curry.
Ray Allen is currently the NBA's 3-point king
While he likely won't be in this position for very much longer, Ray Allen is currently the NBA's 3-point king.
Allen drained a whopping 2,973 threes in his career, hitting them with the Milwaukee Bucks, Seattle SuperSonics, Boston Celtics, and Miami Heat. He eventually became the NBA's record-holder when he surpassed Miller's mark in 2011.
All in all, the bulk of his numbers came during his six-plus seasons in Milwaukee, where he hit 1,051. But he also hit 869 in Seattle, 798 in Boston, and 255 during his two seasons in Miami. The two-time NBA champ also led the league in 3-point field goals three times in his career and made his long-range shots at a 40% clip.
No, he won't be the 3-point king for much longer, but Allen became a pioneer for shooting in the NBA and had himself a legendary career in the process.
Stats courtesy of Basketball Reference