Who Has the Most NBA Scoring Titles?
A look at who has won the most NBA scoring titles in history.
It's been more than three-quarters of a century since the NBA first opened its doors as the Basketball Association of America. And beginning with that inaugural 1946-47 campaign, 35 different players have claimed at least one scoring title, the latest being Philadelphia 76ers center Joel Embiid.
Now, the NBA scoring title wasn't always decided by the highest scoring average like it is today. Up until the 1969-70 season, the scoring title was decided by total points, although most of the winners in that era would have taken the crown either way.
Wilt Chamberlain won seven consecutive titles in that era, including the 1961-62 campaign in which he scored an incredible 4,029 points in 80 games for the then-Philadelphia Warriors, good for a 50.4 average. Both are obviously still NBA records. Over the course of his 14-year career, Chamberlain averaged 30.07 points, the second-highest mark of all time, trailing only the same man who won more scoring titles than he did: Michael Jordan.
During his 15-year career, the six-time NBA champion averaged 30.12 points per game and won a record 10 NBA scoring titles, all with the Chicago Bulls.
Not only are MJ and Wilt the only two men to win seven scoring titles, but they're also the only two to win even five. Tied for third with four are George Gervin, Allen Iverson, and Kevin Durant. George Mikan, Neil Johnston, Bob McAdoo, and James Harden won three apiece.
Every NBA scoring champion in history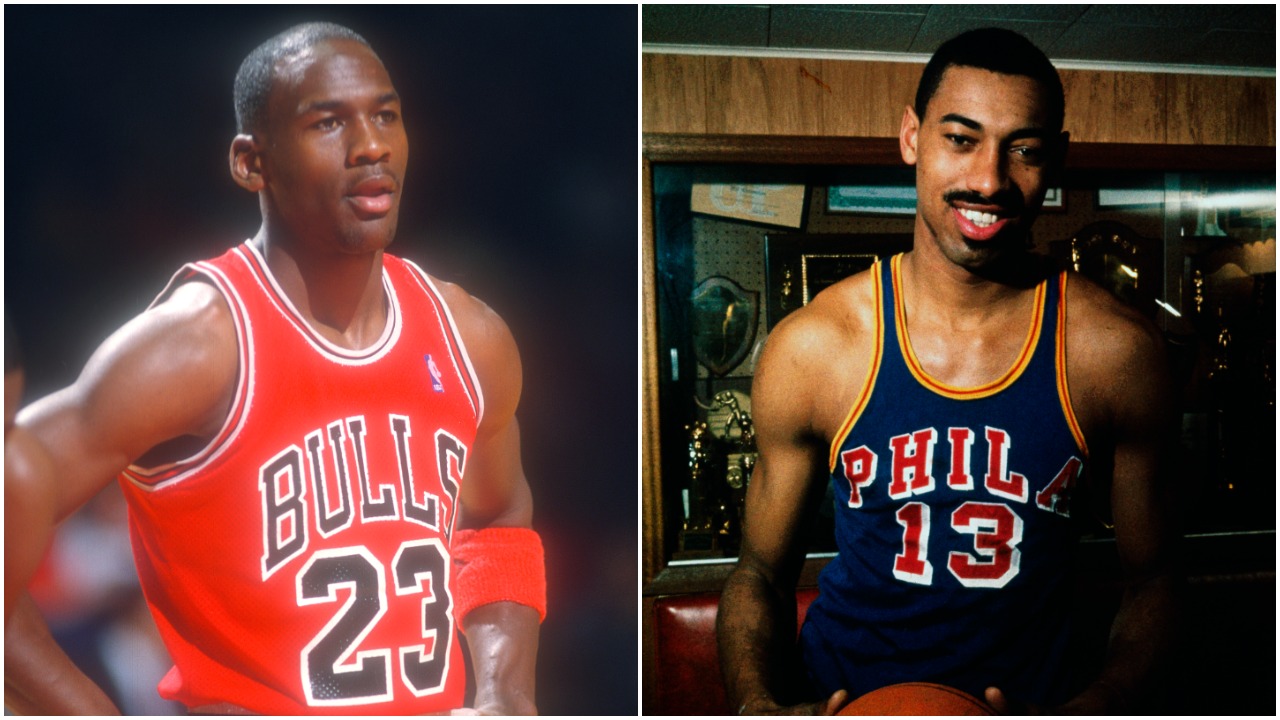 Here's a quick look at every NBA scoring champion in history.
1946-47: Joe Fulks, Philadelphia Warriors
1947-48: Max Zaslofsky, Chicago Stags
1948-49: George Mikan, Minneapolis Lakers
1949-50: George Mikan, Minneapolis Lakers
1950-51: George Mikan, Minneapolis Lakers
1951-52: Paul Arizin, Philadelphia Warriors
1952-53: Neil Johnston, Philadelphia Warriors
1953-54: Neil Johnston, Philadelphia Warriors
1954-55: Neil Johnston, Philadelphia Warriors
1955-56: Bob Pettit, St. Louis Hawks
1956-57: Paul Arizin, Philadelphia Warriors
1957-58: George Yardley, Detroit Pistons
1958-59: Bob Pettit, St. Louis Hawks
1959-60: Wilt Chamberlain, Philadelphia Warriors
1960-61: Wilt Chamberlain, Philadelphia Warriors
1961-62: Wilt Chamberlain, Philadelphia Warriors
1962-63: Wilt Chamberlain, San Francisco Warriors
1963-64: Wilt Chamberlain, San Francisco Warriors
1964-65: Wilt Chamberlain, San Francisco Warriors/Philadelphia 76ers
1965-66: Wilt Chamberlain, Philadelphia 76ers
1966-67: Rick Barry, San Francisco Warriors
1967-68: Dave Bing, Detroit Pistons
1968-69: Elvin Hayes, San Diego Rockets
1969-70: Jerry West, Los Angeles Lakers
1970-71: Lew Alcindor, Milwaukee Bucks
1971-72: Kareem Abdul-Jabbar, Milwaukee Bucks
1972-73: Nate Archibald, Kansas City-Omaha Kings
1973-74: Bob McAdoo, Buffalo Braves
1974-75: Bob McAdoo, Buffalo Braves
1975-76: Bob McAdoo, Buffalo Braves
1976-77: Pete Maravich, New Orleans Jazz
1977-78: George Gervin, San Antonio Spurs
1978-79: George Gervin, San Antonio Spurs
1979-80: George Gervin, San Antonio Spurs
1980-81: Adrian Dantley, Utah Jazz
1981-82: George Gervin, San Antonio Spurs
1982-83: Alex English, Denver Nuggets
1983-84: Adrian Dantley, Utah Jazz
1984-85: Bernard King, New York Knicks
1985-86: Dominique Wilkins, Atlanta Hawks
1986-87: Michael Jordan, Chicago Bulls
1987-88: Michael Jordan, Chicago Bulls
1988-89: Michael Jordan, Chicago Bulls
1989-90: Michael Jordan, Chicago Bulls
1990-91: Michael Jordan, Chicago Bulls
1991-92: Michael Jordan, Chicago Bulls
1992-93: Michael Jordan, Chicago Bulls
1993-94: David Robinson, San Antonio Spurs
1994-95: Shaquille O'Neal, Orlando Magic
1995-96: Michael Jordan, Chicago Bulls
1996-97: Michael Jordan, Chicago Bulls
1997-98: Michael Jordan, Chicago Bulls
1998-99: Allen Iverson, Philadelphia 76ers
1999-00: Shaquille O'Neal, Los Angeles Lakers
2000-01: Allen Iverson, Philadelphia 76ers
2001-02: Allen Iverson, Philadelphia 76ers
2002-03: Tracy McGrady, Orlando Magic
2003-04: Tracy McGrady, Orlando Magic
2004-05: Allen Iverson, Philadelphia 76ers
2005-06: Kobe Bryant, Los Angeles Lakers
2006-07: Kobe Bryant, Los Angeles Lakers
2007-08: LeBron James, Cleveland Cavaliers
2008-09: Dwyane Wade, Miami Heat
2009-10: Kevin Durant, Oklahoma City Thunder
2010-11: Kevin Durant, Oklahoma City Thunder
2011-12: Kevin Durant, Oklahoma City Thunder
2012-13: Carmelo Anthony, New York Knicks
2013-14: Kevin Durant, Oklahoma City Thunder
2014-15: Russell Westbrook, Oklahoma City Thunder
2015-16: Stephen Curry, Golden State Warriors
2016-17: Russell Westbrook, Oklahoma City Thunder
2017-18: James Harden, Houston Rockets
2018-19: James Harden, Houston Rockets
2019-20: James Harden, Houston Rockets
2020-21: Stephen Curry, Golden State Warriors
2021-22: Joel Embiid, Philadelphia 76ers
Stats courtesy of Basketball Reference