How Did Wilt Chamberlain Average 48.5 Minutes per Game for the Warriors the Same Year He Set the NBA Single-Season Scoring Record?
Wilt Chamberlain owns a number of NBA records, many of which were set during the 1961-1962 season, the year in which he famously scored 100 points for the Philadelphia Warriors (now the Golden State Warriors) against the New York Knicks on the way to the third of his six consecutive scoring titles (he would add a seventh with the Philadelphia 76ers in 1965-1966).
But his scoring average that season, which just happens to be the highest single-season average in NBA history, might not even be the most impressive stat he put up over the course of the 1961-1962 campaign. No, that just might be the 48.5 minutes per game he played that year, which seems impossible given the fact that an NBA game only goes 48 minutes.
So exactly did Wilt Chamberlain pull this off?
Wilt Chamberlain averaged 48.5 minutes per game for the Warriors in 1961-1962
Wilt Chamberlain is easily one of the most durable superstars in NBA history. Over the course of his 14-year career, the 13-time All-Star played less than 73 games just once and played 80 or more games nine times. And in those 14 seasons, Chamberlain led the league in minutes played nine times, never averaging less than 42.1 minutes per game.
To put that in perspective, Shaquille O'Neal never averaged that many minutes per game and only ever reached 40 (which he hit right on the number) one time during his 19-year career.
In 1961-1962, Wilt Chamberlain actually managed to average 48.5 minutes per game, which seems impossible, right? But here's how he did it. Wilt played all 80 games for the Warriors that season (the NBA went to an 82-game schedule in 1967-1968) and only missed eight minutes and 33 seconds of the entire season. And that was because he was ejected after getting a second technical foul in a game against the Los Angeles Lakers, with whom he'd later win a championship, on January 3, 1962.
Outside of that, Chamberlain played every minute of every game, which included seven that went to overtime, one of which went two OTs and another that went three. With Wilt playing every second, he racked up a total of 3,882 minutes. Divide that by 80 games and you get 48.525 minutes per game.
The season before, he'd averaged 47.76 minutes per game and in 1962-1963, he averaged 47.58 minutes per game. To this day, those are the three highest minutes per game averages in NBA history and likely aren't going anywhere anytime soon.
Wilt Chamberlain averaged 50.4 points and 25.7 rebounds per game for the Warriors in 1961-1962
With as dominant as Wilt Chamberlain was — many still believe he's the most dominant player in NBA history and there's a very strong argument for that — he was naturally going to put up some crazy stats playing that many minutes. But it's likely that nobody could have expected what he actually did.
In those 80 games for the Warriors in 1961-1962, Chamberlain scored a total of 4,029 points, which averages out to 50.4 points per game (50.3625 to be exact), both of which are easily NBA records.
To put that in perspective, the most points that Michael Jordan ever scored in a single season was 3,041, which he did in 1986-1987 when he averaged a career-high 37.1 points per game. Jordan ranks third on the all-time single-season list behind Wilt and…well, Wilt. Chamberlain scored 3,586 points for a 44.8 average in 1962-1963.
But Wilt Chamberlain wasn't all about scoring points. He also averaged 25.7 rebounds in 1961-1962, winning his third consecutive rebounding title. It was one of 10 consecutive seasons in which Chamberlain averaged more than 20 rebounds.
He still didn't win MVP that season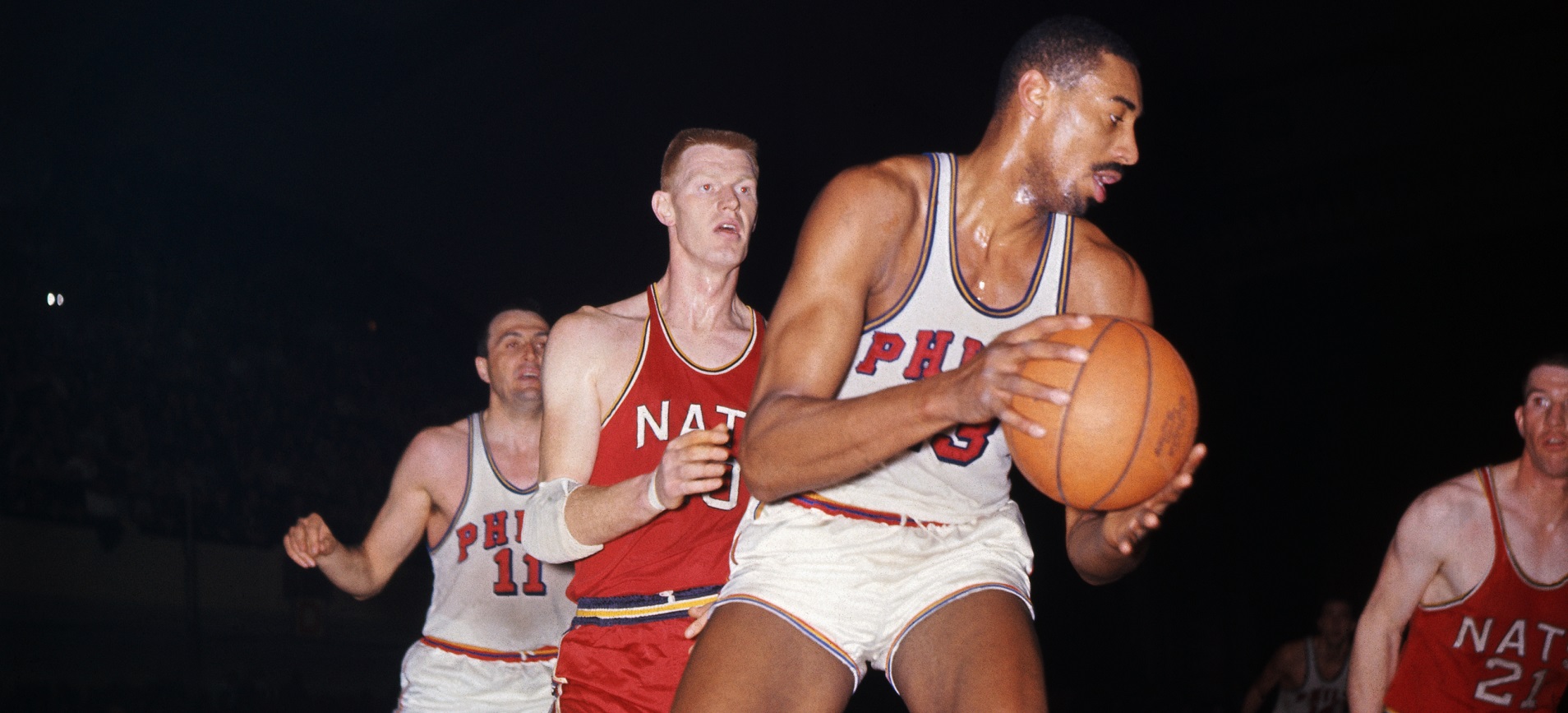 So here's Wilt Chamberlain's season averages for the 1961-1962 season: 48.5 minutes per game, 50.4 points per game, 25.7 rebounds per game, 2.4 assists per game. Seems good enough to win NBA MVP, right?
Apparently not.
Seriously, Wilt Chamberlain did not win NBA MVP in 1961-1962. That honor went to Boston Celtics legend and Wilt's longtime nemesis, Bill Russell. The eventual 11-time NBA champion averaged 18.9 points, 23.6 rebounds, and 4.5 assists in 45.2 minutes per game for the Celts that season and won MVP for the second consecutive year.
The crazy thing is that the vote wasn't even that close. Russell got 51 of 85 first-place votes while Chamberlain only received nine. Oscar Robertson, who became the first player in NBA history to average a triple-double that season, received 13 while the remaining first-place votes were spread out to four other players. Russell won a total of 297 points, Chamberlain was in second at 152, and the "Big O" came in third with 135.
Wilt Chamberlain, who'd won NBA MVP as a rookie in 1959-1960, went on to win MVP in three consecutive seasons later in the decade with the Philadelphia 76ers.
Stats courtesy of Basketball Reference