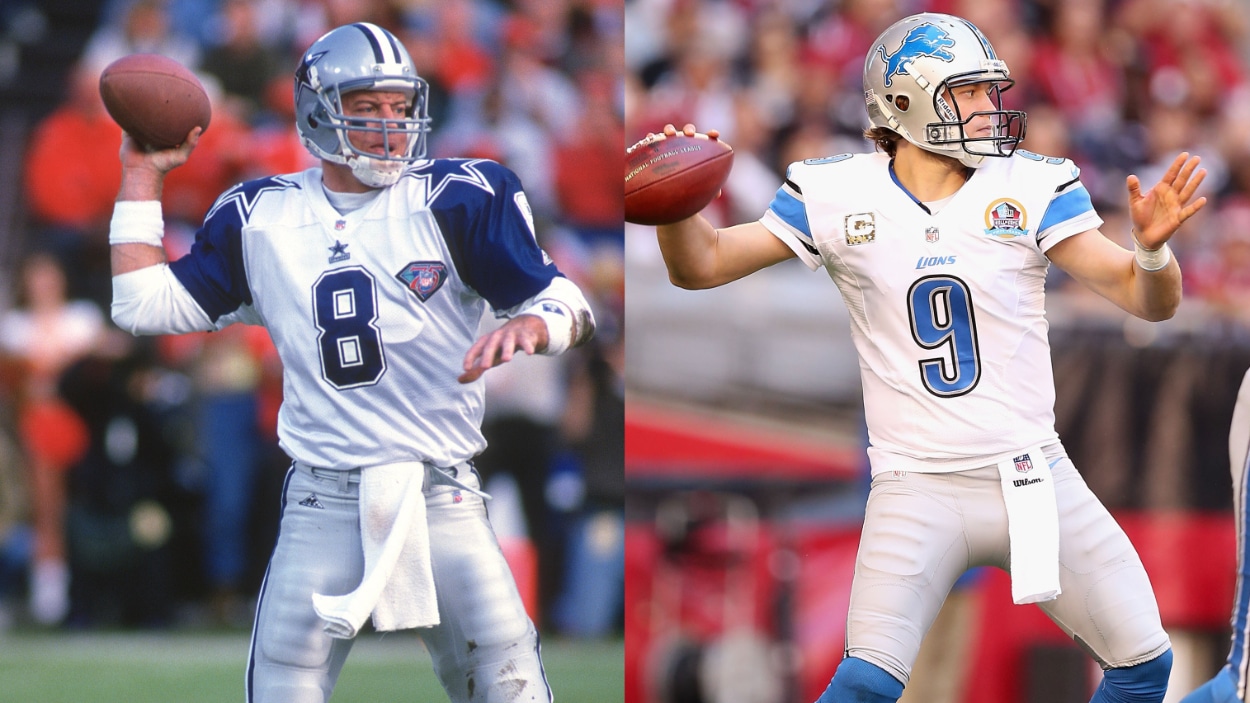 Who has the Most Passing Yards on Thanksgiving Day?
Here are the QBs that have the most passing yards on Thanksgiving Day both in terms of single-game totals and career yards on Turkey Day.
NFL football games are as big a part of Thanksgiving as Turkey or stuffing. In 2022, for the 77th consecutive year, there will be professional football games played on one of the most American of all holidays. Between the Detroit Lions vs. Cleveland Rams game in 1945 and the Buffalo Bills vs. New Orleans Saints game in 2021, there have been some incredible performances on Turkey Day, especially through the air. So, the question is, who has the most passing yards on Thanksgiving Day?
Most passing yards on Thanksgiving Day — Single game
The Thanksgiving Day NFL games aren't always great, but they are must-watch as a part of many people's holiday traditions. And when the games and/or performances are good, there are not many better NFL-watching experiences.  
As far as passing performances go, there have been six times a quarterback has thrown for over 400 yards on the fourth Thursday in November and 11 additional times a QB has put up 350 passing yards or more.
Here are the top 10 single games for the most passing yards on Thanksgiving Day:
1998: Troy Aikman, Cowboys vs. Vikings, 34-of-57 for 455 yards, one touchdown
2016: Kirk Cousins, Washington vs. Cowboys, 41-of-53 for 449 yards, three touchdowns
2012: Tony Romo, Cowboys vs. Washington, 37-of-62 for 441 yards, three touchdowns
2012: Matthew Stafford, Lions vs. Texans, 31-of-61 for 441 yards, two touchdowns
2017: Philip Rivers, Chargers vs. Cowboys, 27-of-33 for 434 yards, three touchdowns
1995: Scott Mitchell, Lions vs. Vikings, 30-of-45 for 410 yards, four touchdowns
2014: Matthew Stafford, Lions vs. Bears, 34-of-45 for 390 yards, two touchdowns
1995: Warren Moon, Vikings vs. Lions, 30-of-47 for 384 yards, three touchdowns
2007: Brett Favre, Packers vs. Lions, 31-of-41 for 381 yards, three touchdowns
2018: Matt Ryan, Falcons vs. Saints, 35-of-47 for 377 yards, two touchdowns
Interestingly, six of the top 10 performances were in losses. The 1995 Lions vs. Vikings game produced two top-10 performances. That game was a wild one that ended in a 44-38 victory for Scott Mitchell and the Lions over Warren Moon and his Vikings.
Career Turkey Day passing yards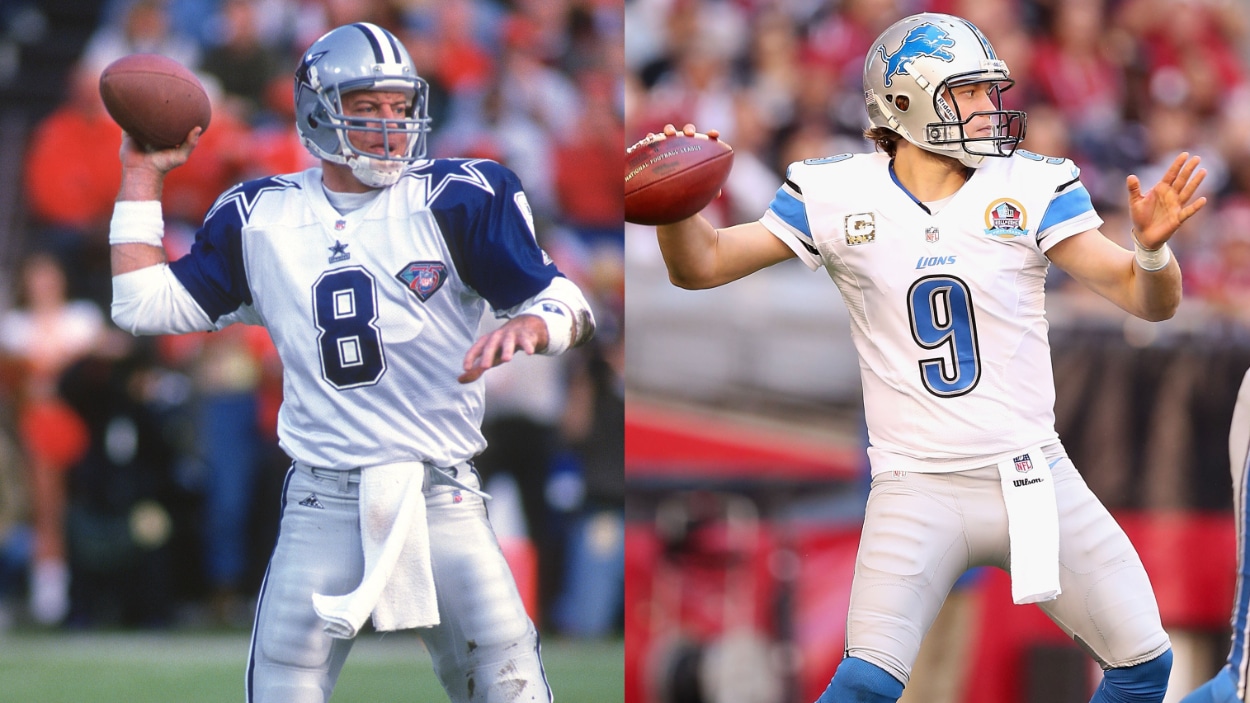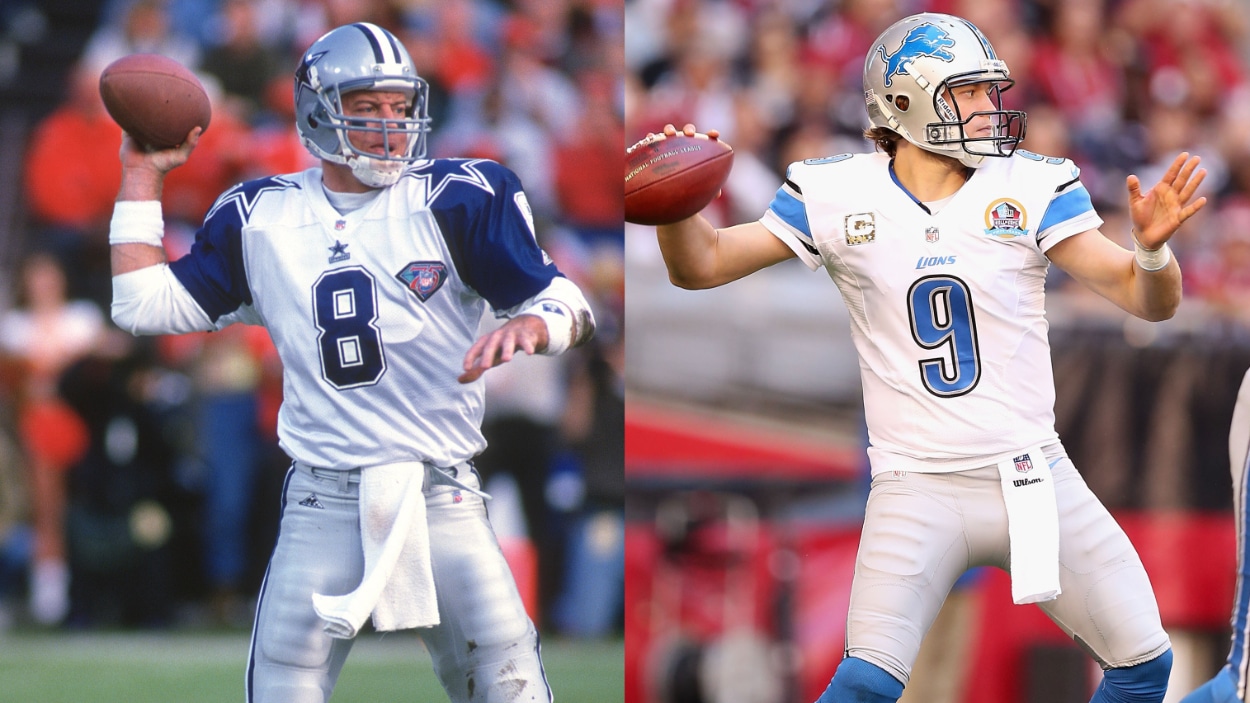 The Detroit Lions started the Thanksgiving Day tradition back in the 1940s, so it stands to reason that a Lions QB would hold the career mark for most passing yards on Thanksgiving Day, and that's the case.
The Lions took Matthew Stafford out of Georgia with the No. 1 overall pick in the 2009 NFL Draft, and he led the franchise from under center until 2020.
Stafford started 10 Thanksgiving games for the Lions and produced a 4-6 record in those games. In the process, he threw for more yards than any QB in history on the fourth Thursday in November. The now-Los Angeles Rams quarterback has 3,000 career passing yards on Thanksgiving.
Behind Stafford, the top five QBs with the most passing yards on Thanksgiving Day in their career are all Dallas Cowboys. These players are:
2. Tony Romo (2004-16): 2,338 yards
3. Troy Aikman (1989-2000): 2,174 yards
4. Danny White (1976-88): 1,545 yards
5. Dak Prescott (2016-present): 1,393 yards
After those Cowboys signal-callers, players from other teams round out the rest of the top 10. These QBs are
6. Bart Starr, Green Bay Packers (1957-70): 1,345 yards
7. Bobby Layne, Bears, NY Bulldogs, Lions, Steelers (1948-62): 1,319 yards
8. Tobin Rote, Packers, Lions (1950-66): 1,225 yards
9. Brett Favre, Packers, Vikings, Jets (1991-2010): 1,186 yards
10. Greg Landry, Lions, Colts, Bears (1968-84): 1,130 yards
It's also worth noting that Vikings QB Kirk Cousins, who plays in the 2022 late Thanksgiving game vs. the New England Patriots, is currently in 23rd place with 691 passing yards. However, he only needs 439 yards to jump up 13 spots and supplant Landry at No. 10 on this list.