Who is Ben DiNucci, the Seattle Sea Dragons QB in the XFL?
There are a lot of familiar names and faces in the new XFL. Most of the well-known players come from some level of NFL career. One player you may be familiar with is Seattle Sea Dragons quarterback Ben DiNucci. The XFL franchise's QB started a game in 2020 for the Dallas Cowboys, which makes him one of the small handful of XFL signal-callers with regular-season NFL experience. Here is what you need to know about the question, who is Ben DiNucci?
Who is Ben DiNucci?
Seattle Sea Dragons quarterback Ben DiNucci is a name you should get familiar with as the 2023 XFL season goes on. 
DiNucci went to Pine-Richland High School in Gibsonia, Pennsylvania, where he became the first prep player in the QB-rich state to throw for over 4,000 yards in a single season. He was a three-star recruit, per ESPN, in a class that included Kyler Murray, Joe Burrow, and Lamar Jackson.
His incredible senior season, which included 46 touchdowns and nine interceptions, led to DiNucci switching from Ivy League Penn to Pitt. 
At Pitt, he backed up Nathan Peterman as a redshirt freshman and got the starting job midway through his second season after an injury to starter Max Browne. However, he split time and eventually lost the job to Kenny Pickett. 
After Pickett took the starting spot, DiNucci transferred to FCS school James Madison, where he started and led the team to the FCS National Championship Game, where the Dukes ultimately lost to Trey Lance and North Dakota State. 
The Dallas Cowboys picked DiNucci in the seventh round of the 2020 NFL Draft, and in his rookie season, he played in three games and started one after injuries to Dak Prescott and Andy Dalton. 
Overall, DiNucci is 23-of-43 in the NFL for 219 yards with no touchdowns or interceptions and four fumbles. 
Can Ben DiNucci be an NFL QB?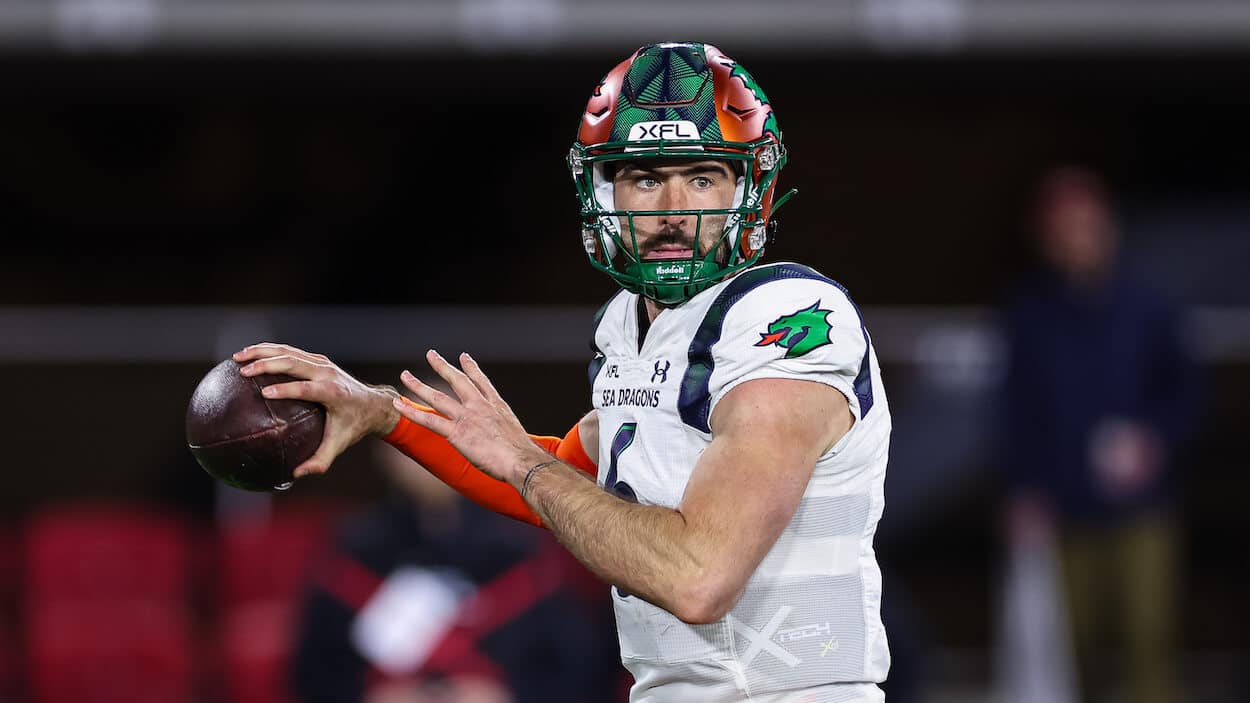 Ben DiNucci can play in the NFL, as he demonstrated in 2020. However, after not impressing in his one start, the Cowboys buried DiNucci on the practice squad in 2021 and cut him before the 2022 season.
The 6-foot-3, 210-pound signal-caller is making a case to get back to the NFL, though, in his first two games of the XFL season with the Seattle Sea Dragons.
After the first two weeks under former NFL head coach Jim Haslett, he leads the league in passing with 478 yards, a 65.1% completion rate (54-of-83), three touchdowns, and two interceptions. He also has 44 rushing yards.
DiNucci almost led the Sea Dragons to a Week 1 win over the DC Defenders, but he fumbled late in the game on the goal line to give the Defenders a 22-18 victory. In Week 2, St. Louis Battlehawks (and former NFL) QB A.J. McCarron out-dueled Ben DiNucci to get a 20-18 win, with the Sea Dragons QB coughing up another costly fumble in the fourth quarter.
Overall, DiNucci is a good quarterback all around, but the arm strength just isn't great. Plus, he did (and still does) have a problem holding onto the football when hit. 
Still, DiNucci is just 26 years old, so if he can show some improvement in those two categories this XFL season, he may get another chance in the NFL.