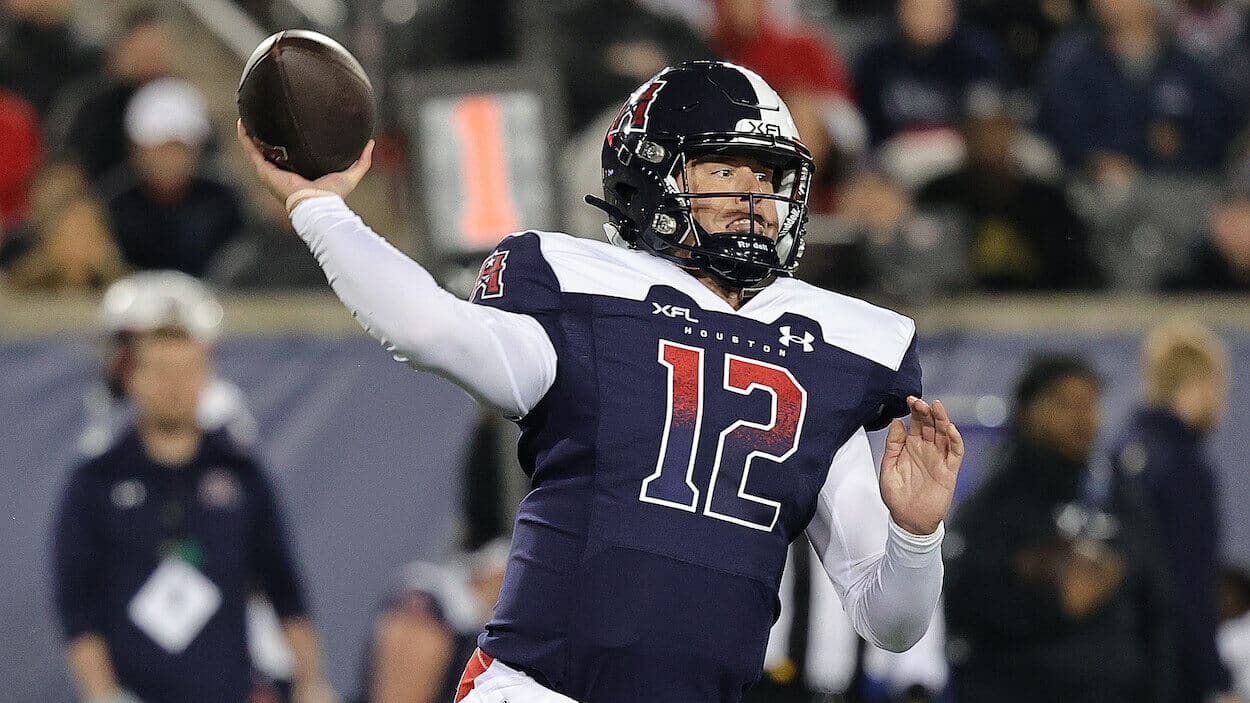 Who is Brandon Silvers, the Houston Roughnecks QB in the XFL?
Who is Brandon Silvers? He is the starting QB for the Houston Roughnecks in the new XFL and a Spring football veteran.
There are a lot of familiar names and faces in the new XFL. Most of the players who are well-known come from some level of an NFL career. However, a player you may not know is the starting quarterback of the Houston Roughnecks, Brandon Silvers. The XFL franchise's QB went to a small school for college before playing in several spring football leagues. Here is what you need to know about the question, who is Brandon Silvers?
Who is Brandon Silvers?
Houston Roughnecks QB Brandon Silvers started his football career growing up in Pensacola, Florida and went on to play at Gulf Shores High School. Heading into college, Silvers was a three-star prospect and chose Troy over Louisiana Tech, Middle Tennessee, and South Alabama, per ESPN.
His college choice wasn't all that surprising as his uncle, Carey Christensen, was the quarterback for Troy when the team won the 1984 Division II national championship.
Silvers joined the Trojans after they moved to Division I (FBS) and redshirted in 2013. After that, the QB started his next four years in Alabama. As a redshirt freshman, Slivers' 70.5% completion rate broke the FBS freshman record set by Oklahoma's Sam Bradford.
After two 3-8 seasons, Silvers helped turn the Trojans around, going 10-3 and 11-2 in his junior and senior years. Ultimately, Silvers threw for 10,677 yards in his college career with 71 touchdowns and 29 interceptions.
Brandon Silvers went undrafted in the 2018 NFL Draft but has spent time in minicamps with the New Orleans Saints and New York Jets.
While trying to keep his NFL dreams alive, Silvers played in the USFL in 2019 for the Memphis Express. In that Spring football league, he beat out former NFL signal-callers Christian Hackenberg and Zach Mettenberger and ended up splitting time with former Heisman Trophy winner Johnny Manziel.
Silvers signed with the Seattle Dragons in the last iteration of the XFL before staying with the league in 2023 by signing with the Renegades.
Can Brandon Silvers be an NFL QB?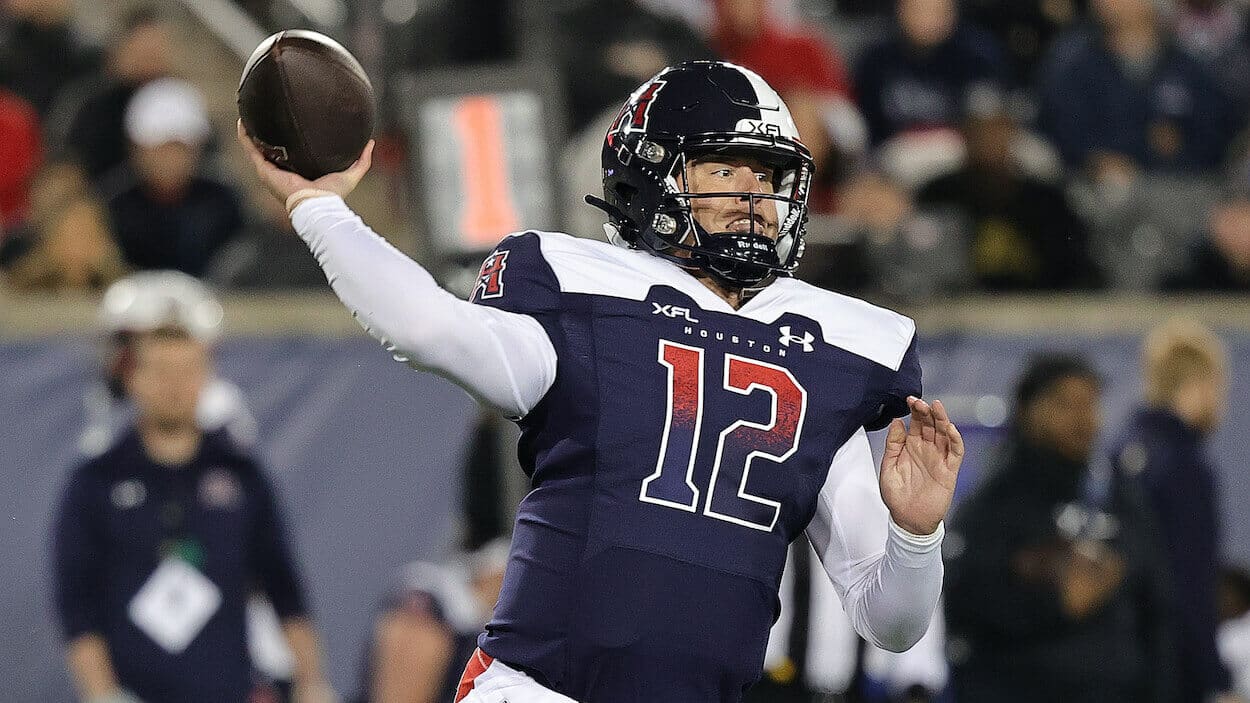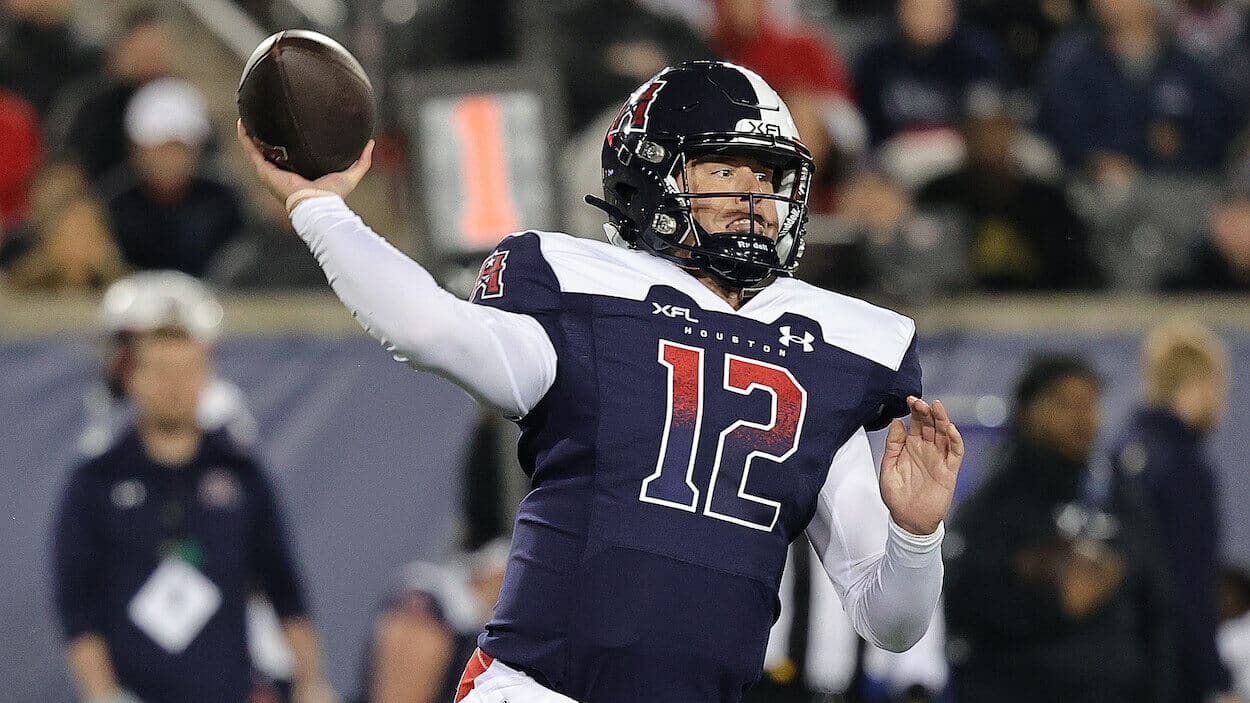 Ahead of the 2018 NFL Draft, pro scouts liked that Brandon Silvers was a four-year starter and team leader. He also had the arm strength to make the throws required of an NFL QB. However, at 6-foot-2, 218 pounds, he didn't have ideal NFL size or athleticism.
His NFL.com scouting report coming out of college noted that Silvers was an "average athlete with soft body" and that his decision-making and field-reading were inconsistent. It also stated that "in six career games against Power 5 teams, he's thrown a total of three touchdowns and two interceptions."
Brandon Silvers is now 28, so his NFL chances are slim and getting slimmer. However, he's done well at every lower-level stop he's made.
And in Week 1 of the 2023 XFL season, he led his Houston Roughnecks to a 33-12 win over the Orlando Guardians. Under long-time NFL coach Wade Phillips, Silvers and his squad were tied with Orlando after one quarter. A 15-point outburst in the second started an eventual blowout, though.
The Roughnecks also outscored the Guardians 12-6 in the fourth to finish the game strong. In the end, Silvers was 26-of-42 for 272 yards with two touchdowns and two interceptions.
Brandon Silvers may not get another NFL shot anytime soon.Still, the veteran of Spring football is one of the most fun signal-caller in the new XFL to watch.