Who is Brett Hundley, the Vegas Vipers QB in the XFL?
There are a lot of familiar names and faces in the new XFL. Most of the well-known players come from some level of NFL career. And one of those players is Vegas Vipers quarterback Brett Hundley. The XFL franchise's QB was the signal-caller at UCLA and has started nine NFL games. Here is what you need to know about the question, who is Brett Hundley?
Who is Brett Hundley?
Vegas Vipers QB Brett Hundley is a name you might know, but if everything goes right, you'll know him even better as the XFL season goes on.
Hundley was a four-star recruit, per ESPN, in 2011, coming out of Chandler High School in Arizona. He was the No. 6 QB in the class, five spots behind the No. 1 QB, Houston Texans backup Jeff Driskel and three spots ahead of the Miami Dolphins' Teddy Bridgewater.
The Arizona native played in 40 games over three seasons for the UCLA Bruins, racking up 9,966 passing yards, 1,747 rushing yards, 75 passing touchdowns, 31 rushing touchdowns, and 25 interceptions.
Hundley went to the Green Bay Packers in the fifth round of the 2015 NFL Draft. He was third-string his rookie year and got a few mop-up throws in his second season. In 2017, the QB started nine games after Aaron Rodgers went out for the season with a broken collarbone.  
The young signal-caller failed to truly impress in those nine starts, throwing for 1,836 yards with a 60.8% completion rate, nine touchdowns, and 12 interceptions. He also took 29 sacks in those games.
Over the next four seasons, Hundley bounced around to the Seattle Seahawks, Arizona Cardinals, Indianapolis Colts, Baltimore Ravens (twice), and New Orleans Saints but only threw 11 more NFL passes.
Following practice squad stints with the Saints and Ravens in 2022, Brett Hundley signed with the Vegas Vipers on the eve of the 2023 XFL season. Quarterback Luis Perez started the first two games for head coach Rod Woodson, but Hundley may get his first start as soon as Week 3.
Can Brett Hundley be an NFL QB?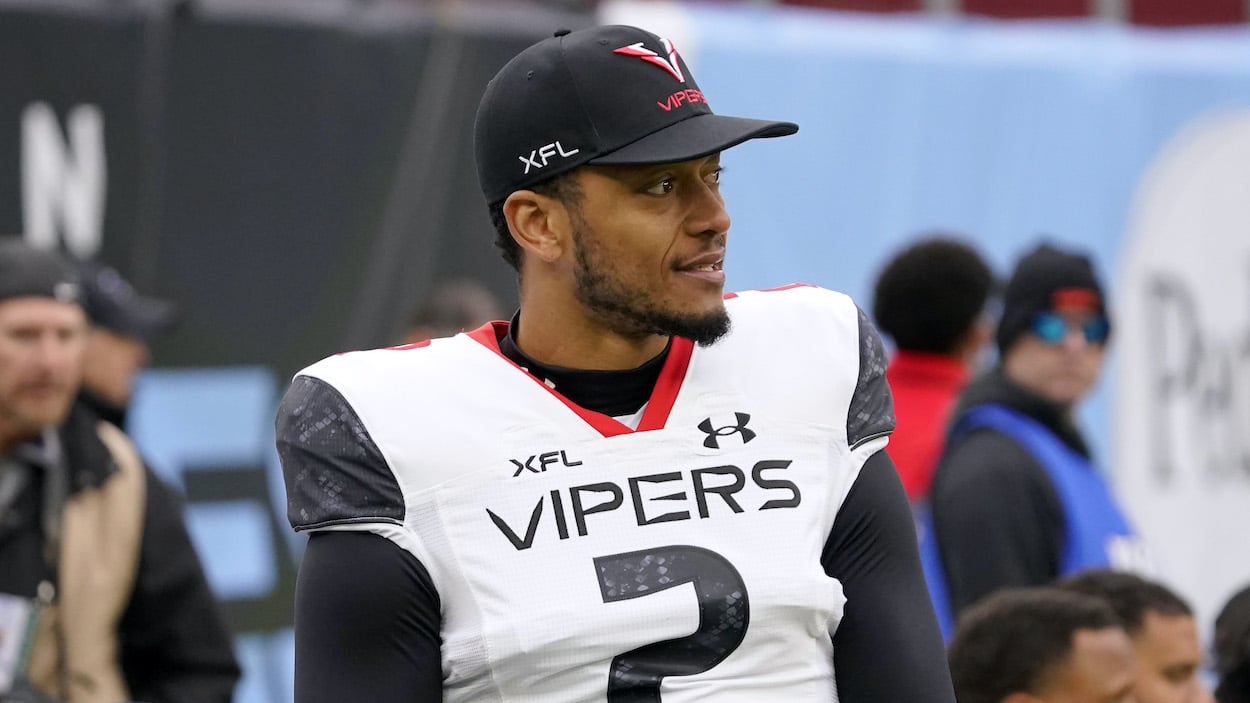 Not only can Brett Hundley be an NFL QB, he has been in the past. The issue is, at 29, time is running out for him to catch on as a team's trusted No. 2 signal-caller. 
Hundley looks like an NFL quarterback getting off the bus. He's 6-foot-3, 226 pounds, and is an excellent athlete. He has good arm strength, pocket poise, and he was a dual-threat QB five years ago, back before it was in vogue. 
Coming out of college, the knock on Hundley was that he just wasn't a polished quarterback, and seven years later, that's still true. He'll have some incredible moments, but he's never shaken the nine touchdowns to 12 interception ratio as a starter. 
Signing so late with the Vegas Vipers in the XFL, Hundley wasn't ready to start Week 1. Luis Perez played well and got a start again in Week 2. In that rain-soaked game against the DC Defenders, Perez was ineffective, and Hundley came in at the end of the first quarter. 
The former Packers QB was 11-of-18 for 102 yards with no touchdowns or interceptions and 24 rushing yards. 
The Vipers still list Perez as the starter heading into Week 3, but there's a good chance Brett Hundley ends the game for Vegas against the Seattle Sea Dragons.