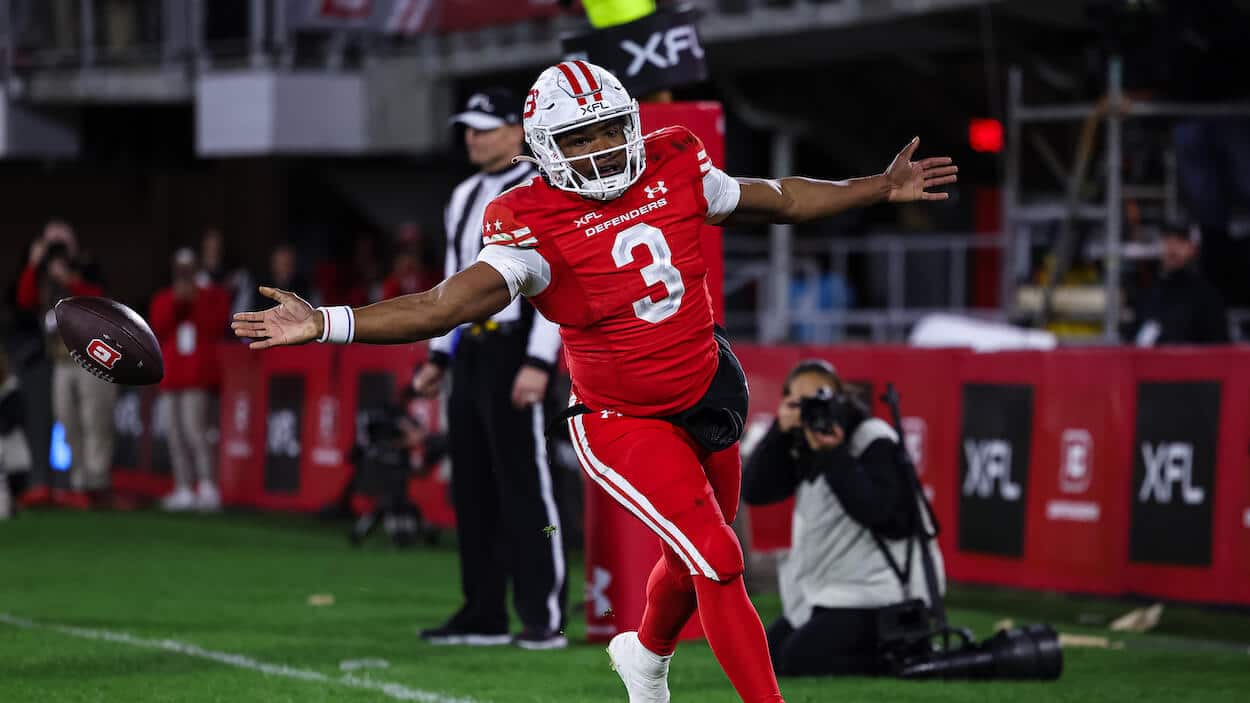 Who is D'Eriq King, the DC Defenders QB in the XFL?
Who is D'Eriq King? He is a QB for the DC Defenders who is sparking the team to wins despite his small stature.
There are a lot of familiar names and faces in the new XFL. Most of the well-known players come from some level of NFL career. One name college football fans may find familiar with is DC Defenders quarterback D'Eriq King. The XFL franchise's QB starred at Houston and Miami before going undrafted in the 2022 NFL Draft. Here is what you need to know about the question, who is D'Eriq King?
Who is D'Eriq King?
DC Defenders quarterback D'Eriq King is a name you should get familiar with as the 2023 XFL season goes on. 
King played quarterback at Manvel High School in Manvel, Texas, where he passed for over 10,000 yards, ran for over 3,000, and threw for 140 career touchdowns, breaking Kyler Murray's Texas 6A record. 
He was a four-star recruit coming out of college. But at 5-foot-9, 160 pounds, recruiting services considered him an "athlete" rather than a QB. 
Despite his size limitations, King signed with the Houston Cougars. In college, he played wide receiver his freshman season, quarterback and receiver his sophomore season, and QB his final two seasons. However, both of his final two were cut short due to a knee injury in 2018 and his desire to transfer after four games in 2019. 
In 2020, King transferred to the ACC to play for the Miami Hurricanes. In 14 games at "The U," King threw for 3,452 yards with 26 touchdowns, nine interceptions, 634 rushing yards, and four rushing TDs. 
King went undrafted in the 2022 NFL Draft, and the New England Patriots signed him as a free agent before cutting him after rookie minicamp. He then caught on for a few weeks in November on the Carolina Panthers practice squad. 
Can D'Eriq King be an NFL QB?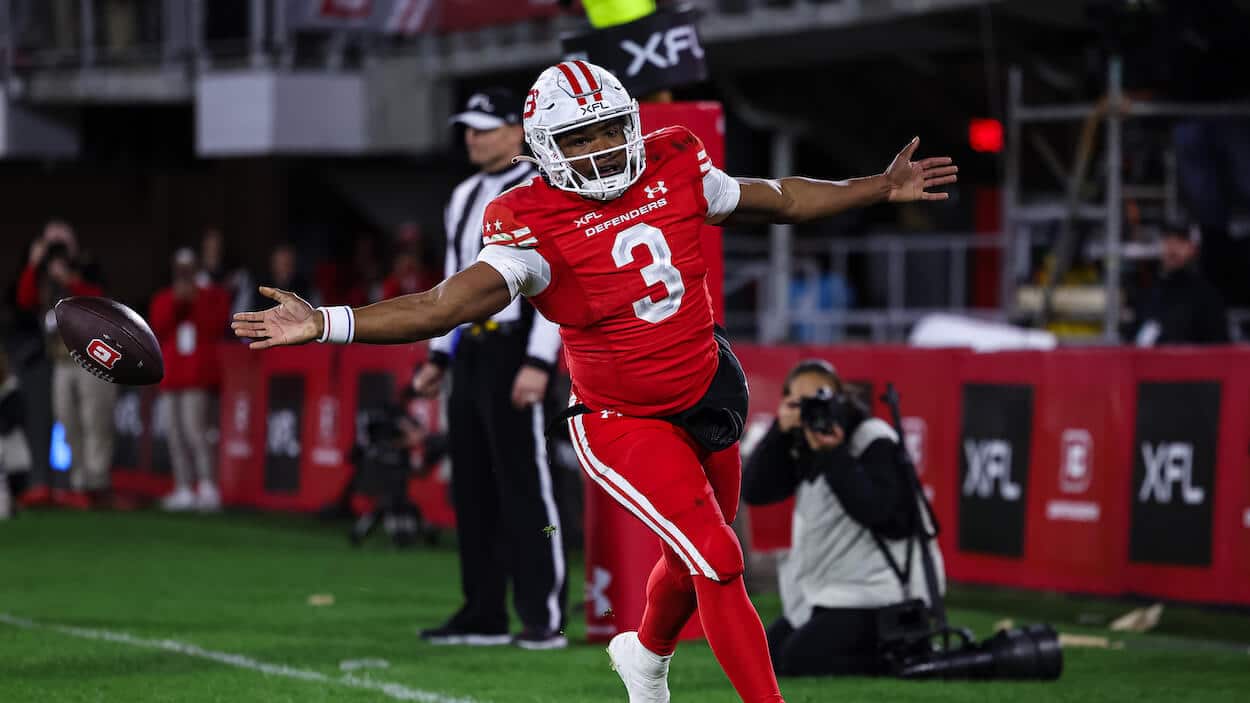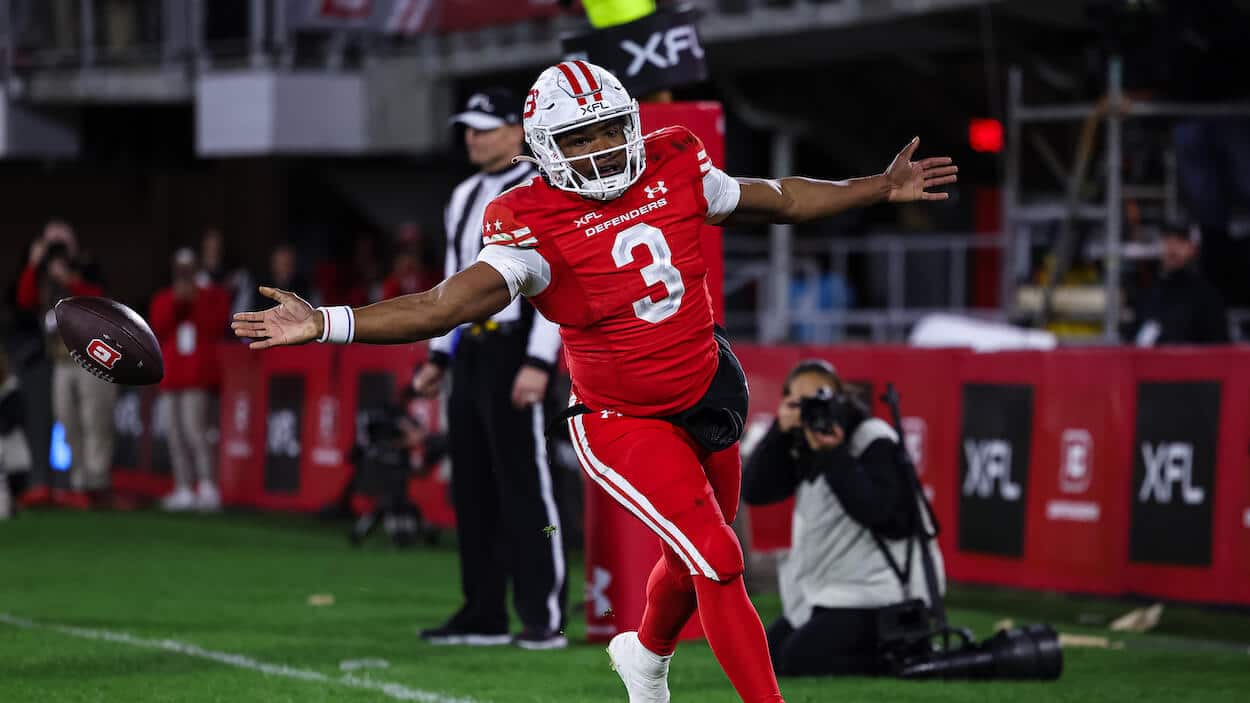 There are two different questions to answer here. Can D'Eriq King play in the NFL? Probably. Can he play QB in the NFL? That's a tougher question to answer. 
King is simply too small for most NFL teams to take a chance on him at QB. Although he's bulked up to around 200 pounds since high school, his height and weight just won't allow him to play from the pocket in the NFL.
Plus, after six years in college, the Defenders signal-caller will turn 26 this offseason, which is old for a developmental NFL prospect.
All that said, King is a heck of a football player. He's incredibly athletic, putting up 58 catches in college and even returning a kickoff for a touchdown at Houston. As NFL offenses get more creative and less slavish to traditional positions, it's hard to think some team couldn't find a use for this jack-of-all-trades.
Another thing to watch with King is the success of Alabama QB Bryce Young after the 2023 NFL Draft. Young is only slightly taller than King, and if he succeeds, maybe King could, too.
In the XFL this season, King has become the sparkplug for the 2-0 DC Defenders. DC Coach Reggie Barlow has put him in for starting QB Jordan Ta'amu in both Defenders' wins this season. And he is tied for the league lead in rushing touchdowns with two. PFF gives King the highest grade on the DC offense and the third-highest offensive grade in the league through two weeks.
If D'Eriq King keeps this production up through the rest of the NFL season, he should find a place in an NFL training camp next fall, even if it's not as a true QB.