Who is Jordan Ta'amu, the DC Defenders QB in the XFL?
There are a lot of familiar names and faces in the new XFL. Most of the well-known players come from some level of NFL career. Despite being on several NFL rosters, one player you may not be familiar with is DC Defenders quarterback Jordan Ta'amu. The XFL franchise's QB played at Ole Miss, has spent time on several NFL practice squads, and once beat out Taylor Heinicke. Here is what you need to know about the question, who is Jordan Ta'amu?
Who is Jordan Ta'amu?
DC Defenders quarterback Jordan Ta'amu is a name you should get familiar with as the 2023 XFL season goes on. 
The Hawaii native wasn't a big-time recruit out of high school. After his time at Pearl City High School, Ta'amu did two years at the New Mexico Military Institute Junior College. The QB found success in New Mexico and became a three-star JUCO transfer as a dial-threat quarterback in 2018. 
Ta'amu ultimately ended up at Ole Miss under Matt Luke. In his second season in Oxford, Mississippi, Ta'amu became the starter. In 2018, he passed for 3,918 yards with a 63.6% completion rate, 19 touchdowns, and eight interceptions. He also ran for 342 yards and six scores. 
The Hawaiian QB went undrafted in the 2019 NFL Draft, and the Houston Texans signed him as a free agent. However, he didn't make it to training camp. 
That offseason, Ta'amu signed with the St. Louis Battlehawks in the last version of the XFL. On that team, he beat out the other signal-callers to become the starting QB, one of whom was future Washington Commanders star Taylor Hienicke. 
Short-lived NFL stints with Kansas City Chiefs (twice), Detroit Lions (twice), Commanders, and Carolina Panthers followed. In late 2021 when Ta'amu was on the Commanders practice squad, the team's starter, ironically, was Heinicke. 
Since his last NFL gig, Jordan Ta'amu has played for the Tampa Bay Bandits in the USFL and now for the new XFL's DC Defenders. 
Can Jordan Ta'amu be an NFL QB?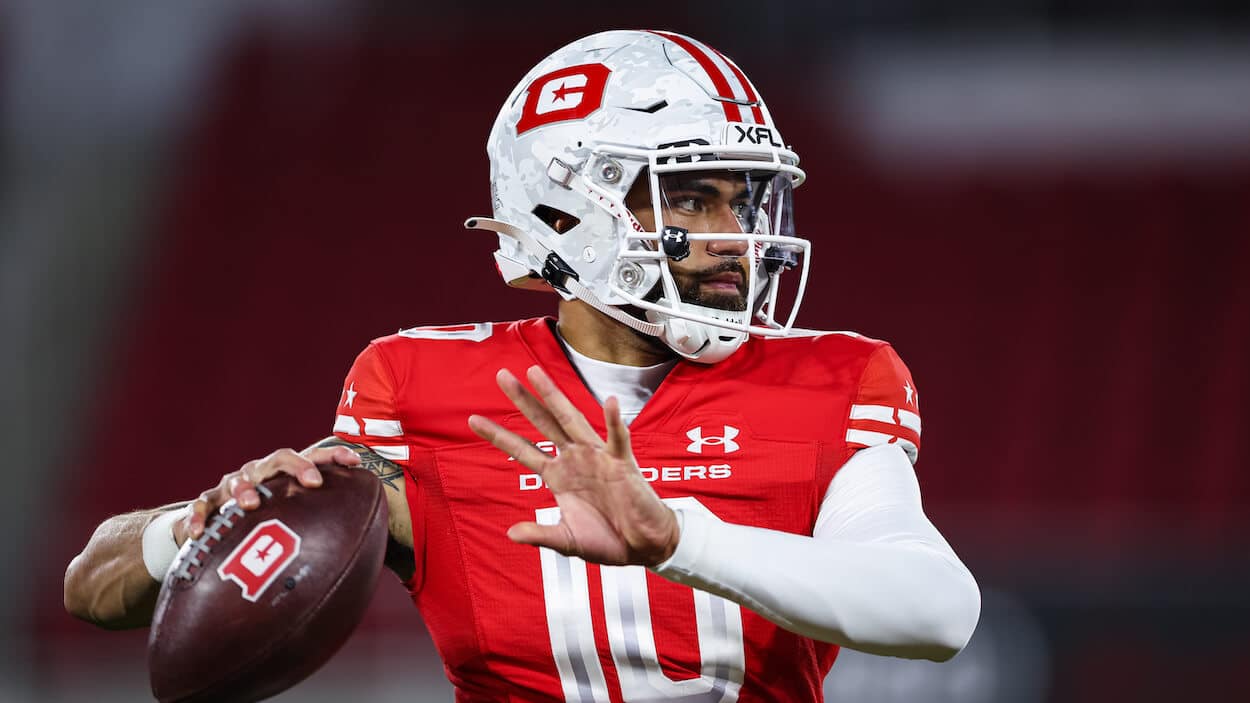 Jordan Ta'amu is 6-foot-3, 221 pounds, and has more than enough athleticism to play in the modern NFL. He has the arm strength to make all the throws at the next level and decent accuracy as well.
The issue with Ta'amu is, as his NFL.com draft scouting report said back in 2019, "Ultimately, Ta'amu just doesn't play chess well enough against defensive coordinators who are able to slow his processing with disguised blitzes and multiple coverages."
It is the feel for the game and the decision-making that hurts Ta'amu more than anything else. That said, the QB is going against some high-level coaches in the XFL. So, if he can show his understanding of defenses has gotten better, there is a chance Ta'amu — who is still just 25 — could make another NFL roster and stick this time.
Thus far, his tenure has been a mixed bag with DC Defenders.
In Week 1, Ta'amu was 8-of-16 for 86 yards with an interception in a 22-18 win over the Seattle Sea Dragons. He also ran for nine yards and a touchdown. His backup, D'Eriq King, came in and finished the game, though.
The same thing happened in a sloppy, rainy Week 2 in an 18-6 win over the Vegas Vipers. Ta'amu had little success passing, going 12-of-25 for 109 yards, but did have 65 yards on the ground. King again came in to seal the victory.
For Week 3, Jordan Ta'amu will likely start again, but fans will see a healthy dose of King as well.