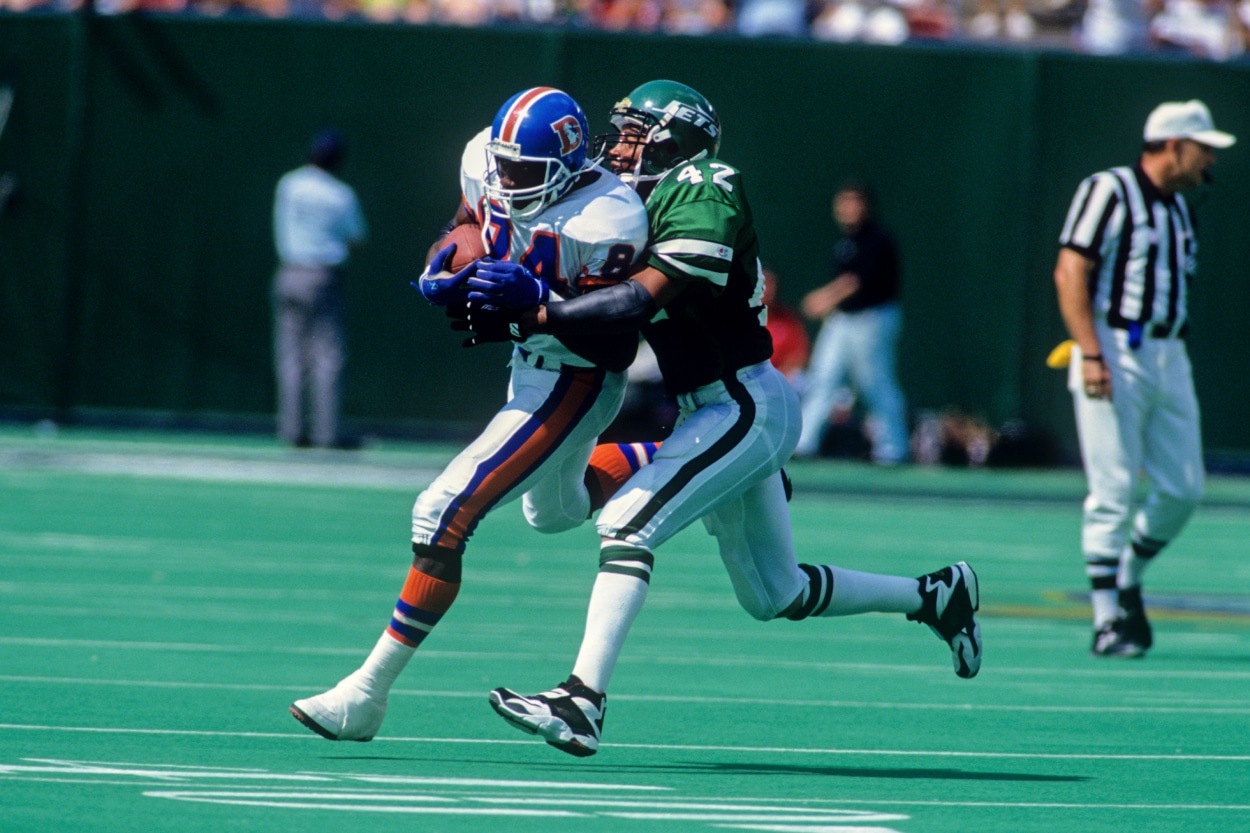 Who Was Better: Shannon Sharpe or Sterling Sharpe?
Is it far-fetched to say that Sterling Sharpe was a better football player than his Hall of Fame brother?
Shannon Sharpe is a Hall of Famer. The former Denver Broncos and Baltimore Ravens tight end played 12 seasons in the NFL and is one of just five at his position to record more than 10,000 receiving yards in his career.
Sterling Sharpe spent seven years as a top-notch wide receiver with the Green Bay Packers. A neck injury suffered late in the 1994 season forced him into early retirement. Despite playing with a slew of different quarterbacks in his seven seasons, he led the NFL in catches three times.
While Shannon is a member of the Pro Football Hall of Fame, does that mean he was the better player?
Shannon Sharpe was an elite tight end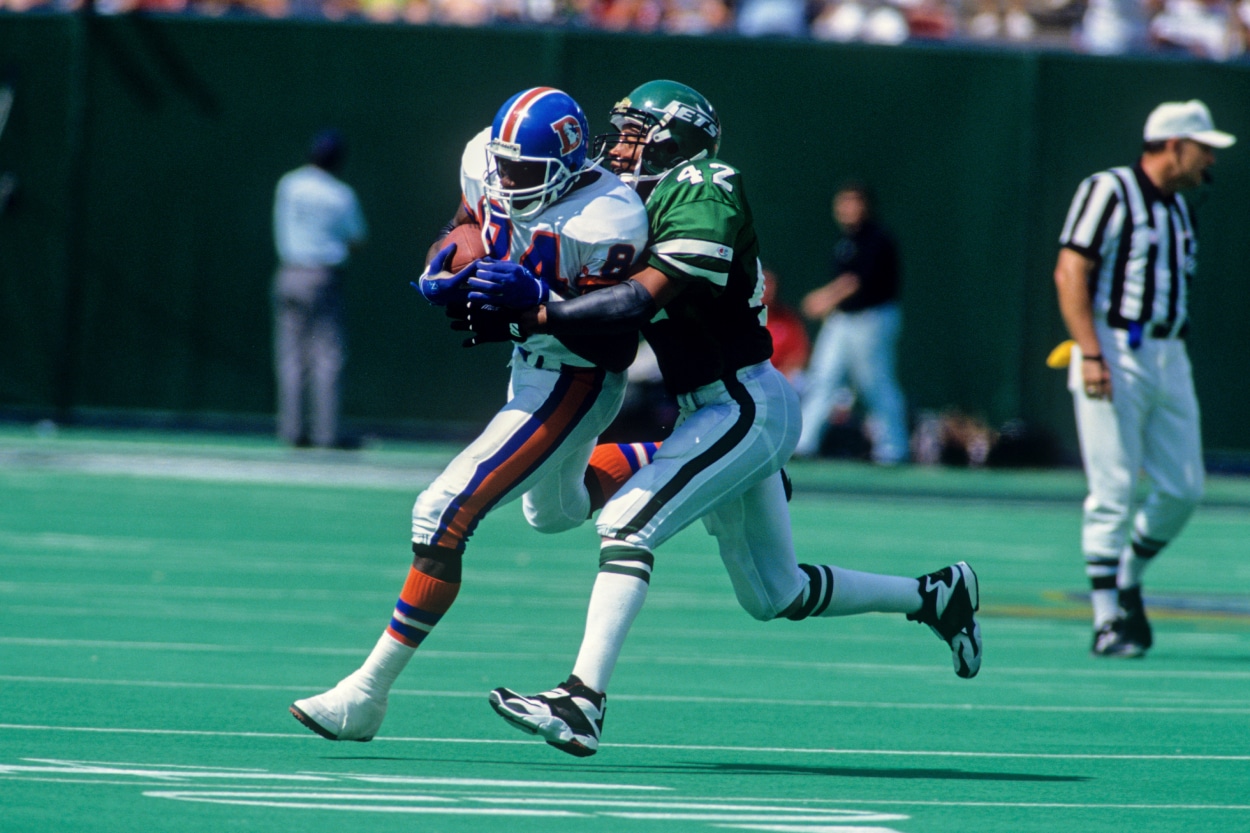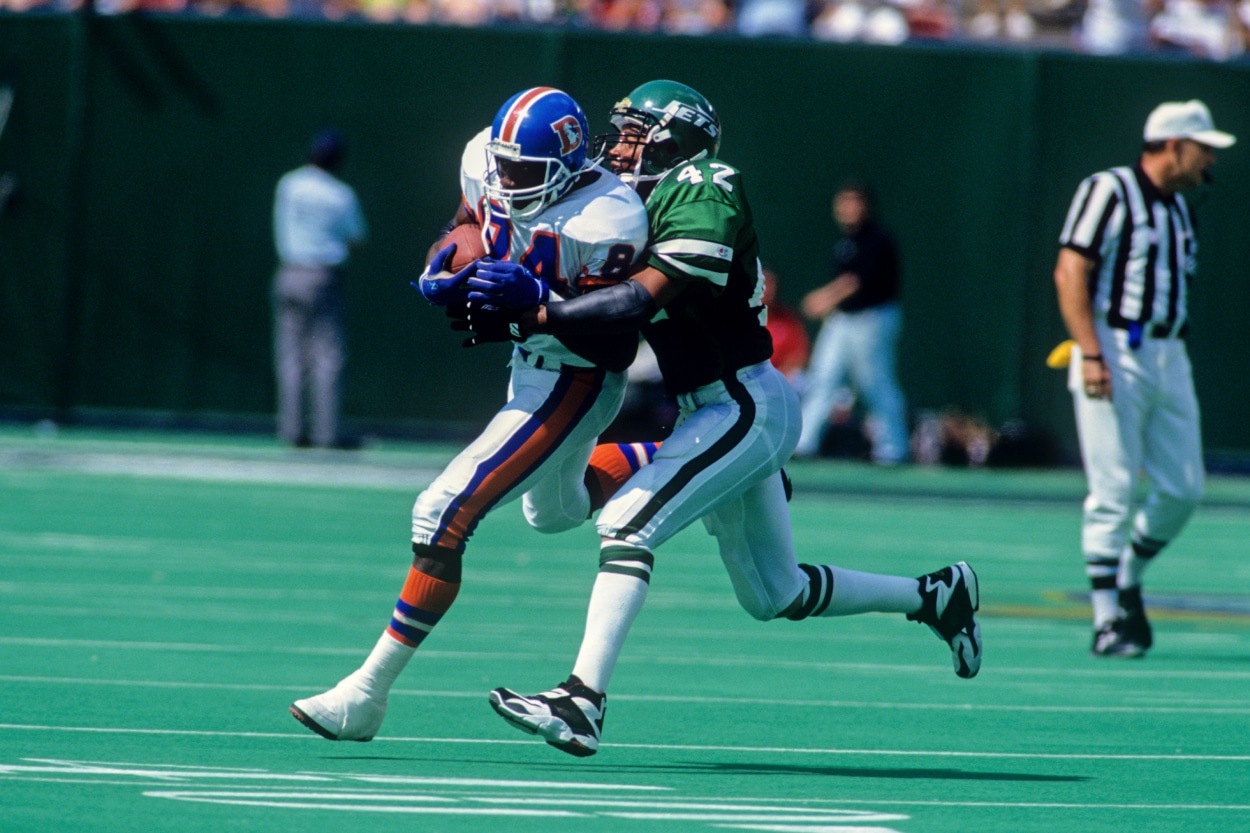 It took Shannon a couple of years to get used to life in the NFL. He played his college ball at Savannah State and wasn't selected by the Denver Broncos until the seventh round of the 1990 NFL Draft. 
As a rookie, he had seven catches for 99 yards and a touchdown while appearing in all 16 games. The following season, he caught 22 passes for 322 yards and a score. It wasn't until his third season that Shannon became a significant part of the offense.
In 1992, he made the first of seven straight Pro Bowls as he became a bigger focal point of the John Elway-led offense. He had 53 receptions for 640 yards and two touchdown catches. Sharpe made 11 starts and proved to be one of the better blocking tight ends in the game.
Statistically, his best season came in 1996 when he had 80 catches for 1,062 yards and 10 touchdowns. It was one of his three 1,000-yard seasons.
For his career, he collected 62 touchdowns and registered 10,060 receiving yards. He's one of five tight ends to surpass the 10,000-yard mark.
Sterling Sharpe's promising career was cut short by injury
While Shannon's NFL life lasted 12 years, Sterling only played seven seasons. During those seven years, he played with several different starting quarterbacks in Green Bay. Sterling was the seventh overall pick in 1988 after a stellar career at South Carolina.
After beginning his NFL career with Randy Wright under center, he developed a bond with Don Majkowski in 1989. Sharpe had a league-leading 90 receptions in 1989 and finished with 1,423 receiving yards and 12 touchdowns. He had the first of his three All-Pro seasons and first of five Pro Bowls.
Majkowski suffered a torn rotator cuff during the 10th game in 1990, and the Packers used Anthony Dilweg, Blair Kiel, and Mike Tomczak at quarterback until Majkowski returned late in '91. Sharpe still had a Pro Bowl season in 1990, finishing with 1,105 yards and six touchdowns.
While the Packers struggled to find their quarterback until Majkowski returned in 1991, Sharpe's string of 1,000-yard seasons was broken, but he still racked up 961 yards and four touchdowns. In 1992, Majkowski was back as a full-time starter until an ankle injury opened the door for Brett Favre, who held the job for 16 years. 
Sharpe had his best season in 1992, leading the NFL in receptions (108), yards (1,461), and touchdowns (13). He also led the league in catches in 1993 with 112.
Sharpe, who never missed a game in his career, injured his neck during a Week 16 game in 1994, a year he topped the NFL in touchdown catches with 18. He played in Week 17 but had offseason neck surgery, and the risk of returning was too much, so he retired.
While Shannon had the Hall of Fame career, it's not far-fetched to say Sterling was the better player. Although they played different positions, Sterling had more touchdown catches in five fewer seasons. Sterling averaged 1,162 receiving yards. Had he played 12 seasons like his brother and maintained his average, he would've finished with 13,944 yards. 
The Sharpe brothers were a force, but just because one is a Hall of Famer doesn't necessarily mean he's the better player.