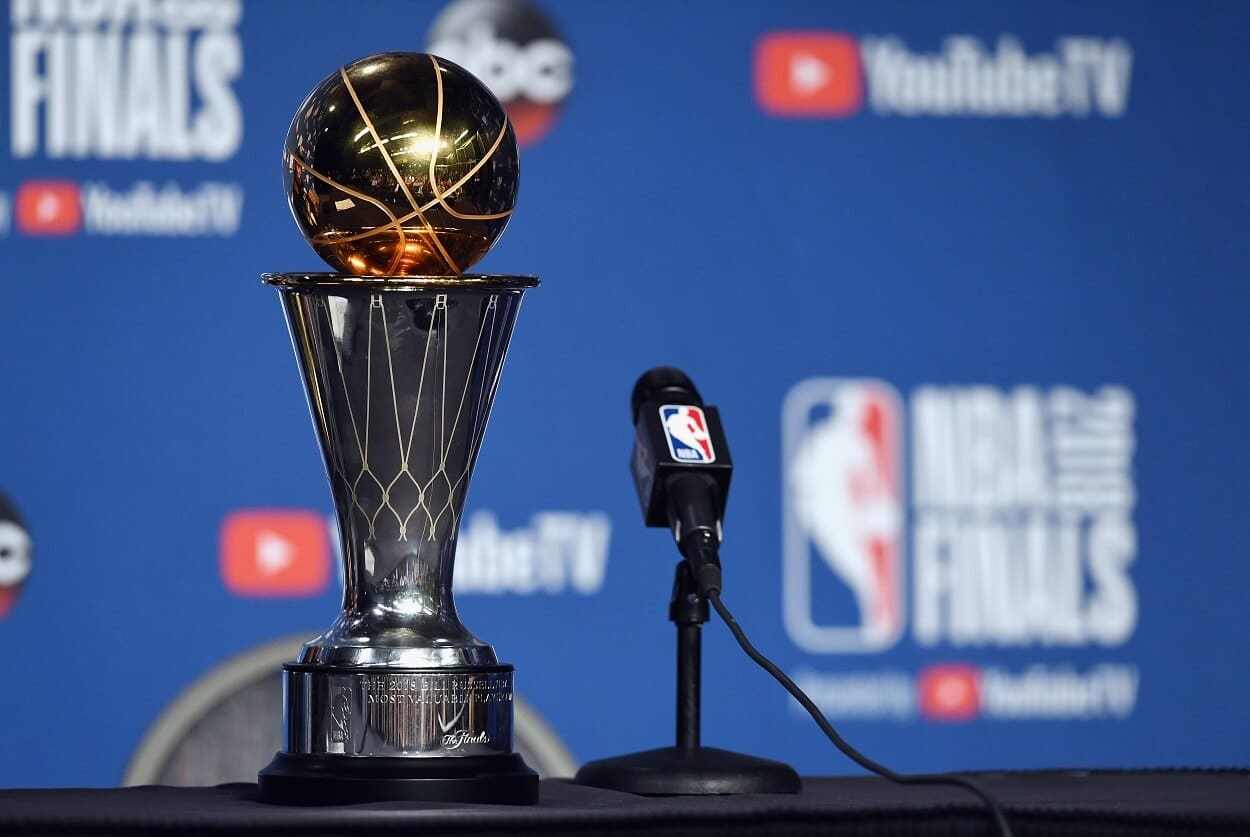 Who Has Won the Most NBA Finals MVP Awards?
A brief look at every NBA Finals MVP in history.
Initially established in 1969, the NBA Finals MVP trophy has been awarded to 34 different players over the years, the most recent being Stephen Curry in 2022.
The first NBA Finals MVP was Los Angeles Lakers guard Jerry West, who remains the only player from the losing team to receive the award. West averaged 37.9 points, 7.4 assists, and 4.7 rebounds in the title series that year for the Lakers, who lost to the Boston Celtics in seven games.
And speaking of the Celtics, the trophy is now known as the Bill Russell NBA Finals MVP Award, which some may think doesn't make sense given that the Boston legend never won it. But the only reason that's the case is due to the fact that Russell got just one shot at it, as those '69 Finals marked his final NBA games.
Had the award been established during his prime, Russell easily would have won it on multiple occasions as he led the Celtics to 10 additional championships during his Hall of Fame career, including eight in a row from 1959 to 1966. In reality, Russell could easily be sitting atop the all-time list.
So who exactly does hold the record for the most NBA Finals MVP Awards?
Michael Jordan won NBA Finals MVP a record six times
It should come as no surprise to anyone that Michael Jordan owns the record for the most NBA Finals MVP trophies won.
Jordan famously led the Chicago Bulls to six NBA Finals appearances in the 1990s, winning every single one of them and taking MVP honors each time.
In leading the Bulls to victories over the Los Angeles Lakers (1991), the Portland Trail Blazers (1992), the Phoenix Suns (1993), the Seattle Supersonics (1996), and the Utah Jazz twice (1997, 1998), MJ averaged 33.6 points, 6.0 assists, 6.0 rebounds, and 1.8 steals in 35 NBA Finals games.
Every NBA Finals MVP
In addition to Michael Jordan, 11 others have won NBA Finals MVP on multiple occasions.
LeBron James sits in second place with four, while Magic Johnson, Shaquille O'Neal, and Tim Duncan are tied for third with three wins each.
Here's a quick look at every Finals MVP winner in history.
| Player | NBA Finals MVP Awards | Year(s) Won |
| --- | --- | --- |
| Michael Jordan | 6 | 1991, 1992, 1993, 1996, 1997, 1998 |
| LeBron James | 4 | 2012, 2013, 2016, 2020 |
| Magic Johnson | 3 | 1980, 1982, 1987 |
| Shaquille O'Neal | 3 | 2000, 2001, 2002 |
| Tim Duncan | 3 | 1999, 2003, 2005 |
| Willis Reed | 2 | 1970, 1973 |
| Kareem Abdul-Jabbar | 2 | 1971, 1985 |
| Larry Bird | 2 | 1984, 1986 |
| Hakeem Olajuwon | 2 | 1994, 1995 |
| Kobe Bryant | 2 | 2009, 2010 |
| Kevin Durant | 2 | 2017, 2018 |
| Kawhi Leonard | 2 | 2014, 2019 |
| Jerry West | 1 | 1969 |
| Wilt Chamberlain | 1 | 1972 |
| John Havlicek | 1 | 1974 |
| Rick Barry | 1 | 1975 |
| Jo Jo White | 1 | 1976 |
| Bill Walton | 1 | 1977 |
| Wes Unseld | 1 | 1978 |
| Dennis Johnson | 1 | 1979 |
| Cedric Maxwell | 1 | 1981 |
| Moses Malone | 1 | 1983 |
| James Worthy | 1 | 1988 |
| Joe Dumars | 1 | 1989 |
| Isiah Thomas | 1 | 1990 |
| Chauncey Billups | 1 | 2004 |
| Dwyane Wade | 1 | 2006 |
| Tony Parker | 1 | 2007 |
| Paul Pierce | 1 | 2008 |
| Dirk Nowitzki | 1 | 2011 |
| Andre Iguodala | 1 | 2015 |
| Giannis Antetokounmpo | 1 | 2021 |
| Stephen Curry | 1 | 2022 |
| Nikola Jokic | 1 | 2023 |