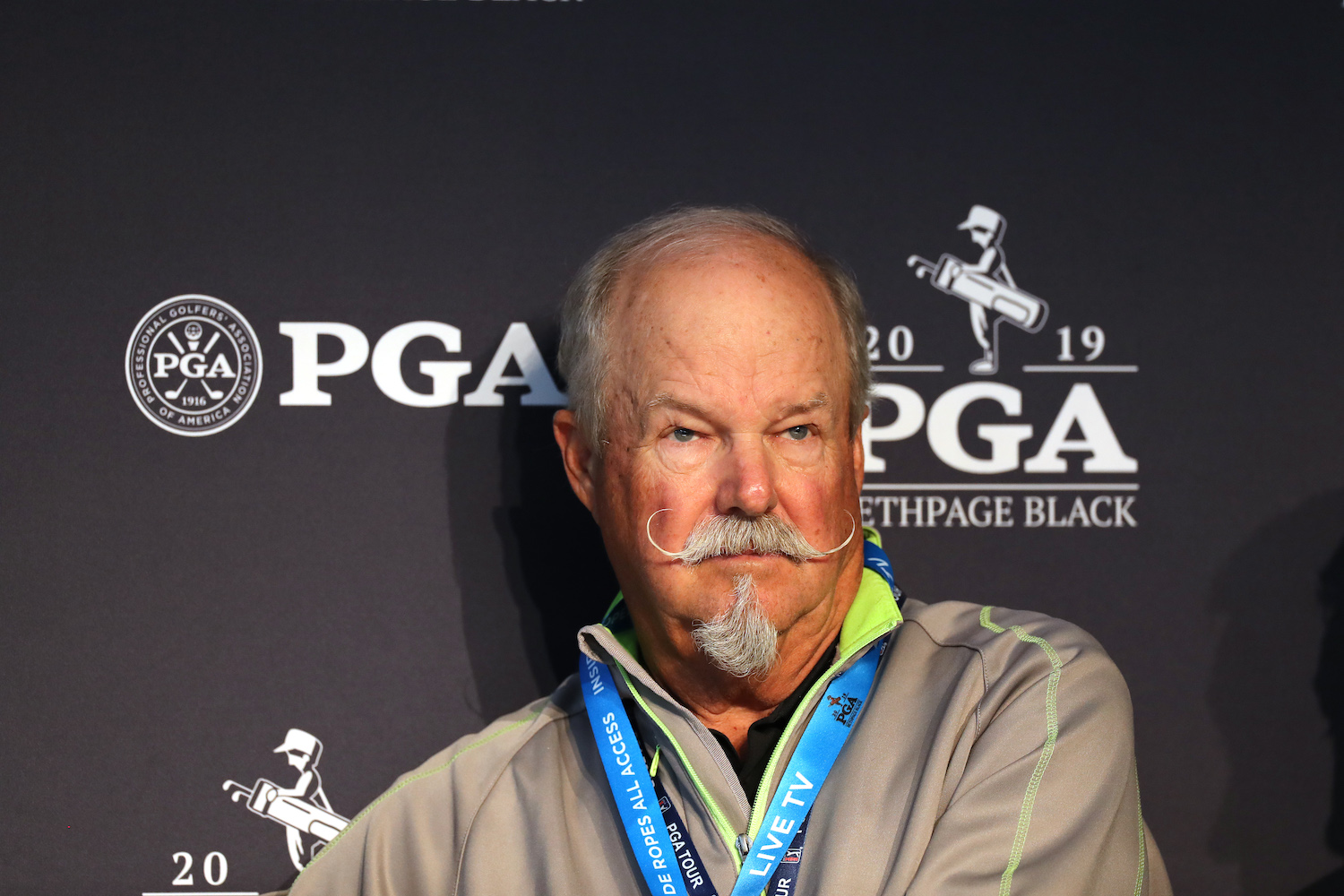 Why Did Gary McCord Get Fired by CBS Sports After More than 30 Years?
Gary McCord provided entertaining golf commentary with CBS for more than 30 years. They fired him before the 2020 season. What happened?
Gary McCord had been a part of CBS Sports and its PGA Tour coverage for more than 30 years. Each weekend, golf fans could count on McCord's expertise and his quirky sense of humor. While his style irritated some (see the Masters), it added some comedic spice to the broadcast. After the 2019 season, CBS did not renew his contract. Here's a look at what happened and what McCord sees now when he watches the broadcasts as a fan.
Gary McCord's career on the PGA Tour
Gary McCord turned professional in 1971. He had one win on what is now known as the Korn Ferry Tour. On the PGA Tour, McCord played in more than 400 tournaments. He never won a single tournament. That's not to say he didn't have a certain level of success.
He finished second on two different occasions at the Milwaukee Open. McCord finished in the top 10 in other tournaments a couple of dozen times. He did earn a pair of victories on the Senior PGA Tour including a win at the Toshiba Senior Classic and the Senior Tour Championship.
Perhaps McCord's playing days are best remembered for an incident at the 1984 FedEx St. Jude's Classic when he prepared to line up a putt on the 15th green and his pants split open. He wasn't wearing any underwear. McCord wrapped a towel around his mid-section until fellow pro Peter Jacobsen offered his rain pants for a small fee. 
McCord's quirky style and the Masters controversy
In 1986, Gary McCord joined the CBS Sports family as a golf analyst. From the very beginning, McCord was outspoken and showed a willingness to say things that might not always be well received. This irreverence, while refreshing, could sometimes get him in hot water. That's exactly what happened at the 1994 Masters.
McCord got in trouble for a pair of comments during the telecast from Augusta. In one remark, McCord joked the greens at Augusta National were so fast because they used "bikini wax." He didn't stop there. When talking about the 17th green, he said, "there are some body bags down there if that keeps going," as a ball rolled toward a water hazard. 
The higher ups at Augusta were not pleased with McCord's comments. The following year he was banned from working the event. Some speculated the ban might last for a year or two, but it didn't. It was permanent, and McCord never set foot at Augusta ever again.
CBS Sports fires Gary McCord
In October 2019, CBS announced it would not be renewing Gary McCord's contract. After 33 years, just like that, it was over. In an interview with Golf Digest, McCord said his departure was not planned. In fact, he said two years earlier when he signed his contract, CBS Sports management informed him he would be able to step away from the game whenever he was ready. 
"This is not how I would have preferred to see it end," McCord said at the time of the announcement. "I'm going on 72. I've been doing this for 30-odd years. I knew I was coming to the end of the deal, but I was going to go out on my terms. That's not happening now. Bottom line, they fired me," he bluntly admitted.
Since his release, McCord has stayed at his home in Arizona and watched broadcasts from his couch. In an interview on Golf.com's "Subpar" podcast, he said it's been hard to do at times, especially watching the network sometimes struggle with the broadcasts and seeing the reaction from a lot of unhappy fans.
"I'm not part of it. You can kind of react to it from a position I have never had before for a long, long time. It just so happens that my former network is not doing as well as they would like with the golf broadcast at this point. I have never seen anything quite as negative as I've seen coming out of everywhere about what's going on, so I have a lot of empathy. Those are my friends. I don't want to see them fail, but they are getting blasted. It's not a good time." 
While McCord and his style could be characterized as quirky and over-the-top at times, he clearly cared about his job and his co-workers. Despite the unfortunate ending, McCord left a legacy in golf with his wit and countless humorous comments through the years that entertained most, and in one case, upset a few people at one tournament that take themselves way too seriously.