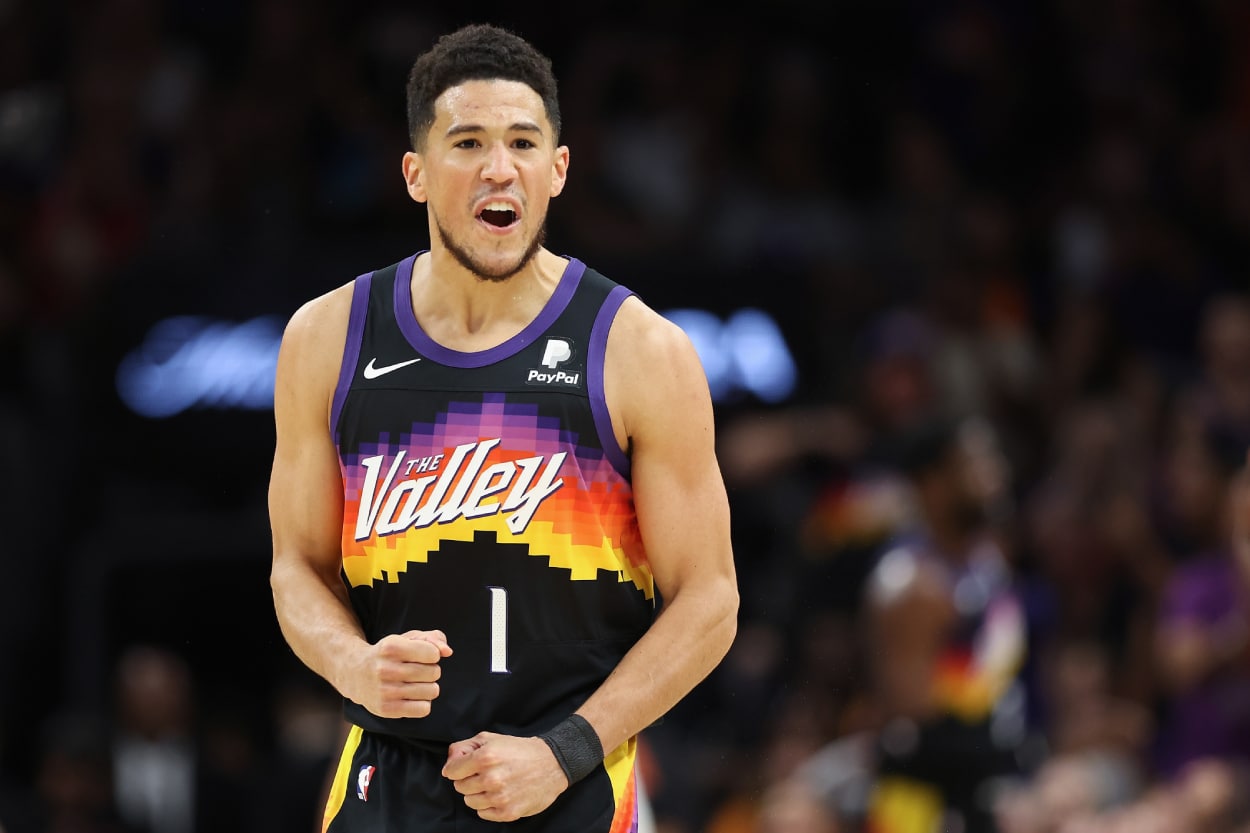 Why Do the Phoenix Suns Have 'The Valley' on Their Jerseys?
The Phoenix Suns frequently wear jerseys that say "The Valley" on them. So, why is that the case and what does "The Valley" even mean? Here's everything you should know.
If you have watched any Phoenix Suns games this year, you have probably noticed a few things. 
Chris Paul is still ballin'
Devin Booker is a bucket
Their jerseys say "The Valley" on them
You may have a question about the latter. The Suns don't typically rep "The Valley" on their jerseys but have in particular games the past two seasons. So, why is that the case, and what does it even mean?
Here's everything you need to know about the Suns' Valley jerseys.
The jerseys are a part of Nike's City Edition concept
Nike officially became partners with the NBA in 2017, and the company has released annual City Edition jerseys every year since.
According to a 2020 press release, "the goal was to breathe new life into uniform designs to more closely connect a franchise to its city." Nike is essentially trying to appeal to each team's fan base through its designs.
For example, the Brooklyn Nets' 2021-22 city uniforms pay homage to their 2002 and 2003 Eastern Conference championship teams. The Cleveland Cavaliers brought back a pattern they used in the 70s and also honor their 2016 championship. And the Golden State Warriors rep Oakland, their home for almost half a century.
The Suns, on the other hand, have had "The Valley" front and center on their jerseys the past two seasons.
Why do the Suns have "The Valley" on their jerseys?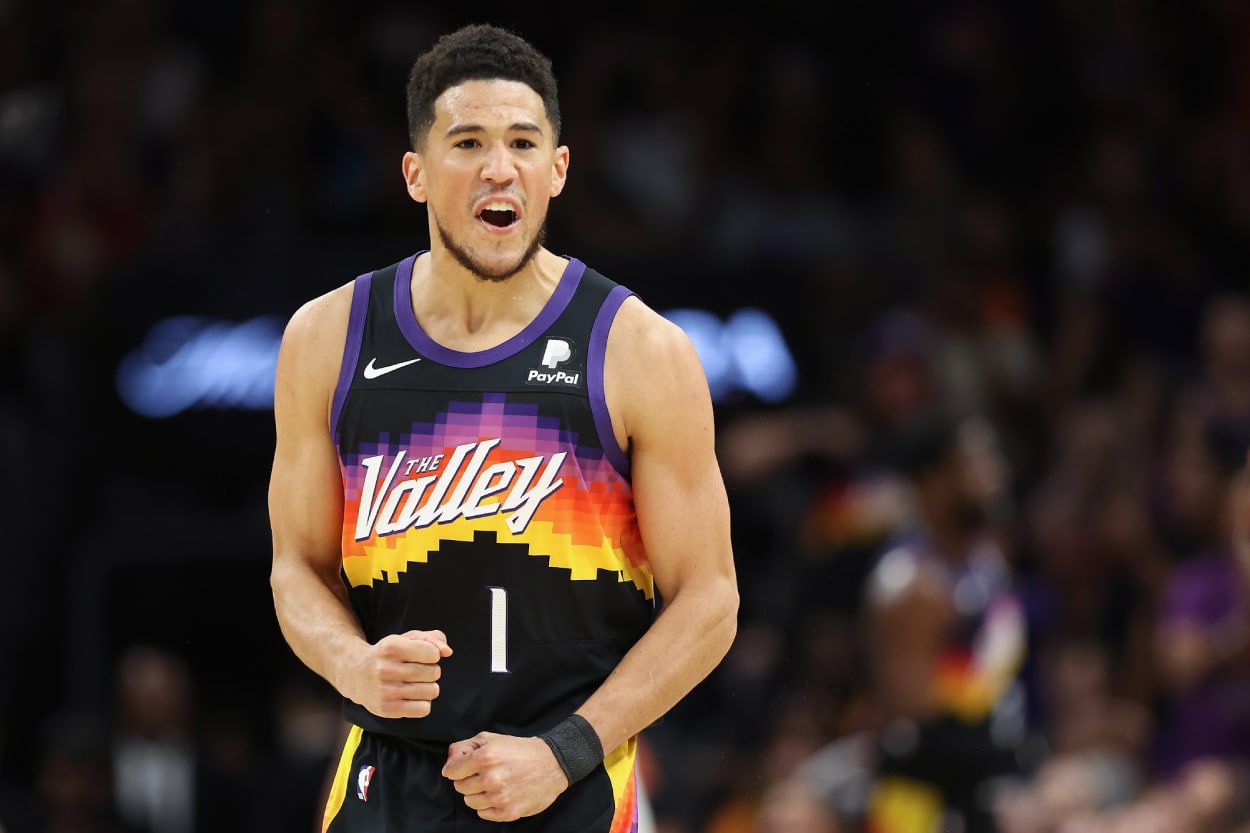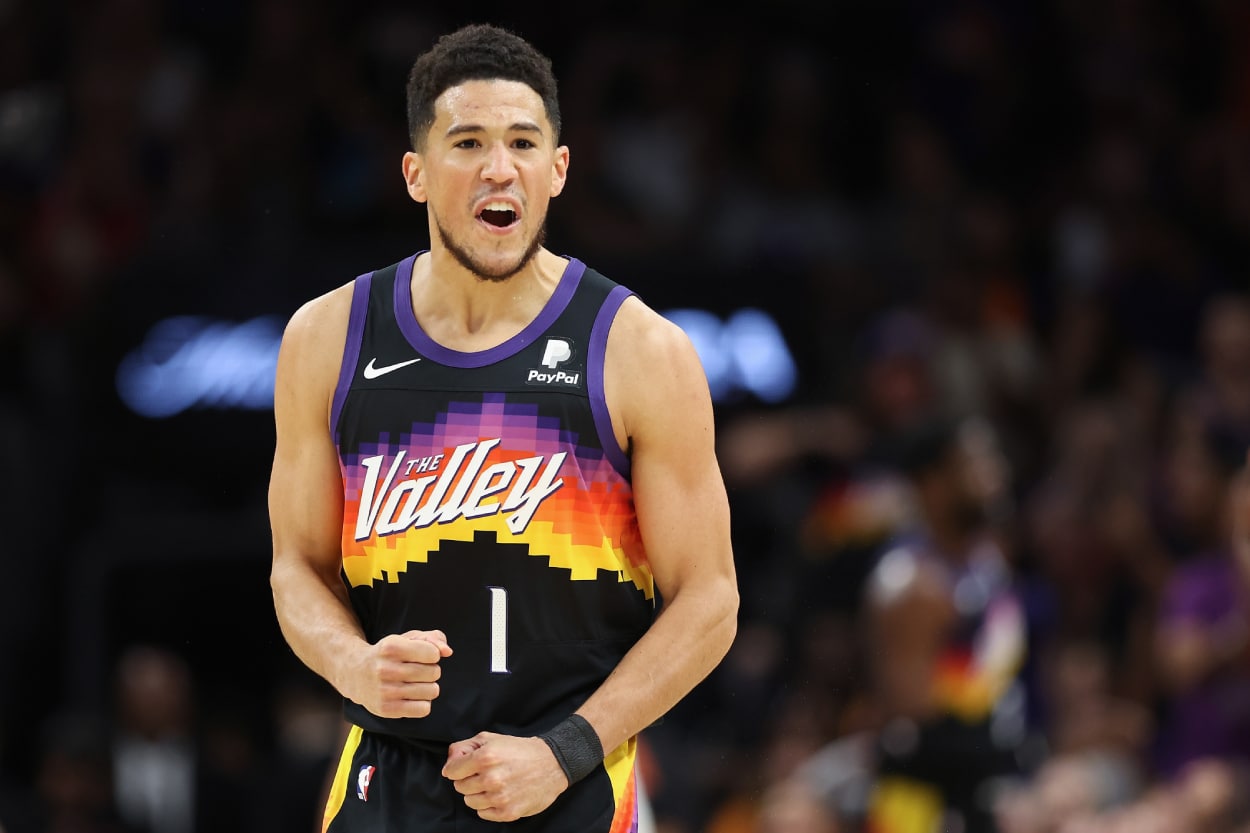 According to NBA.com, the Phoenix metropolitan area garnered the nickname "the Valley of the Sun" during the 1930s. The cities within the Salt River Valley began seeing economic expansion and an increase in population during that time. So, "The Valley" has since become a part of the culture within that community.
Wearing the nickname on their jerseys is essentially a way for the Suns not just to rep Phoenix but everyone in the area.
"The supporters and fans we have are from all over the Valley, so it's cool to rep them because they rep us, so we're just trying to go out there and rep everybody," Mikal Bridges said to Forbes when Nike first released the Suns' "Valley" jerseys for the 2020-21 season. "The jersey's really for them. It's nice for us to have and it looks nice, but it's really for them."
The jerseys also honor Camelback Mountain and use a particular color scheme to represent Arizona's sunrise and sunset.
So, when you see Devin Booker and Chris Paul dominating their competition from here on out, they aren't just doing it for Phoenix. They are playing for everyone in the Valley.