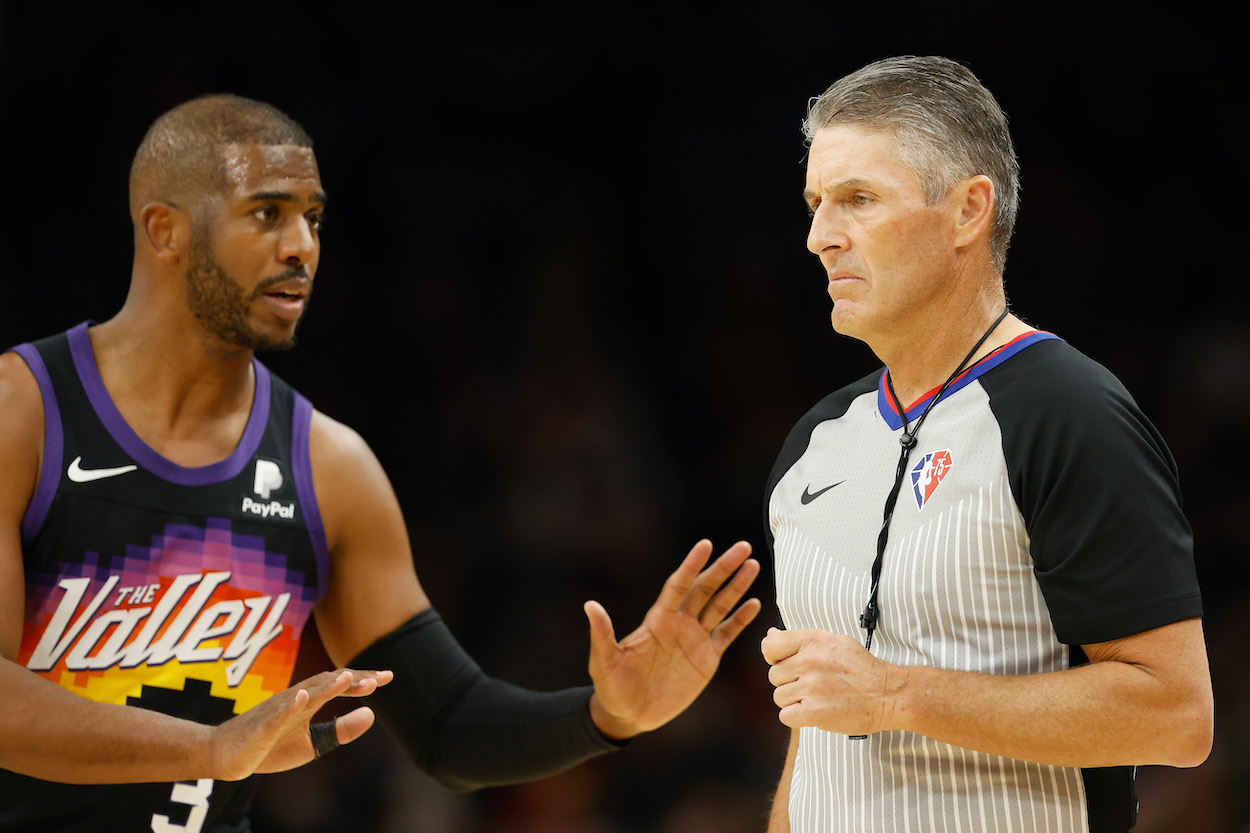 Chris Paul's Toughest Playoff Foe Has Never Suited Up in the NBA but Has Handed Him 14 Straight Losses
Chris Paul better hope he doesn't have to face off against referee Scott Foster for the rest of the postseason.
Leading up to the 2022 NBA playoffs, it seemed as if no team was going to be able to knock off the No. 1 seed Phoenix Suns in a seven-game series. That still might be the case, but the Suns should be worried about a completely different opponent getting in their way of a second straight trip to the NBA Finals.
That opponent? Referee Scott Foster.
After Tuesday night's shocking loss to the New Orleans Pelicans with Foster on the call, Chris Paul has now lost 14 straight playoff games officiated by the veteran ref. It's safe to say Phoenix will be keeping a close eye on the referee assignments for the rest of the postseason.
Chris Paul and Scott Foster have a bit of a history
It's no secret that Paul likes getting under his opponent's skin on the court. He believes it gives him a competitive advantage if he can annoy opposing players and take them out of their games.
CP3 also loves to work the refs in an attempt to get a more favorable whistle for his team. Sometimes, this strategy works out fine, but other times, it backfires in a big way.
In Foster's case, he decided early on he wouldn't let Paul's antics affect how he officiated games. He's been quick to throw out technical fouls if Paul argues with calls or disrespects him on the court. Paul has also been critical of Foster's officiating on more than one occasion.
The Paul-Foster relationship is one of the most entertaining rivalries in the NBA, and CP3 is well aware of his poor postseason record in games officiated by his nemesis. After losing to the Los Angeles Lakers last postseason for his 11th straight playoff loss with Foster on the call, Paul made sure everyone knew about it.
"They're shooting a lot of free throws, last night, tonight," Paul told reporters after the game. "If I was a betting man — 11 in a row. Eleven games in a row. Eleven games in a row."
Since then, the streak has only been extended.
Chris Paul's playoff nightmare continues with 14th straight Scott Foster loss
Paul entered Tuesday night's game against the Pelicans with 13 straight playoff losses in games Foster has officiated. He'd gone 0-5 with the Los Angeles Clippers, 0-4 with the Houston Rockets, 0-1 with the Oklahoma City Thunder, and 0-3 with the Suns over that span. In last year's Finals, Phoenix went 0-2 against the Milwaukee Bucks in Foster-officiated games.
When Foster was pegged as the crew chief for Tuesday's matchup, Paul seemed primed to finally break his losing streak against the veteran ref. The Suns entered Game 2 as 9.5-point favorites against the No. 8 seed Pelicans. This had to be the one, right?
Wrong.
Phoenix was outscored by 16 points in the second half to lose Game 2 convincingly, 125-114. It was hardly Foster's fault, though. The Pelicans shot 54.8% from the field and from three and outrebounded the Suns 43-33. New Orleans was even called for more personal fouls than Phoenix throughout the game.
Still, the streak lives on! Fourteen games in a row. Fourteen games in a row…
CP3's toughest playoff foe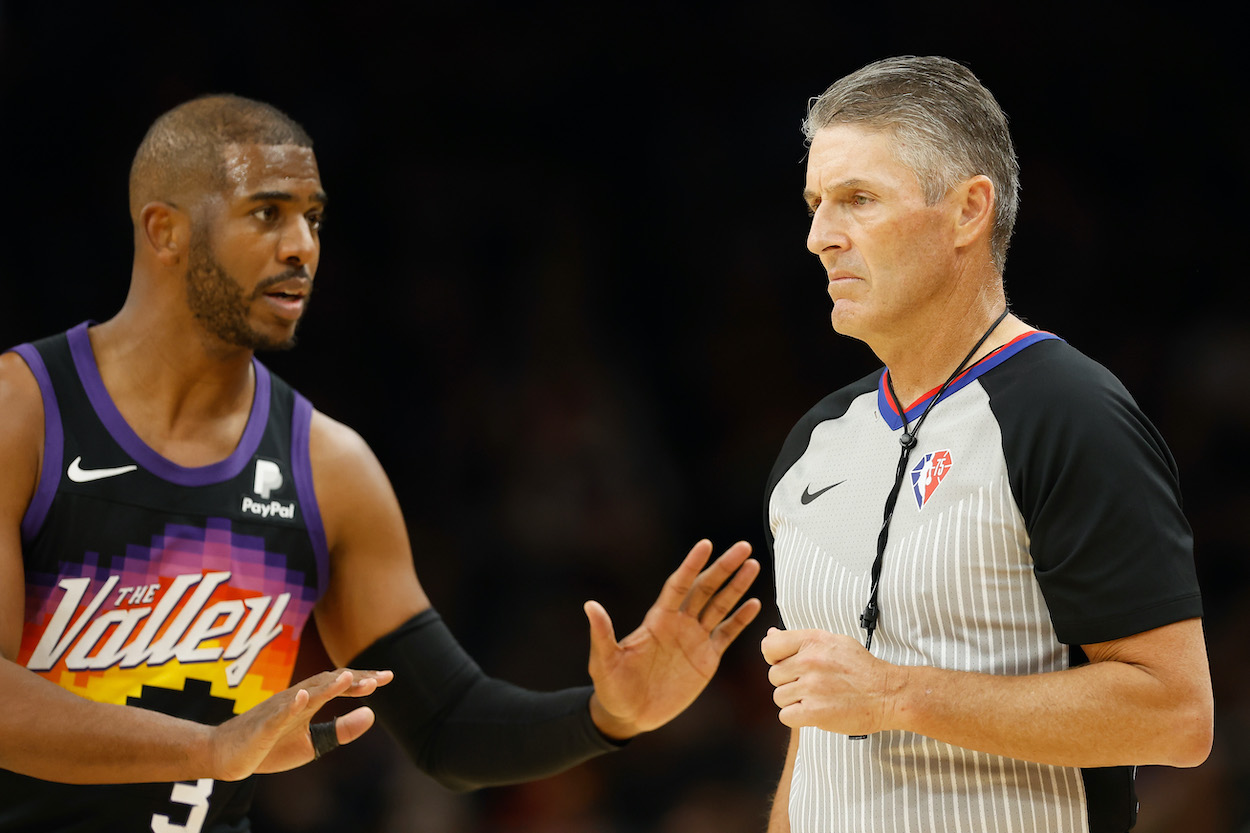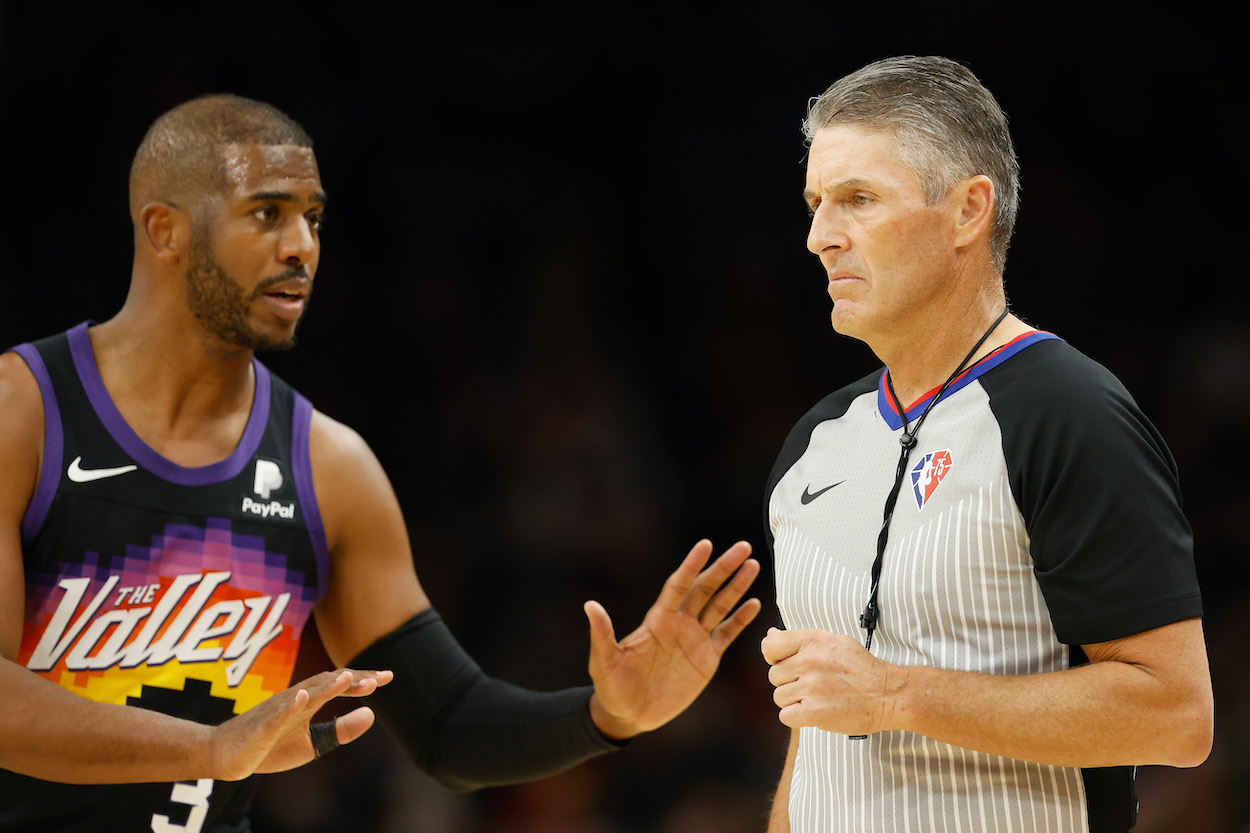 Paul has led his teams to the playoffs 14 times since 2008. He's played in more than 130 postseason games throughout his career, and he has more losses to Foster than any opponent he's ever faced.
CP3 lost 11 playoff games to Tony Parker, Tim Duncan, and the San Antonio Spurs early on in his career, and he's lost nine to Stephen Curry and Kevin Durant. But the point guard is now on a 14-game playoff losing streak against Foster, and it's likely the two foes will see each other again this postseason.
A 55-year-old ref could realistically be the toughest opponent on Phoenix's quest to win a title in 2022.
Like Sportscasting on Facebook. Follow us on Twitter @sportscasting19.