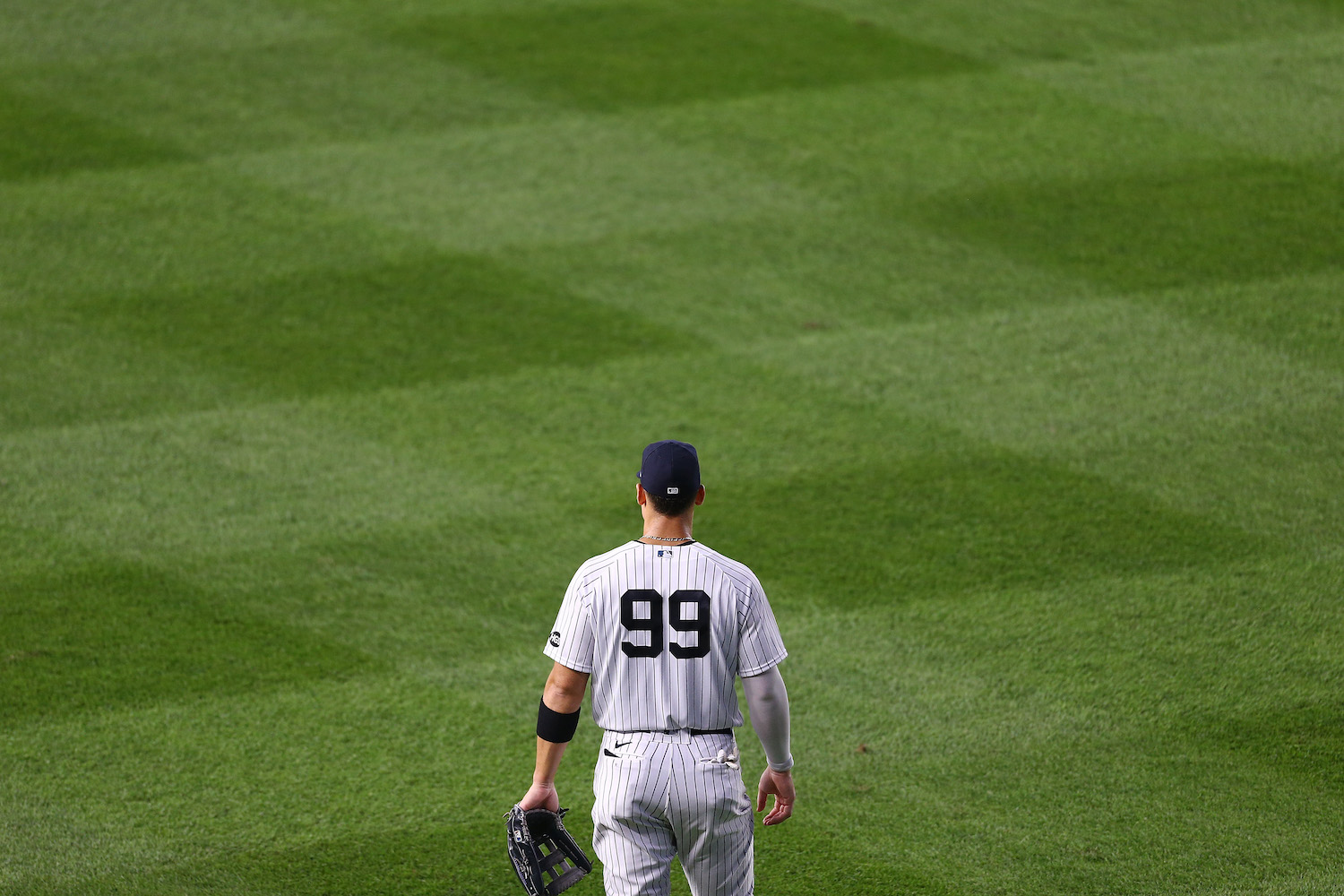 Why Does Aaron Judge Wear Number 99?
Aaron Judge is one of the biggest hitters in baseball. He's also owner of the biggest jersey number. Why does New York Yankees outfielder Aaron Judge wear No. 99?
Since making his MLB debut in 2016, Aaron Judge has worn the No. 99 jersey. And he's worn it well. In addition to winning Rookie of the Year honors, Judge has earned a pair of All-Star appearances in his first four seasons. Early in the pandemic-shortened 2020 season, the New York Yankees outfielder has been a human highlight of power, blasting one home run after another, including his current streak of five consecutive games going deep. 
While higher jersey numbers are generally reserved for unproven baseball players in spring training, or those who get called up to the parent club during the season, most of the time, when a player remains in the big leagues, they switch to a lower number. Aaron Judge clearly isn't in jeopardy of being sent down to the minors, so why does he wear the No. 99?  
Aaron Judge's impressive young career
When Aaron Judge arrived on the MLB scene in 2016, he made a sizeable first impression. That's inevitable when you are 6 foot 7 inches tall and weigh over 280 pounds. He also made a big impression in his first at-bat, launching a home run off Tampa Bay Rays pitcher Matt Andriese. Judge also homered in his second game that first season.
In 2017, from an individual standpoint, Judge's first full season of big-league action couldn't have gone any better. He finished the season with an American League-leading 52 home runs and drove in 114 RBIs. For his efforts, he was named to his first All-Star team, won the Rookie of the Year, and finished second in MVP voting. 
He followed it up in 2018 with another All-Star year that included 27 home runs. His season, however, was cut short after he was hit by a pitch and broke his wrist. Last year, an oblique strain hampered Judge and kept him out of the lineup for two months. Despite his combined absence in both seasons, Judge became the third-fastest player to reach 100 home runs. 
History of wearing No. 99
While Aaron Judge is the current holder of the No. 99 jersey for the New York Yankees, he's not the first. That honor belongs to Yankees outfielder Charlie Keller who wore it back in 1952. Keller was not only the first Yankees player to wear that number but the first-ever player in MLB history to do so. 
Players steered clear of the number for 25 years until Willie Crawford of the Oakland A's brought it out of obscurity in 1977. Since that time, other notable players have donned the number, including slugger Manny Ramirez for a couple of seasons with the Dodgers and the White Sox, and former pitcher Mitch "Wild Thing" Williams. 
The last Yankees player to wear No. 99 was pitcher Brian Bruney who wore it in 2009.  
Why does Aaron Judge wear No. 99?
When Aaron Judge played in Triple-A Scranton/Wilkes-Barre, he wore No. 99. When he arrived in spring training, that was the number assigned to him. To Judge, he didn't feel like a specific jersey number was something he should ask for at the time. He was honored just to receive a Yankees jersey.
"My first day in spring training with the New York Yankees that was the number hanging up in my locker. That's what they gave me. That's my number. I don't think you'd turn down a jersey from the New York Yankees," he told the YES Network.
While Judge has stuck with 99, his Twitter handle is @theJudge44 because "44 is a number I really like," he told NJ Advance Media. Yankees fans know 44 was never an option as it was retired long ago in honor of another well-known Yankees slugger, Hall of Famer Reggie Jackson. 
Are there any other numbers Judge has considered? Actually, he said his favorite number is 35, but it wasn't initially available when he joined the Yankees because Michael Pineda was wearing it. Pineda, however, left the club after 2017, and Judge has never switched to it. Instead, he's stuck with 99. 
With the amount of success and the reputation Aaron Judge has established in his time wearing No. 99 with the Yankees, don't expect him to change the number. If anything, the big number is appropriate because it matches his huge physical size. He's hoping his career hitting stats align with it as well.
All stats courtesy of Baseball Reference.