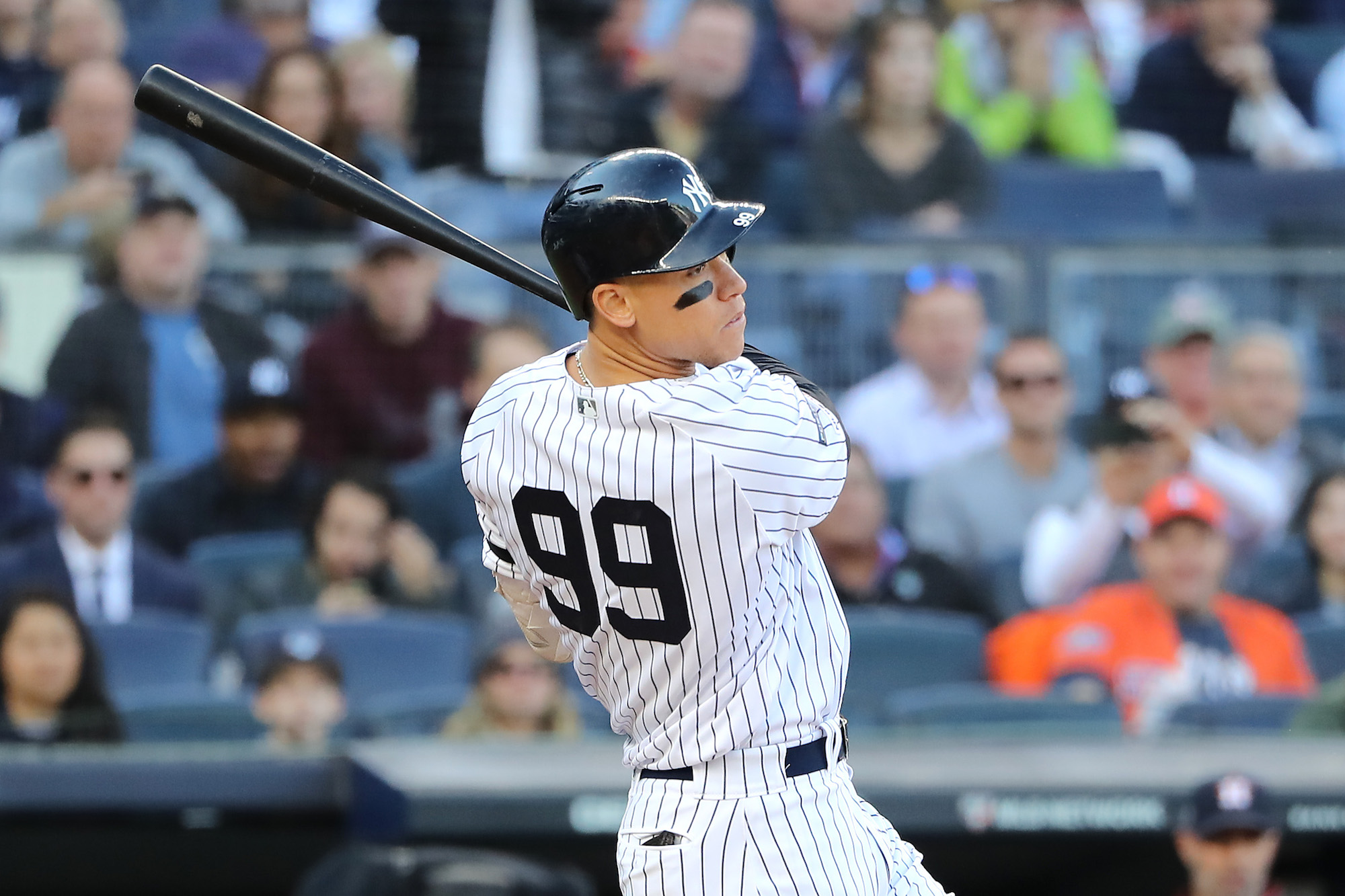 Aaron Judge's Strange Baseball Superstition Involves 'a Nasty, Old, Unflavored Piece of Gum'
While plenty of professional athletes have strange superstitions, Aaron Judge's involves a "nasty, old, unflavored piece of gum."
While the New York Yankees have had plenty of stars over the years, few men have burst onto the scene like Aaron Judge. During his young major league career, the outfielder has already proved to be a prolific hitter. Behind every successful baseball player, though, there's probably at least one superstition.
Although Judge has talent to spare, he's not above following one specific superstition on the diamond. By the end of each game, the outfielder hopes to be chewing "a nasty, old, unflavored piece of gum."
Aaron Judge's rapid rise to baseball stardom
These days, Aaron Judge is a major figure—both literally and figuratively—on the New York Yankees roster. His baseball career, however, started on the opposite side of the country.
Judge grew up in California and, unsurprisingly, showed plenty of athletic talent. While he could have played football, baseball, or basketball, he decided to spend his future on the diamond; that choice brought him to Fresno State.
Judge spent three seasons with the Bulldogs before joining the New York Yankees as the 32nd overall pick of the 2013 MLB draft. He made his big league debut as a late-season call-up in 2016 and never left.
During his first full campaign with the Yankees, Judge established himself as a legitimate star, clubbing 52 home runs en route to AL Rookie of the Year crown; he also won the Home Run Derby and came in second place in AL MVP voting.
While the big man has struggled to stay healthy since that breakout season, his talent is plain to see. So far, the outfielder has played 398 games for the Bronx Bombers; he's batted .273 for his young career, hitting 110 home runs and driving in 247 runs.
Ending each game with 'a nasty, old, unflavored piece of gum'
In the world of professional sports, virtually every athlete has their own pregame routines and superstitions. Aaron Judge is no exception.
As explained by ESPN's Andrew Marchand, the big outfielder begins every game the same way. Shortly before the first pitch, Judge chows down on two pieces of sugar-free Dubble Bubble. While we've all had an unpleasant experience with gum losing its flavor, that's actually what the Yankees star is aiming for.
In a tradition that began in college, Judge will chew those same two pieces of gum until he makes an out; only then will he start over with some fresh Dubble Bubble.
"Hopefully, by the end of the night, I have a nasty, old, unflavored piece of gum in my mouth," Judge explained.
Aaron Judge will be hoping to get a good jaw workout during the 2020 season
Thanks to the coronavirus pandemic, Aaron Judge got some extra time to recover from a fractured rib and prepare for the 2020 season. While the season will be a bit shorter than normal, the New York Yankees will hope that their star outfielder can still put up some big numbers.
Based on 538's projections, the Yankees are the top team in the AL East; they also have the third-best chance of winning the World Series. While their bullpen is still a major strength—the shortened season should make that even more apparent—but even the best pitching staff can't win a game without any offensive support. That's where Aaron Judge comes in.
Although Giancarlo Stanton should lighten the load, we've all seen how dominant Judge can be when he's healthy. If he's able to keep producing at the plate, the Yankees will be in a prime position to make a run at the title.
In ordinary circumstances, no one wants a mouthful of old, flavorless gum. Aaron Judge and the New York Yankees, however are an exception.
Stats courtesy of Baseball-Reference