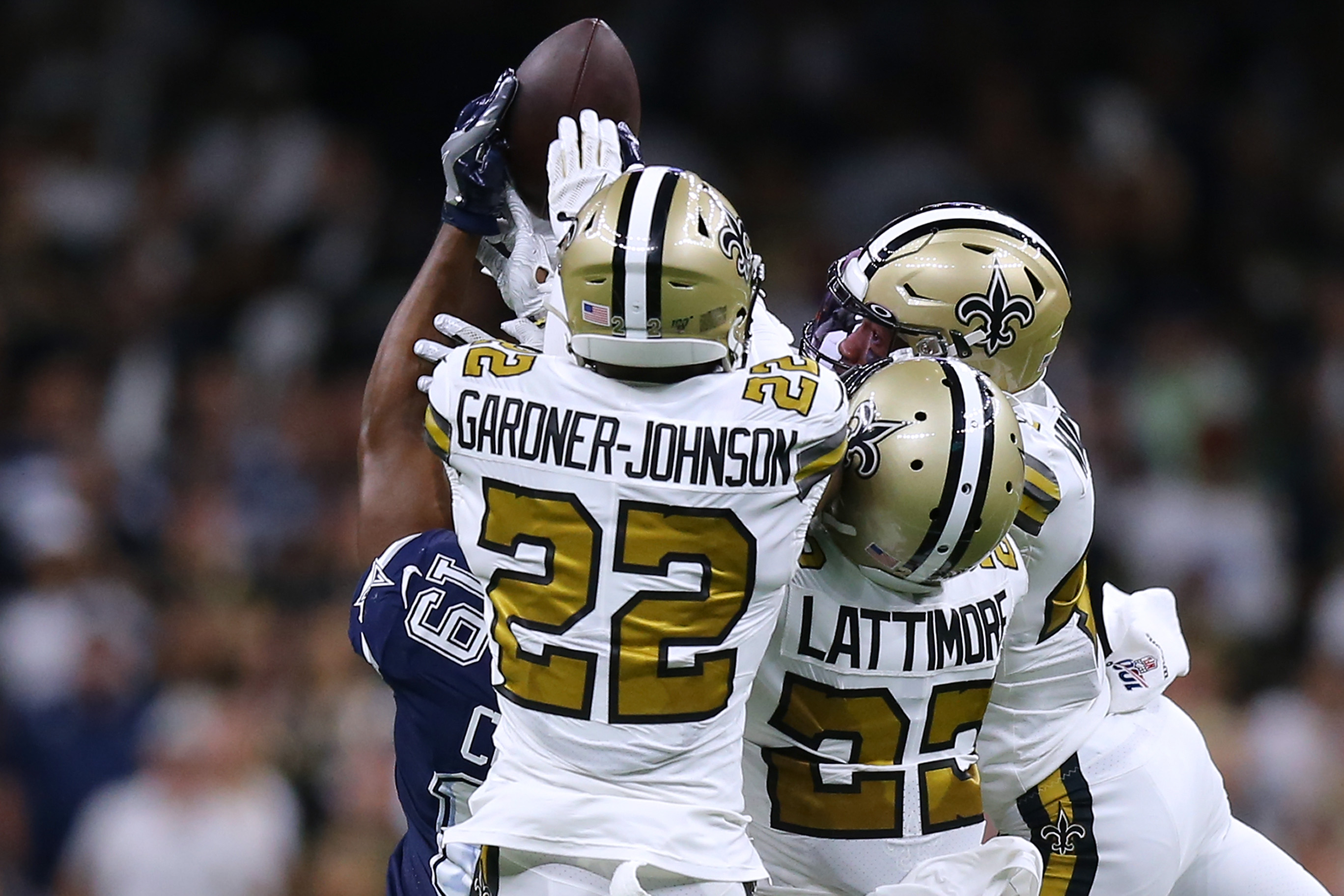 Who Is C.J. Gardner-Johnson and Why Does He Keep Getting Punched?
Why does New Orleans defensive back C.J. Gardner-Johnson keep getting punched? Even his own teammate went after him.
New Orleans Saints defensive back C.J. Gardner-Johnson was the victim of an ugly attack during Sunday's game against the Chicago Bears. Bears wide receiver Javon Wims brutally punched an unsuspecting Gardner-Johnson twice after a routine play. Wims was ejected. Gardner-Johnson has become somewhat of a punching bag lately as teammate Michael Thomas was held out of Week 5 for reportedly punching Gardner-Johnson at practice. Why does Gardner-Johnson keep getting punched?
C.J. Gardner-Johnson sucker-punched by Javon Wims
It was a bizarre play that ended with an ejection. During the New Orleans Saints at Chicago Bears game on Sunday, Bears wide receiver Javon Wims attacked Saints cornerback C.J. Gardner-Johnson with a pair of punches to the helmet. Wims was ejected from the game.
The incident happened right after a routine play that neither Wims nor Gardner-Johnson was involved in. In fact, Gardner-Johnson wasn't even guarding Wims on the play. After the play as dead, Wims went up behind Gardner-Johnson, tapped him, and threw a punch – twice.
Wims is looking at a suspension. Bears coach Matt Nagy said he didn't see the incident and was gathering information. "We've talked to him and told him that that's not how things go here," Nagy said, according to NBC Sports. "One of Javon's strengths is his character – who he is as a person. He's since apologized, but that's not … you don't have that. There's no part of that in this game. Again, I still haven't seen it, but from what I've heard, it's not good. That's not how we roll here. We'll be talking to him." 
Michael Thomas reportedly punched Gardner-Johnson
New Orleans Saints wide receiver Michael Thomas has had a rough year. He's played one game. He suffered a high ankle sprain and hasn't played since Week 1.
Thomas was questionable for his team's Week 5 matchup with the Los Angeles Chargers. Prior to the game, he was ruled out. Reports have said Thomas was inactive not because of his ankle injury, but he was being disciplined for an incident that had taken place during practice.
On Oct. 11, Tom Pelissero of the NFL Network explained what had happened at the Saints practice. In a tweet, Pelissero wrote, "Saints star WR Michael Thomas punched teammate C.J Gardner-Johnson during a fight in practice, per sources. That's why Thomas was ruled out for Monday's game against the Chargers for what the club is calling team discipline."
Why does C.J. Gardner-Johnson keep getting punched?
C.J. Gardner-Johnson looked like the innocent one Sunday when he was sucker-punched by Chicago Bears wide receiver Javon Wims. It was the second time in three weeks that Gardner-Johnson was punched, including once by a teammate. Gardner-Johnson might not be so innocent.
Earlier in the game, Gardner-Johnson stuck his finger through the facemask and into the eye of Bears wide receiver Anthony Miller. A year ago, Gardner-Johnson was also in the middle of things when the Saints and Bears met. Gardner-Johnson was caught on camera mocking the height of Bears 5-foot-6 running back Tarik Cohen.
Wims, according to Tom Pelissero of the NFL Network, said Gardner-Johnson had spit on him during Sunday's game and had ripped out his mouthpiece. Wims was clearly in the wrong for reacting the way he did, but Gardner-Johnson seems to be an instigator. When your own teammate uses you as a punching bag, you know there's a problem.