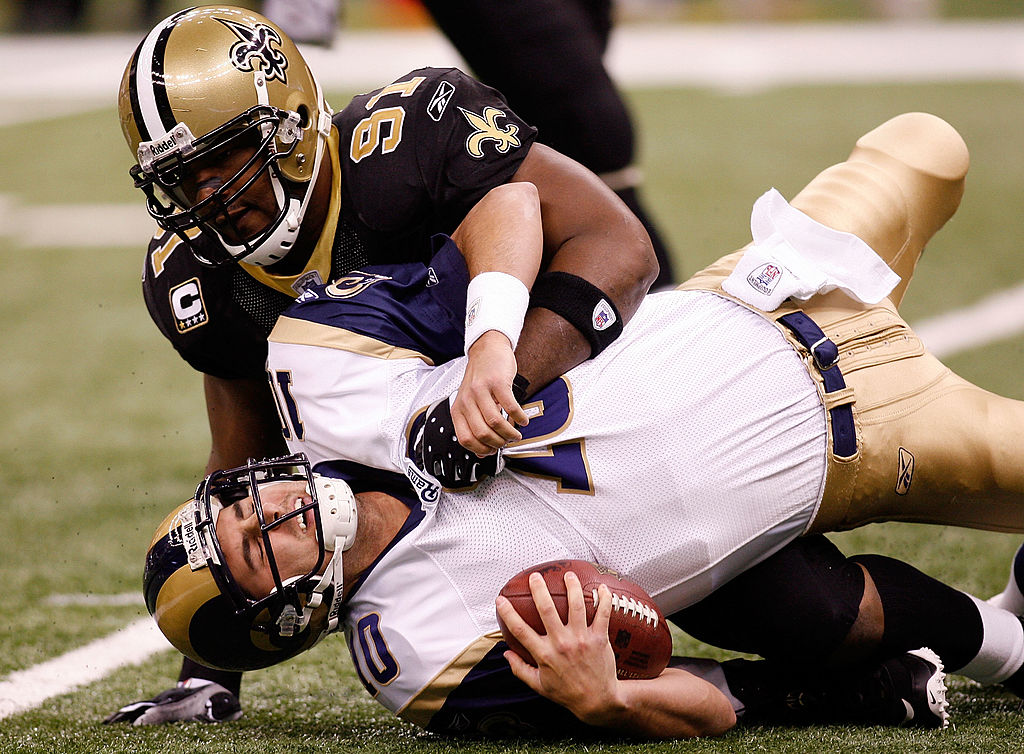 The Tragic Death of Former New Orleans Saints Defensive End Will Smith
Former New Orleans Saints defensive end Will Smith was tragically gunned down in a road-rage incident in 2016.
Will Smith was ready to enjoy retirement. He spent nine seasons in the National Football League – all with the New Orleans Saints – and had been settling down after his playing days were over. Less than four years after Smith played his last football game, he was the victim of a road-rage incident that ended his life at the age of 34.
Will Smith's football career
At 6-foot-3, 280 pounds, Will Smith was a presence. He was a freak of an athlete. Smith was strong enough to fight through the offensive line and quick enough to get around the outside. He played collegiately at Ohio State, anchoring a strong defensive line that helped claim a national title in 2002.
In his senior year, Smith was First-Team All-American and First-Team All-Big Ten. He was a first-round selection in the 2004 NFL draft. He was taken by the New Orleans Saints with the 18th overall pick.
Smith made an immediate impact with the Saints. In his rookie year, he led the league in forced fumbles with six and had 32 solo tackles. He also finished with 7.5 sacks. Smith had a Pro Bowl season in 2006 when he racked up 10.5 sacks and had a hand in 52 tackles. He had a career-high 13 sacks in 2009. During the 2013 preseason, Smith tore his ACL and was out for the season. In 2014, he signed with the New England Patriots but was cut before the season started.
Gunned down in a road-rage incident
On April 9, 2016, Will Smith was involved in a traffic accident. His car was rear-ended by a Hummer driven by 28-year-old Cardell Hayes. When Smith's car was rear-ended, it then hit another car that contained acquaintances of Smith, according to ESPN. Moments earlier, Smith's car had allegedly been hit by Hayes'.
After words were exchanged, Smith was shot multiple times, while his wife Racquel was shot in the leg. Smith was pronounced dead at the scene, while his wife was sent to the hospital with non-life-threatening injuries. According to the police report, the former New Orleans Saints defensive end was shot multiple times in the back and the torso.
Hayes insisted he acted in self-defense, but was found guilty of manslaughter. He was given 25 years for Smith's death and 15 for attempted murder of Racquel Smith. He had been expected to be sentenced anywhere from 25-60 years, according to USA Today. "I should have just let him (Smith) kill me," said Hayes prior to the sentencing. "Being away from my son for 60 years, what's the difference from being dead?"
A death that shocked the football world
Smith was a member of the New Orleans Saints Super Bowl-winning team in 2009. He was also a valuable member of the community as he was involved with numerous charities. His death really hit home, especially with his teammates, coaches, and members of the front office.
"Will came to New Orleans 12 years ago and quickly developed both on the field as a player and off the field as a leader to become one of the cornerstones of a team that would go on to win a Super Bowl," said Saints GM Mickey Loomis. "In our community, he was an important contributor to numerous charitable causes to benefit those in need. Will's contributions to both our franchise and our community as a whole will always be remembered."
"I am shocked and deeply saddened by the tragic loss of Will Smith, my close friend and client," agent Joel Segal said in a statement, according to ESPN. "Will was loyal, tough, smart, caring, and funny all at once. He was an amazing man whose true joy came from his special family."