Why Does Scottie Scheffler Shuffle His Feet When He Swings?
Simply put, Scottie Scheffler is good at golf.
After winning three consecutive state championships in high school, he had a successful college career at the University of Texas, helping the Longhorns to three Big 12 titles.
Upon turning pro, Scheffler quickly earned full-time status on the Korn Ferry Tour, where he spent just one season, earning two victories and winning Player of the Year to earn full-time status on the PGA Tour, where he promptly won Rookie of the Year honors for the 2019-20 campaign.
In February 2022, he notched his first PGA Tour victory at the WM Phoenix Open, and he was off and running from there. Since then, Scheffler has added several more wins to his resume, including a victory at The Masters, and has been the top-ranked golfer in the world on multiple occasions.
Again, Scottie Scheffler is good at golf.
But for all the talent he possesses, let's not pretend that Scheffler has the prettiest golf swing in the world. For one, there's that funky finish. But what most seem to notice is his footwork, especially when he swings his driver. Jon Rahm actually once called Scheffler's swing "unteachable," saying instructors would likely end up hurting people if they tried to teach it.
So exactly why does Scheffler shuffle his feet so much?
Why does Scottie Scheffler shuffle his feet when he swings?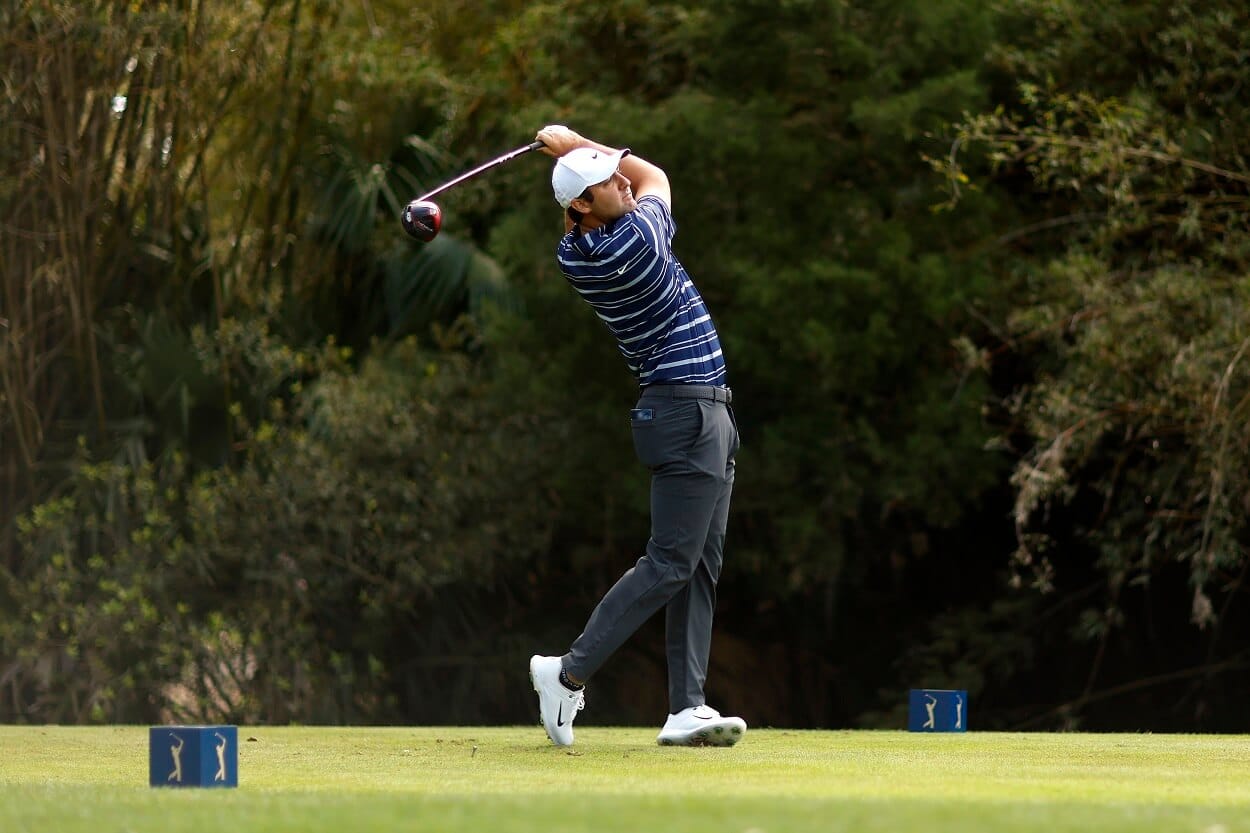 On just about every full swing Scheffler makes — again, especially with his driver — both of his feet jump and slightly slide backward as he makes impact. Honestly, it looks like he injures himself all the time, but this is something he's done since he was a kid. And it's obviously worked out just fine.
The reason for the shuffle is about power and feel, as Scheffler once explained during a YouTube session for TaylorMade.
"What I'm trying to do to get power in my golf swing is load into my right side and then come off my right side and go into my left. So in order to get my weight from here to there — when I slide my foot, it makes sure I get all my weight kinda through the ball."
Here's his full explanation.
So there you have it.
If it ain't broke, don't fix it, right?