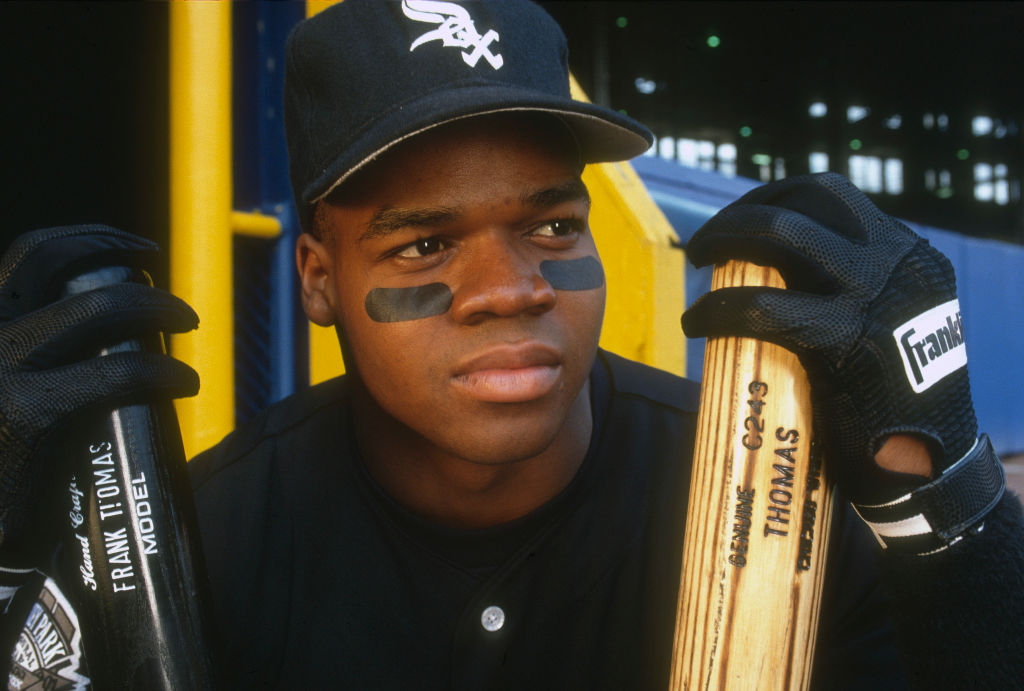 Why Is Frank Thomas Called 'The Big Hurt'?
Frank Thomas, also known as The Big Hurt, is built like a domineering basketball player. But he took MLB by storm as his nickname explains.
Frank Thomas, also known as "The Big Hurt," is built like a domineering NBA player. But he took baseball by storm. One of the best career designated hitters in history, Thomas built a reputation as an iron bat constantly at risk of hitting the ball out of the park and giving the opposing pitcher fits with his boundless power.
Thomas may be more than a decade outside, but his nickname is entering the spotlight once again.
Frank Thomas's career
When The Big Hurt was a little smaller, he was drafted by the Chicago White Sox out of Auburn University in the 1989 MLB June Amateur Draft. Built like a mountain, Thomas's promise was always in his bat, although he spent time at first base during his career when needed. By 1990, he was in the big leagues and using his bat to help the team on a nightly basis. 
Thomas took a couple of years to mature, until 1994 when he became a bonafide All-Star. He batted .353 and showed the baseball world that a designated hitter could prove his value using just his bat — and winning his second-straight AL MVP. At just 26 years old, he still had a long career ahead of him.
The Big Hurt spent most of his career with the White Sox, but he spent his last three years playing as an Oakland A and a Toronto Blue Jay before retiring in 2008. Thomas ended his MLB career with 19 years of service; he hit 521 home runs, batted in 1,704 batters, and hit at an astonishing .301.
How big is Frank Thomas, aka 'The Big Hurt'?
One does not stumble into a nickname like "The Big Hurt" by accident. At 6-foot-5 and 240 pounds, Thomas was destined to be a powerful athlete. Putting a bat into his hands made him a force of nature and a behemoth on the offensive end. With that prowess, Thomas needed a nickname to go with his relentless game.
Thomas got his moniker from legendary White Sox announcer Ken "Hawk" Harrelson, reports the Chicago Tribune.
Harrelson came up with the nickname early on in Thomas's career in Chicago. And Thomas credits 'The Big Hurt" with helping him become a household name. MLB fans know Harrelson for his ability to coin phrases like "He gone!" as well as his ability to nickname players on the fly. 
According to the legend relayed by Bleacher Report, Harrelson gave Thomas the nickname because of the hurt he put on the baseball when he hit it out of the park. The "big" part was self-explanatory.
To this day, Thomas is a favorite among White Sox fans and occasionally shares the booth with Harrelson. Playing in an era when many powerful players received punishment for steroid accusations, however, Thomas knew entering the Hall of Fame was not a sure thing.
Is Frank Thomas in the Hall of Fame?
The Baseball Hall of Fame inducted Thomas in 2014. Visibly touched, he tearfully accepted the honor and spoke about how hard he worked to get there.
"To all you kids out there, just remember one thing from today: There is no shortcut to success," he told the crowd, according to Newsday. "Hard work, dedication, commitment. Stay true to who you are."
Despite unfounded allegations of PED use based on his power and build, Thomas has been outspoken about his decision not to use them. Many perceived his comments about the shortcut to success as a slight to those who did allegedly use steroids.
Thomas remains synonymous with his powerful bat 12 years post-retirement, and "The Big Hurt" nickname still contributes to his legend. The two-time MVP and four-time Silver Slugger was the face of MLB for many fans in the '90s. While his playing days are behind him, his legacy remains strong.
Follow more updates from Sportscasting on our Facebook page.