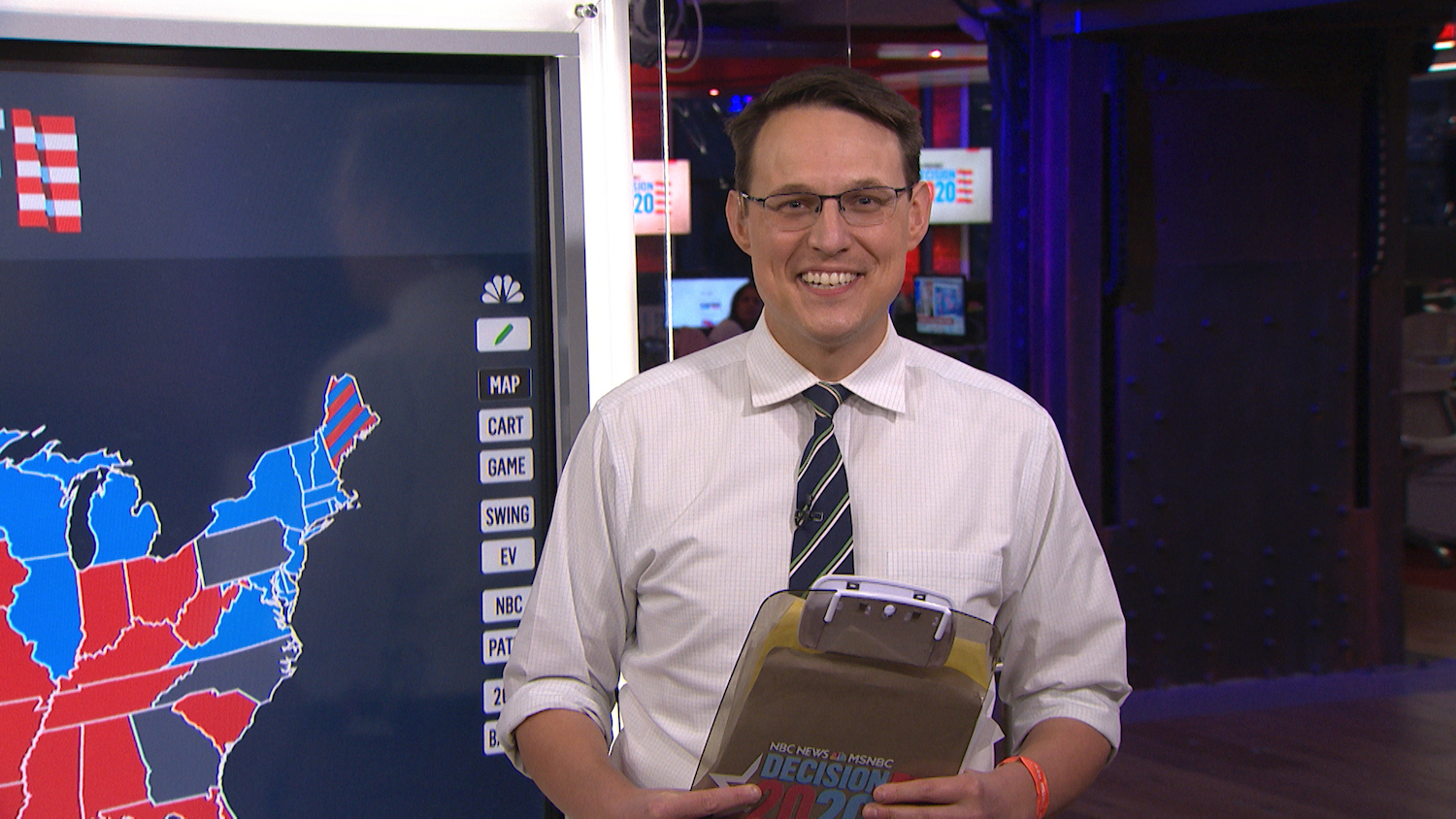 Why Is NBC Political Expert Steve Kornacki Working on Sunday Night Football?
NBC political expert Steve Kornacki broke down the 2020 election and became an overnight sensation. Now he's using his expert analysis on Sunday Night Football.
After months of ads, polls, and predictions, the 2020 presidential election is finally behind us. During the hours and days following November 3, a star was born. NBC News political correspondent Steve Kornacki mesmerized viewers with his magic at the map, showing the variety of ways both candidates could win the election. On Sunday night, Kornacki and his khakis will be joining the Sunday Night Football crew where he will use some of his mathematical wizardry and break down the NFL playoff picture.     
Who is Steve Kornacki?
If you haven't watched NBC's coverage in the last two election cycles, then you've missed the affable Steve Kornacki. The bespectacled 41-year-old is known for his khaki pants, rolled-up sleeves, and his uncanny ability to simplify a complicated election map and all of its nuances into something understandable for a mass audience.
After starting as a reporter for a New Jersey political website in 2002, Kornacki made his way up the ranks, writing for a variety of publications, including The Wall Street Journal, New York Times, Boston Globe, and Daily Beast. After a stint as the politics editor for Salon, he joined MSNBC in 2012 and worked on a variety of shows. 
In 2016, he was a regular contributor on MSNBC's election coverage. After seeing the appeal of his unique style of coverage at the map during that election, the network named him national political correspondent for NBC News. In 2018, he published a book titled "The Red and the Blue: The 1990s and the Birth of Political Tribalism."
Steve Kornacki becomes a star in 2020 election
For the 2020 election, Steve Kornacki had a much higher profile with the network's main coverage. And he was on the air for hours on end in the days that followed the election, often avoiding sleep to break down the latest numbers using maps of counties in the critical swing states like Pennsylvania and Georgia. 
Kornacki's hard work didn't go unnoticed. His attire resulted in a spike in khaki sales, he landed a spot on People's "Sexiest Man Alive," and he's made appearances on various talk shows. He was even the subject of a tweet from one of his admirers, model Chrissy Teigen. 
"Twitter I know you well and I know you will THROW ASIDE AND FORGET KORNACKI AND I WONT ALLOW IT!"  
Why is he on NBC's Sunday Night Football?
On Sunday night, Steve Kornacki will appear on NBC in a different yet somewhat familiar style during the pregame and halftime show of the Sunday Night Football telecast. Instead of breaking down votes for a presidential race, Kornacki will be dissecting NFL teams and their chances of making the postseason. 
"I've been a fan of the game since I was kid and SNF has been must-see TV for me since it started back in '06," Kornacki said in a statement. "Truly a thrill to get this chance, especially as the season reaches its most exciting point. I spent the last year using the Big Board to map out all of the various roads to 270 and I can't wait to put it to use breaking down all of the paths to the playoffs."
This looks like a trial balloon. If NBC gets a favorable response to Kornacki's appearance, it wouldn't be surprising to see him on more football telecasts the remainder of this NFL season and beyond. From a timing standpoint, it makes complete sense. What else does he have to do for the next four years?