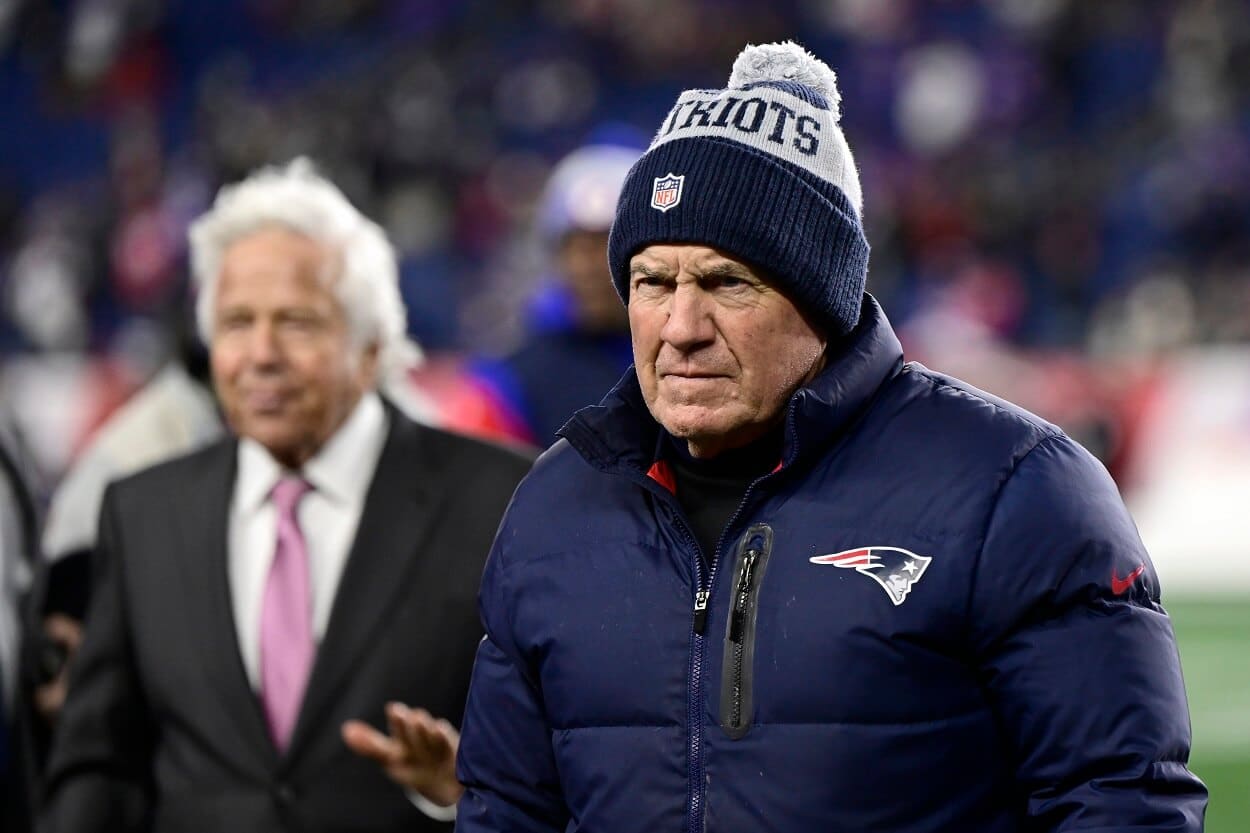 Why Patriots Owner Robert Kraft 'May Move On' From Bill Belichick
Peter King recently suggested New England Patriots owner Robert Kraft may soon be ready to move on from Bill Belichick.
Perhaps Bill Belichick won't pass Don Shula for the NFL's all-time wins record after all. 
At least, not with the New England Patriots. 
Despite winning the power war against the greatest quarterback of all time, the greatest head coach of all time has quickly gone from being the leader of the most consistent team in football to facing more questions than ever about his abilities as a coach and general manager. Meanwhile, the friction between Belichick and third-year quarterback Mac Jones has only raised more concerns about the 2023 season and beyond. 
Although the notoriously tight-lipped coach has conducted business with little to no fear of repercussions for two-and-a-half decades, he better operate with a renewed sense of urgency before it's too late. 
After all, if Robert Kraft continues to watch the Patriots plummet down power rankings and fail to show tangible growth, Belichick could receive the Tom Brady treatment from his boss, too.
Peter King raises speculation about Bill Belichick's future with the Patriots
It once seemed like a foregone that Bill Belichick would finish his career with the Patriots and cement his place as the winningest coach in league history. 
Now, though, the idea of Robert Kraft letting both Brady and Belichick join other organizations looks more probable than ever. In fact, according to longtime NFL insider Peter King, it wouldn't be a surprise if the Patriots owner turns the page on the Belichick era sooner than later. 
"If the Patriots are the fourth-best team in the AFC East this year and/or next year, will Kraft allow Bill Belichick to hang around in 2025 to break Don Shula's record for most coaching victories?" King wrote in his latest Football Morning in America column. "Would Belichick, who needs 19 wins to pass Shula, want to hang around at 73?"
After pointing out that New England is one game below .500 in the post-TB12 era and that Kraft has made it clear that he cares about performance over individual records, King discussed a potential scenario that few Patriots fans could have envisioned a year or two ago. "Say the Patriots go 7-10 each of the next two years, and Belichick is five wins from passing Don Shula. WWKD? What will Kraft do? He may move on. If so, it would not surprise me to see Belichick coach another team for a couple of years," King wrote.
The case for Robert Kraft moving on from Belichick
Should Kraft consider cutting ties with Belichick before he breaks Shula's record? 
On one hand, it would be a tough pill to swallow to see the respected head coach accomplish that feat wearing a different team's colors. 
But as a businessman and football fan at heart, Kraft can't afford to worry about Belichick's place in NFL history. 
He needs to worry about whether his football team will ever compete for a Super Bowl title in the next decade. 
As much credit as Belichick deserves for leading the franchise to six championships, he's had far too many swings and misses over the last five years.
From forcing Brady out to blowing first-round picks on Sony Michel, Isaiah Wynn, and N'Keal Harry to selling low on Stephon Gilmore to grossly overpaying for Nelson Agholor and Jonnu Smith in free agency, Belichick's personnel decisions have put the Patriots in the unenviable position of relying on aging veterans to overcome their draft mistakes.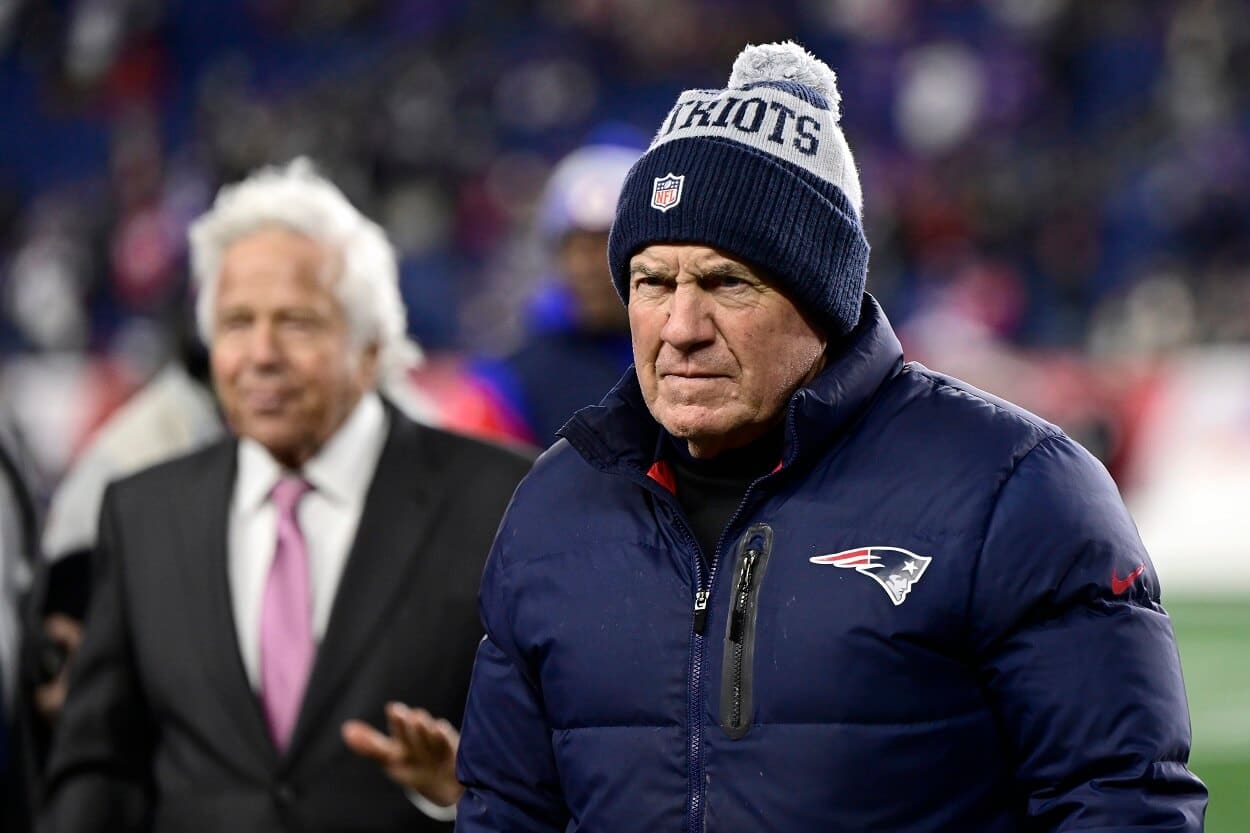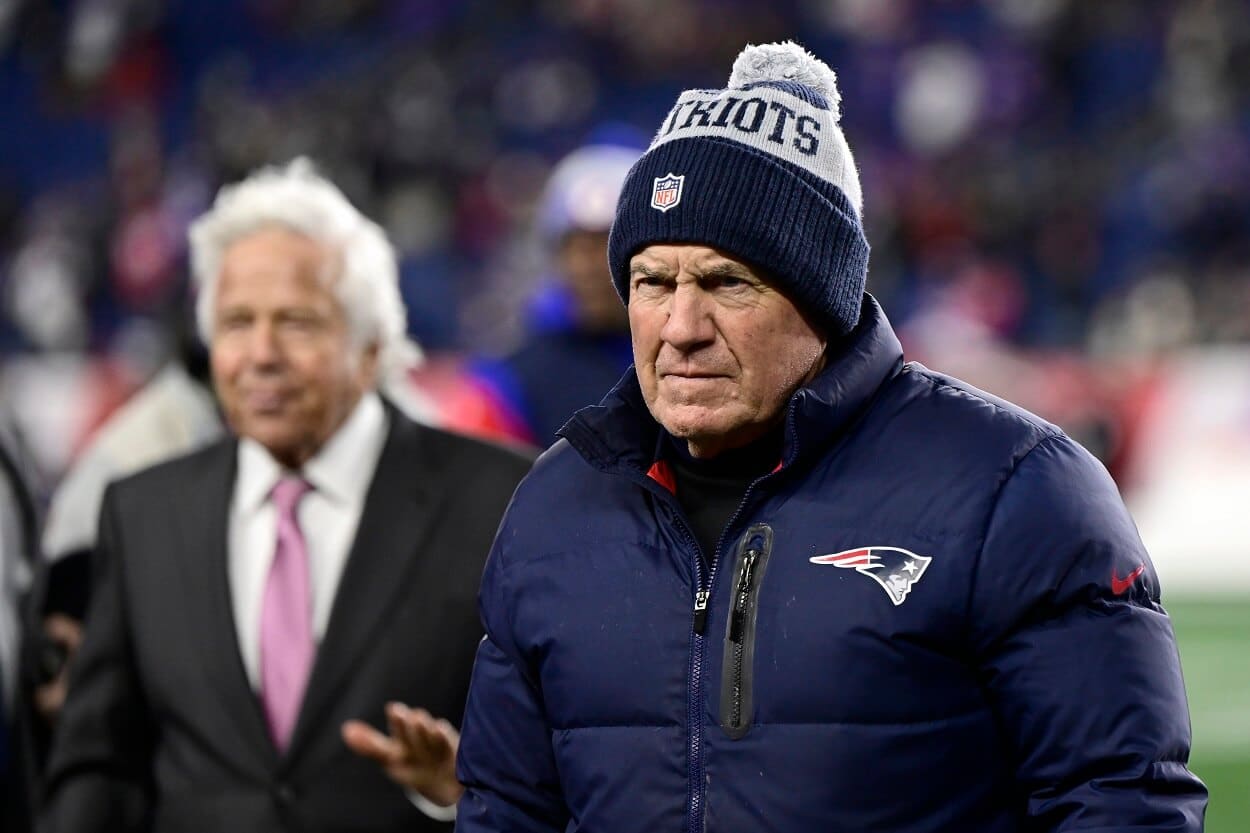 Kraft entrusted and empowered Belichick to find a way to win without Brady. So far, that mission has been mostly an abject failure. A record-setting free-agent haul didn't lead to a playoff victory. Neither did spending a first-round pick on a quarterback who led his college team to a national championship. Unsurprisingly, nor did putting a former defensive coordinator in charge of developing your most important player. 
Belichick has given his boss sufficient evidence via his team's on-field play and his words to show that he's not the same coach who demanded excellence on a daily basis from everyone in the organization. Kraft knows better than anyone that mistakes happen in the business world, but you must deal only with the facts and make objective decisions to truly move forward. 
And unless Bill Belichick does a complete 180 and is willing to invest in real weapons for his quarterback, hire qualified coaches, and adapt to the modern game, it's tough to see the Patriots being relevant in a stacked AFC. 
Considering he turns 71 this month, the odds of that change of heart happening are about as good as Matt Patricia's chances of running an NFL offense again.