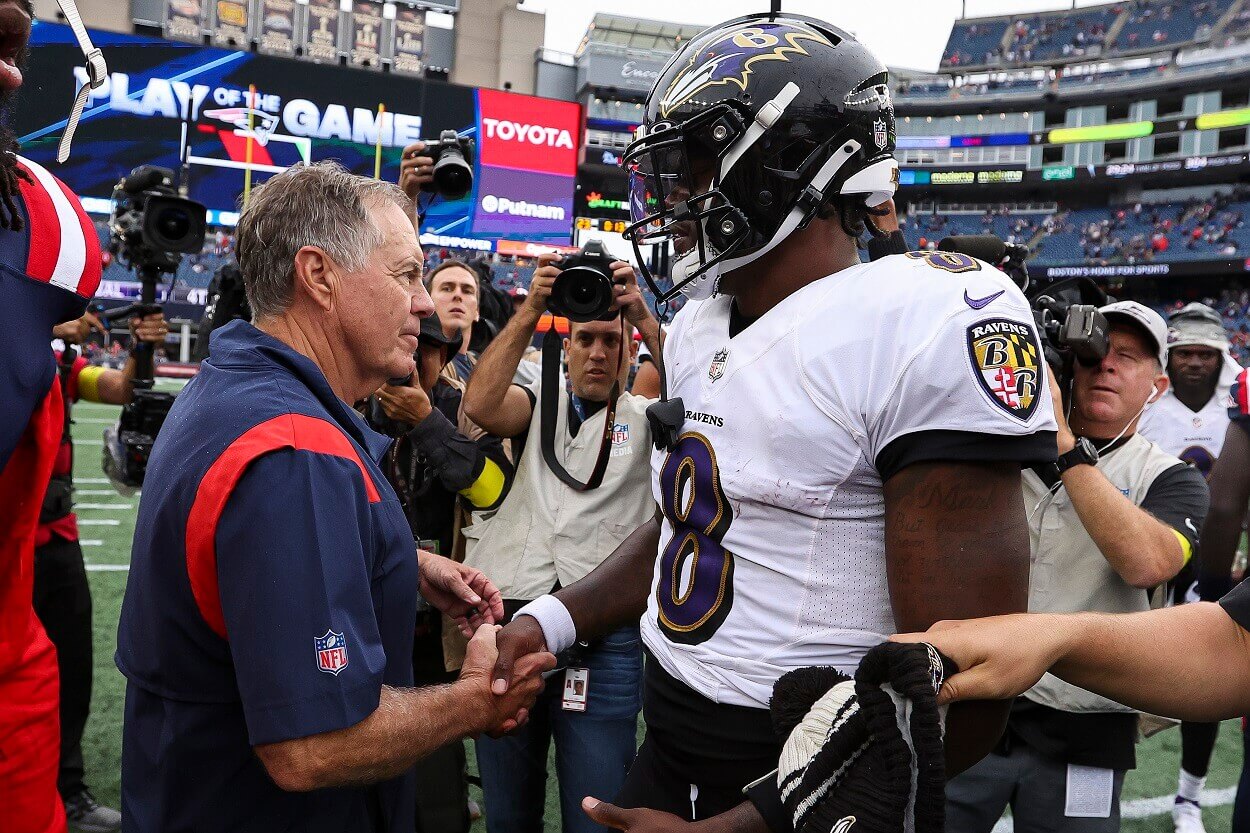 Lamar Jackson Rumors: Potential Patriots Trade Makes Bill Belichick's Franchise-Altering Decision Look Even Worse
Bill Belichick would have to admit failure from a past decision if the New England Patriots trade for Lamar Jackson.
Despite using the 15th overall pick on a quarterback two years ago, Bill Belichick may still need more time to find a true heir to the now-retired Tom Brady.
With Mac Jones coming off a disappointing season that featured plenty of frustration and too few touchdown passes, the New England Patriots could go in a different direction at the most critical position in sports if he doesn't rebound in a big way under new offensive coordinator Bill O'Brien. 
However, moving on from Jones before the 2023 NFL Draft can't be completely ruled out, especially with Lamar Jackson on the market. Yet even though pursuing the superstar signal-caller would undoubtedly put the Patriots in a better position to win, it would also give Belichick's critics even more ammo to use against him. 
After all, a single decision he made five years ago forever changed the course of history for two franchises, and the fact New England is even being mentioned as a potential landing spot for Jackson should only make Robert Kraft and Patriots fans even more frustrated about the state of their beloved team.
Bill Belichick foolishly passed on the chance to build around a generational talent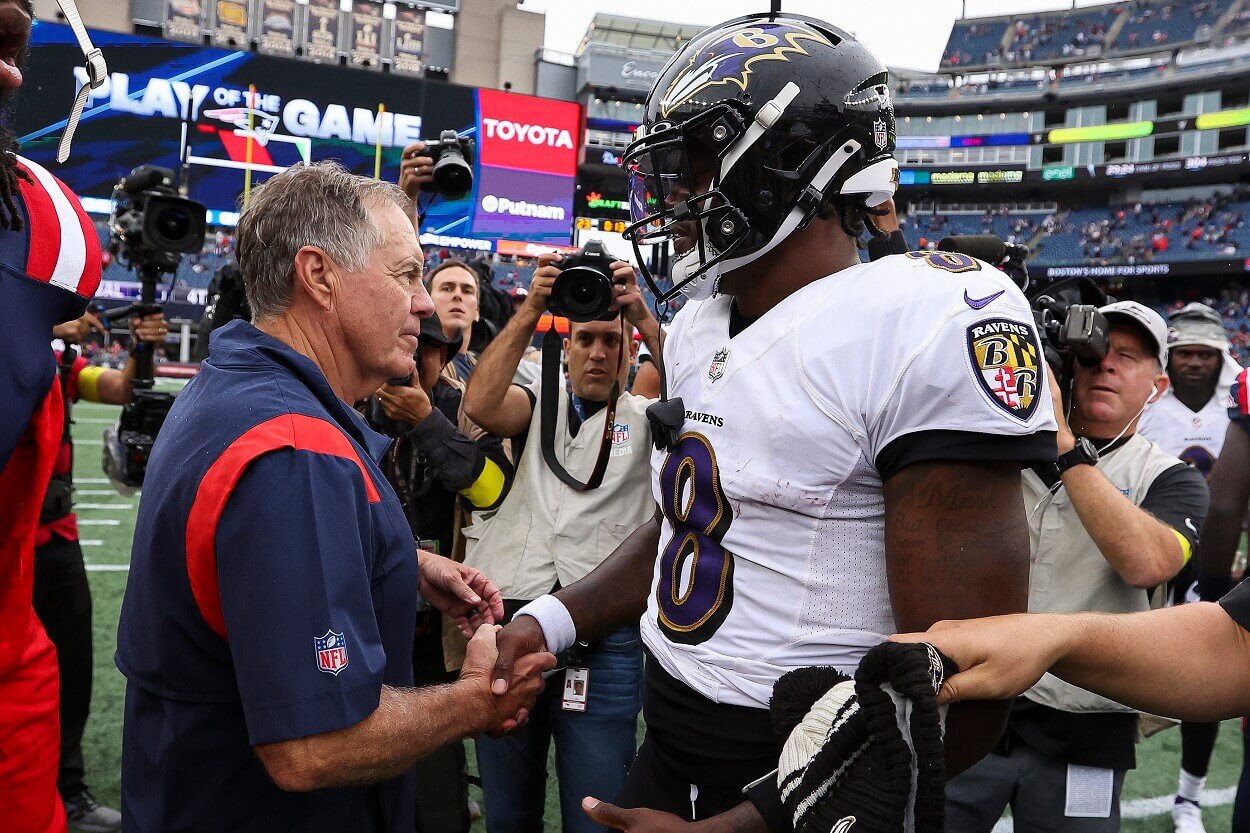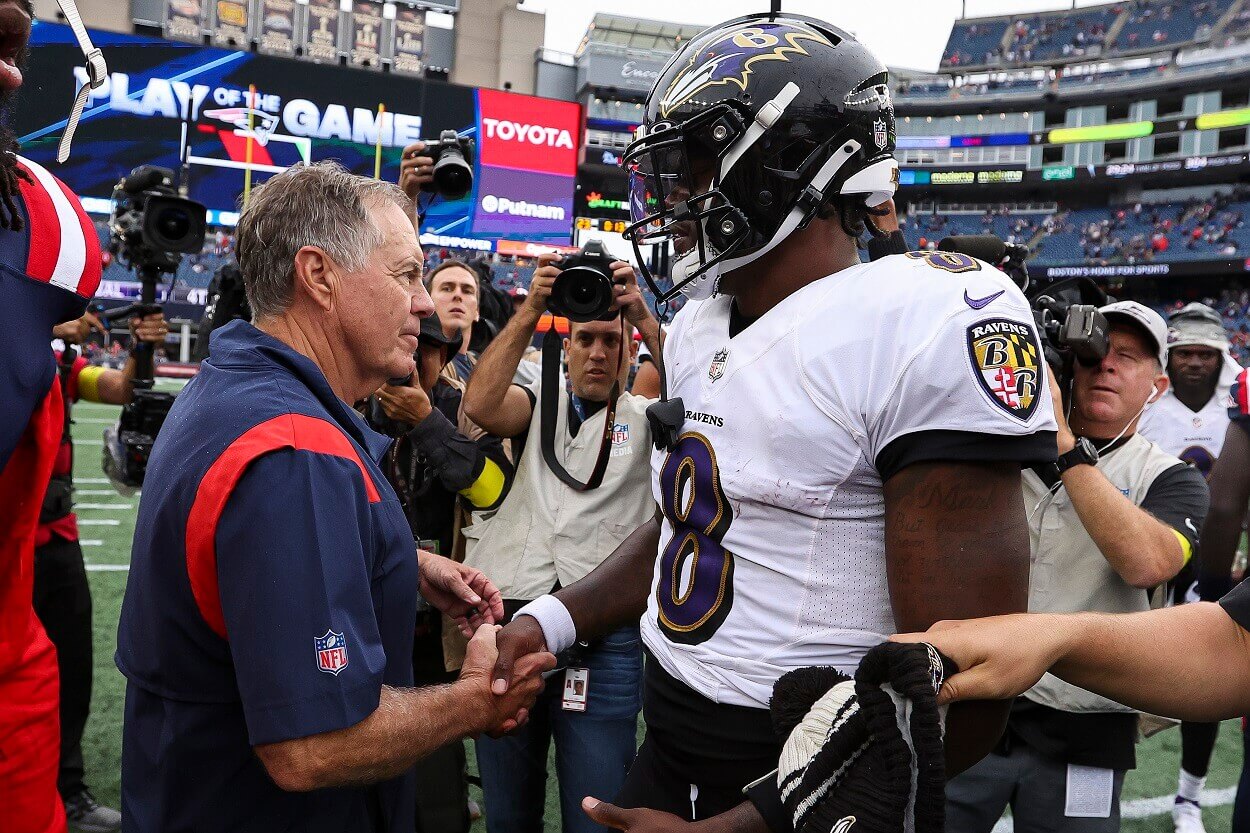 Oh, what could have been. 
Armed with the penultimate pick of the first round of the 2018 NFL Draft, the Patriots had a golden opportunity to set themselves up for sustained success in the post-TB12 era. Yet instead of taking Lamar Jackson and letting him learn from the GOAT, Belichick passed on the chance to take the team's offense in a new, exciting direction. 
Rather than securing a future league MVP at a bargain rate, New England selected a running back who failed to stay healthy and live up to his first-round billing. To make matters worse, Belichick chose Sony Michel over Georgia's other big-name running back: Nick Chubb. 
Luckily for the Ravens, Belichick's foolish decision to let Jackson's draft-day slide continue allowed them to land a dual-threat quarterback who wasted little time showcasing his rare athleticism and powerful throwing arm. 
Of course, the Patriots did win another Super Bowl with Brady, but the marriage between the second-winningest coach of all time and the greatest quarterback of all time ended after a 2019 season that culminated in a lopsided loss to the Tennessee Titans in the playoffs. Since then, Belichick has been a .500 coach who has yet to prove he can win consistently without Brady. 
Meanwhile, the Ravens have gone 43-23 since Jackson became their full-time starter in 2019.
Lamar Jackson trade rumors should give Patriots fans mixed feelings
If a team is willing to cough up two first-round picks and likely a record-setting contract, Lamar Jackson should find himself donning different colors in 2023. 
Given those parameters, it's hard to imagine the notoriously value-driven Belichick parting ways with that type of draft capital to acquire a single player. Plus, the notoriously value-driven Patriots rarely pay top dollar for anyone. 
Still, the possibility of Jackson playing for Belichick has become a legitimate discussion. Per NESN, ESPN's Jeremy Fowler named New England a "wild card" team in the sweepstakes for the star signal-caller's services. And with ownership expecting Belichick's shoulders to get back to winning postseason games immediately, shaking up the situation with a headline-grabbing move like landing Jackson would at least give fans some semblance of optimism. 
But just because the Patriots would be a more dangerous team with the two-time Pro Bowler leading the huddle doesn't mean Belichick should be viewed as some sort of savior if he pulls off a blockbuster trade. 
After all, if he had simply followed his own principle of doing what was best for the team, he wouldn't have to spend a single second thinking about his quarterback depth chart. Whether it was his refusal to build around a running quarterback or his arrogance to think Brady wouldn't leave New England, Belichick miscalculated everything in the 2018 NFL Draft. 
Not only did he blow the 23rd pick on injury-prone offensive tackle Isaiah Wynn, but he used the 31st pick on a non-premium position when the Patriots clearly needed to find a successor to Brady. By that point, Belichick had already traded away both Jacoby Brissett and Jimmy Garoppolo — two young, promising players — for pennies on the dollar.
Jackson would have been a fantastic prize at the end of the first round for a franchise that had no apparent plan for life after Brady. Fast forward to 2023 and the fact he's a free agent who will cost two first-round picks and a nine-figure guarantee to sign only reinforces how badly Belichick botched the 2018 draft.
Belichick's priority should be finding help for Mac Jones
Lamar Jackson to the Patriots is probably just a pipedream. The reality is that Belichick invested a first-round pick on Mac Jones, and he needs to do everything possible to give the third-year pro a legitimate chance to succeed. 
Letting Jones' most trusted target walk in free agency did nothing to help the situation. However, replacing Jakobi Meyers with JuJu Smith-Schuster could pay dividends if the former Pittsburgh Steelers standout stays healthy. 
Still, more work must be done before the Patriots can be considered a viable threat on that side of the ball. 
Will Belichick rely on his connections around the league to land a top-end weapon for Jones? With former Patriots executive Monti Ossenfort now the general manager in Arizona, perhaps the Patriots will finally pull off a trade for All-Pro wideout DeAndre Hopkins. 
Or, could Belichick convince Denver Broncos GM George Paton to reunite Jerry Jeudy with his college quarterback for a second-round pick? Trading the 14th overall selection for a player who's closer to good than great would be an overpay, so the Patriots may need to look elsewhere for receiver help. 
Either way, Bill Belichick can't afford to stand pat and let Mac Jones enter the season with his current cast of weapons.
If only he had a quarterback who could run.