Patriots Trade Rumors: Why Bill Belichick Should Pass on Dealing for DeAndre Hopkins
It's no secret the New England Patriots need to get better at wide receiver. That's been the reality for several years–dating all the way back to Tom Brady's frustrating final season in Foxborough. 
That's led to rampant rumors about potential trades to shore up a position that simply hasn't delivered enough production in the post-TB12 era. Acquiring DeAndre Hopkins would instantly make New England's offense better, but that doesn't mean Bill Belichick should pull the trigger on a deal with new Arizona Cardinals general manager Monti Ossenfort.
If Belichick truly wants to do what's in the best interest of his football team, he needs to steer clear of doing business with the Patriots' former Director of College Scouting–at least if it involves a receiver who comes with age and durability concerns.
DeAndre Hopkins' best days might be behind him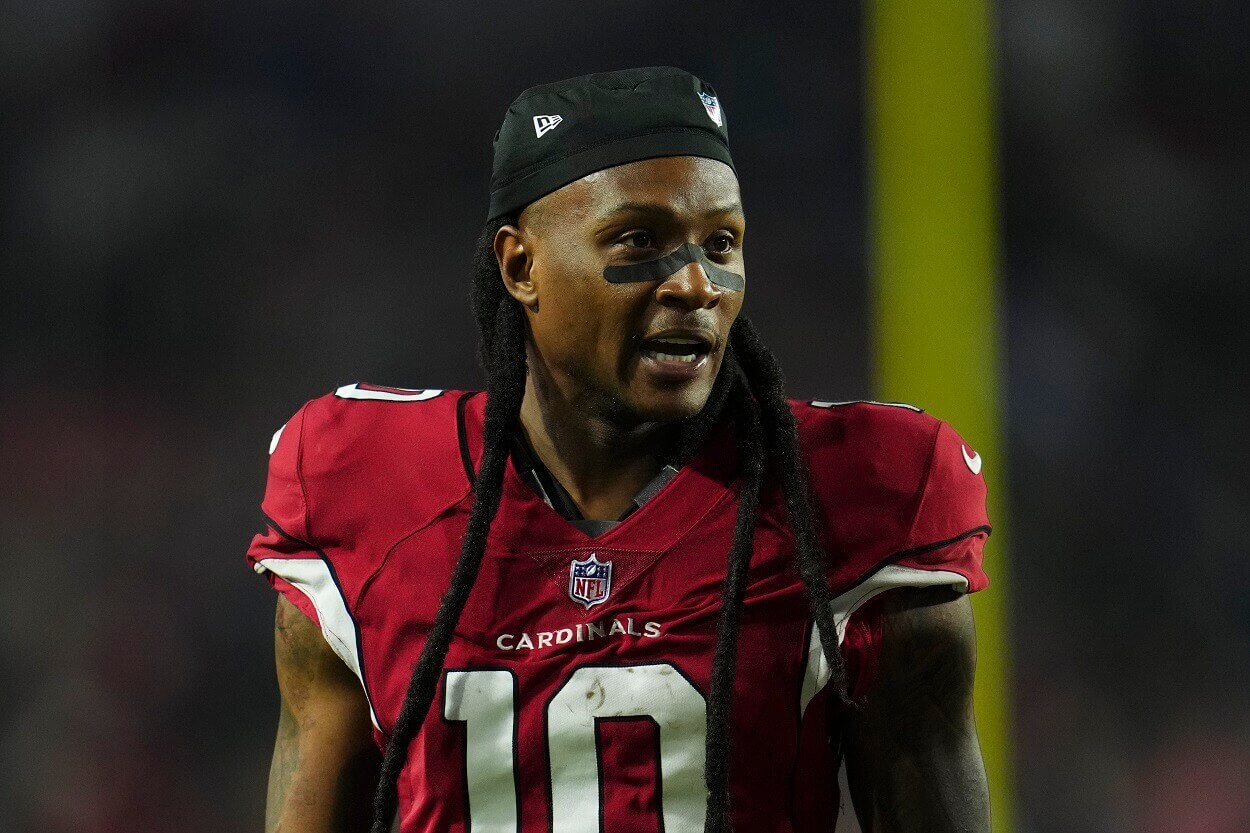 With the Cardinals stuck in the unenviable position of having money tied up on a quarterback coming off a torn ACL and a roster that needs overhauling, dealing one of their few established stars seems inevitable. However, the idea of having to part ways with a premium pick and pay a premium price for the 2023 version of DeAndre Hopkins should give teams pause about making a trade.
After all, it's fair to wonder whether the five-time Pro Bowler has already entered the twilight of his career. 
After averaging 108 catches for 1,381 yards and nearly 10 touchdowns from 2017-20, Hopkins totaled 106 receptions for 1,289 yards and 11 touchdowns across consecutive injury-marred campaigns. Limited to just 19 regular-season games the last two years, the South Carolina native missed time due to hamstring and knee injuries and a PED suspension.
Between a dip in production (Hopkins averaged a career-low 11.2 yards per catch in 2022) and his inability to stay on the field, the three-time first-team All-Pro carries far more risk than he did when the Cardinals acquired him from the Houston Texans in 2020.
Hopkins also has Father Time working against him. He turns 31 in June, and it's difficult to see a receiver who never had elite speed getting better as he gets older. Plus, can someone who's dealt with lower-body injuries over the last two years avoid further setbacks?
Bill Belichick needs to solve his draft dilemma instead of trading for an aging wideout
Would trading for a veteran receiver quickly solve New England's offensive problems? 
In all likelihood…yes. 
But patching up a hole with yet another proven commodity rather than figuring out how to find one in the draft would be delaying the inevitable for Bill Belichick. If the Patriots want to get back to competing for AFC East titles, they have to develop a top-flight pass catcher. 
And it'll take more swings in the draft to do that. 
Rather than sending a second-rounder to Arizona for Hopkins, why not use that pick on someone who might be nearly a decade younger, much faster, and cheaper? If Belichick isn't too scared off by the N'Keal Harry disaster, he could even use the 14th overall selection on Ohio State's Jaxon Smith-Njigba, who completely dominated the short shuttle and 3-cone drills at the NFL Scouting Combine. 
With 2022 second-rounder Tyquan Thornton expected to develop into a dangerous downfield option for Mac Jones, the Patriots still need to find a true No. 1 receiver. The soon-to-be 31-year-old Hopkins certainly fits that mold on paper, but how much longer can this team afford to give away picks to cover up for draft mistakes? 
Ultimately, Belichick can land better value by investing draft assets in a prospect who fits the profile of what new offensive coordinator Bill O'Brien wants — and what Mac Jones needs.
Which NFL teams should be in the mix for DeAndre Hopkins?
The Cardinals might not fetch multiple selections for Hopkins, but they should have a few interested suitors. Like the Patriots, several NFL teams have a dire need at the position. And when you consider other factors, it makes more sense for someone other than New England to go all-in on Hopkins.

For instance, the Baltimore Ravens could explore pairing the accomplished wideout with 2021 first-rounder Rashod Bateman. Providing Lamar Jackson with a reliable pass catcher with prestige could help improve the on-field product and locker-room chemistry.

Another potential trade partner for the Cardinals: The Jacksonville Jaguars. 
General manager Trent Baalke showed no hesitation about trading for suspended Atlanta Falcons wideout Calvin Ridley. Why not double down on your efforts to get the best out of Trevor Lawrence by rounding out a rock-solid receiving corps with a potential Pro Football Hall of Famer? 
With a division that's open for the taking, the Jaguars could cement their case as the favorites to win the AFC South with another bold move involving a big-name wideout.