Mac Jones Trade Rumors: Patriots QB Could Reunite With Former Coach
When Bill Belichick drafted his first Round 1 quarterback with the New England Patriots in 2021, it seemed like a match made in heaven. Mac Jones, who played for Belichick's good buddy Nick Saban at Alabama, seemed like the perfect Tom Brady replacement. However, one ugly season later, the Mac Jones trade rumors are heating up, and some are wondering if a reunion between the QB and his old offensive coordinator, Josh McDaniels, with the Las Vegas Raiders is possible.
Mac Jones trade rumors to the Raiders are heating up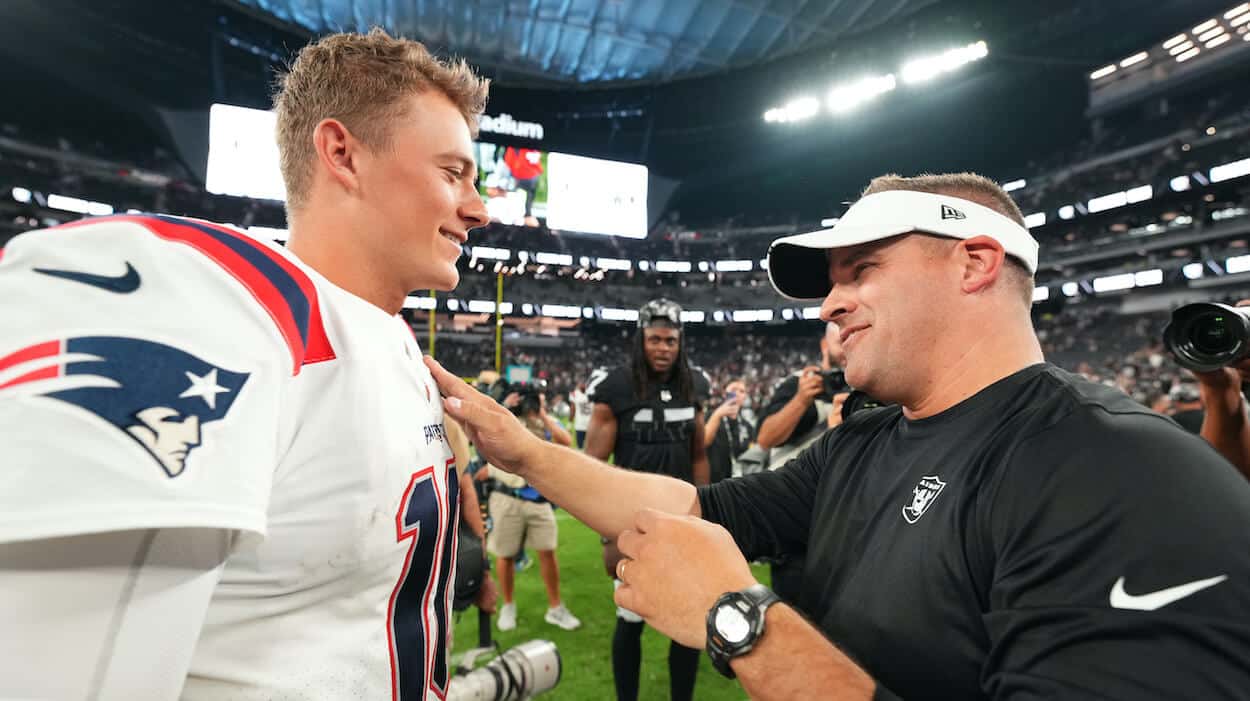 The 2022 season was a disaster for Mac Jones. The second-year quarterback clashed with "offensive coordinators" Matt Patricia and Joe Judge over the putrid state of the team's offense, and rookie Bailey Zappe came in and impressed when Jones was out hurt.
After the season ended, Bill Belichick has refused to give Jones a ringing endorsement as the Patriots' starting QB in 2023, leading to Mac Jones trade rumors.
Those rumors picked up steam when NFL and Patriots insider Albert Breer from The MMQB and NBC Sports Boston joined Zolak and Bertrand on 98.5 The Sports Hub in Boston on Thursday.
Breer explained that he doesn't think Belichick "appreciated the way that Mac handled some of the stuff last year" and that he didn't act like a franchise quarterback when doing so. He also explained why the Patriots would be open to trading Jones.
"Internally, I don't know if they see this massive gap between Mac Jones and Bailey Zappe," Breer said. "I'm not saying they think Bailey's as good as Mac, but there was some element of Bailey doing what he was coached to do last year that I think gave Bailey the edge to some degree for a little while there."
If the Mac Jones trade rumors are true, the Raiders are a realistic option. Jones had a great rookie season under now-Raiders head coach Josh McDaniels, throwing for 3,801 yards with 22 touchdowns and 13 interceptions while leading his team to a 10-7 record. Plus, the Raiders are now looking for a quarterback after releasing Derek Carr.
The Raiders have several directions they could go in at QB next season. Those options range from trading for Aaron Rodgers to signing a free agent like Jimmy Garoppolo to drafting a QB with the No. 7 pick in the 2023 NFL Draft.
Jones could be on the cheaper end of that spectrum both in terms of money and draft capital commitment. The third-year signal-caller has two years left on his rookie deal with a fifth-year option possible, and his cap hits are in the $4 million range for the next two seasons.
Also, Breer says if a Mac Jones trade does go down, the Raiders won't give up a first-round pick. "I don't know how in love the Raiders are with Mac," Breer shared. "Like, if you're talking about getting their first-round pick, I don't think that's happening."
If the Mac Jones trade rumors are true, and Josh McDaniels can get the young QB for a mid-round pick, that could be a great option for the Raiders moving forward.