DeAndre Hopkins Contract: Which Teams Can Trade for $27M WR?
The Arizona Cardinals are entering a new era with Kliff Kingsbury out and former Philadelphia Eagles defensive coordinator Jonathan Gannon in as head coach. After giving out a long-term Kyler Murray extension, the team is locked into him (and his torn ACL) for the foreseeable future. That means anyone who doesn't fit with the quarterback (either personally or professionally) has to go. That's why a DeAndre Hopkins trade is likely this offseason. The two notoriously clashed this season, and a divorce between Hopkins and the Cardinals now seems inevitable. So, the question becomes, which teams can take on the DeAndre Hopkins contract?
The DeAndre Hopkins contract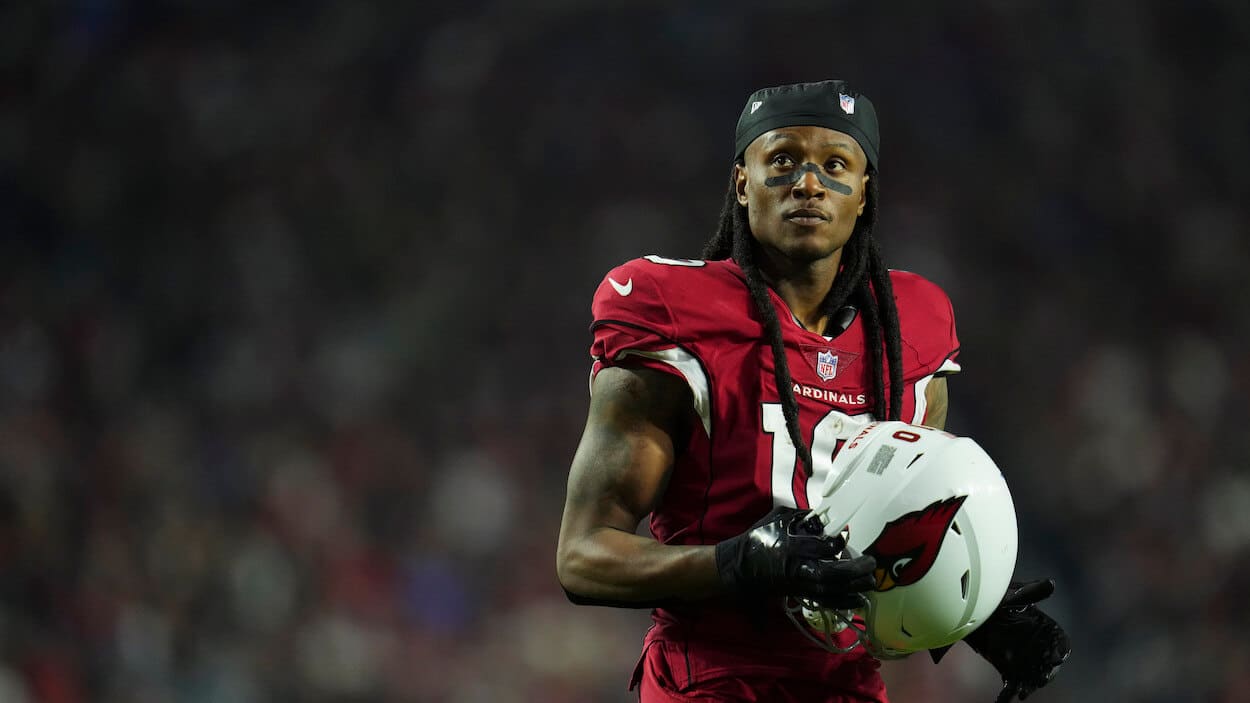 DeAndre Hopkins is one of the best wide receivers of his generation. Through 10 NFL seasons with the Houston Texans and Cardinals, the former Clemson Tiger has 853 receptions, 11,298 yards, and 71 touchdowns. He's also a five-time Pro Bowler and three-time All-Pro.
Hopkins will be 31 in June but still has a few good years left in him, even after a six-game PED suspension in 2022.
The DeAndre Hopkins contract is another way to prove "D-Hop" is one of the top pass-catchers in the NFL.
When the Texans traded Hopkins to the Cardinals in 2020, the wideout signed a two-year, $54,500,000 DeAndre Hopkins contract extension that included a $27,500,000 signing bonus, $60,050,000 guaranteed (including money from his previous deal), with an average annual value (AAV) of $27,250,000.
That AAV makes him the third-highest-paid WR in the league behind Tyreek Hill ($30M) and Davante Adams ($28M).
The contract also included a full no-trade clause, but that voided with the PED suspension.
Now Hopkins has two years and $36.36 million left on his deal. That's $19,450,000 in 2023 base salary and $14,915,000 in 2024 base salary, per Spotrac. However, neither of those years are guaranteed.
Trading Hopkins will save the Cardinals a $30.75 million cap hit in 2023 and leave behind $22.6 million in dead cap, saving Arizona $8.15 million.
Where are the best DeAndre Hopkins trade destinations?
There are several teams that will be in the DeAndre Hopkins trade sweepstakes, and the franchises that are in don't have to worry about the DeAndre Hopkins contract all that much.
Since nothing left on the deal is guaranteed, whoever trades for the WR will likely give Hopkins a new pact that will fit with the team's salary cap. Spotrac estimates a three-year, $70 million extension from his new team.
If money is no (or little) object, that means the teams that want Hopkins will just have a need at the position and be willing to give up the compensation to get him. In 2020, the price was low by today's standards.
The Texans traded Hopkins and a 2020 fourth-round pick (Rashard Lawrence) to the Cardinals for running back David Johnson, a 2020 second-round pick (Ross Blacklock), and a 2021 fourth-round pick (traded).
Teams willing to give up a second-round pick (plus) for Hopkins in the 2023 NFL offseason could include the Buffalo Bills, Cleveland Browns, Dallas Cowboys, New England Patriots, and Green Bay Packers.
All these teams fancy themselves playoff contenders in 2023, but with Jordan Love and Mac Jones/Bailey Zappe at quarterback in Green Bay and New England, those two destinations are less appealing.
The other three spots are all contenders, both for a DeAndre Hopkins trade and the playoffs. A Cleveland deal will reunite him with his Texans QB, Deshaun Watson. And going to Buffalo or Dallas would only improve those two teams that both finished near the top of their respective conferences in 2022.
The Browns are a bit of a mystery, with Watson still a bit out of form after a two-year layoff. That leaves the Bills and Cowboys as the best fit. Hopkins to Buffalo would make the best team of any destination, while Hopkins to the Cowboys might create the best Super Bowl chance, as the NFC is much weaker than the AFC.  
Either one of these spots would work out well for all involved, but a Josh Allen-DeAndre Hopkins partnership is just too tantalizing to pass up as the best DeAndre Hopkins trade destination.