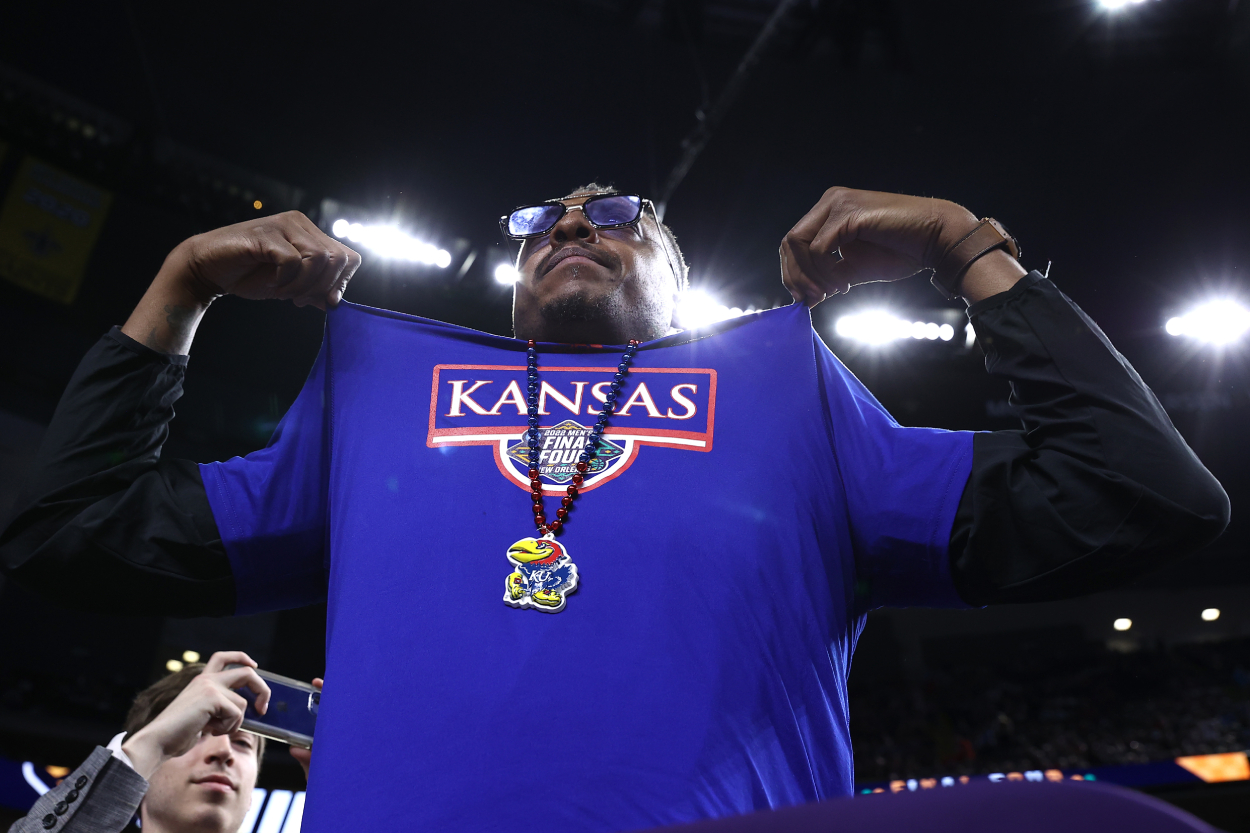 Why Was Paul Pierce Extra Excited After Kansas Beat North Carolina for the NCAA Title?
Paul Pierce had an extra bounce in his step after Kansas defeated North Carolina on Monday.
Kansas alum Paul Pierce was in attendance during his former team's meeting with North Carolina on Monday. With the NCAA championship on the line, Pierce was decked out in his Jayhawks shirt and cheering on his former school.
The Jayhawks mounted a historic comeback, rallying from a 16-point deficit to defeat the Tar Heels 72-69. When it was over, Pierce was seen celebrating as if he had just hit the game-winning shot.
Paul Pierce on hand as Kansas makes history in win over North Carolina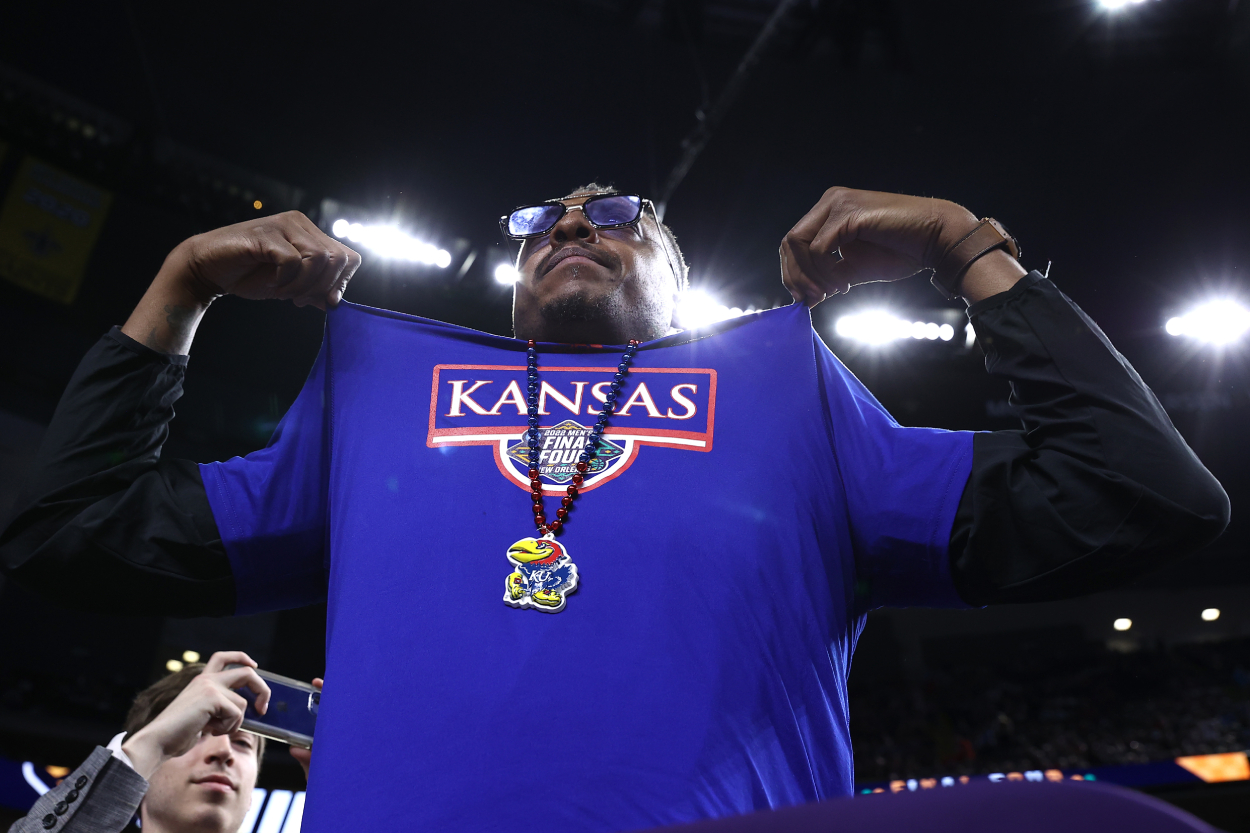 Things didn't look good for Pierce and his Jayhawks at the halfway point Monday night. Kansas trailed by 15 at the break and was down by as many as 16 in the game before making an unprecedented rally. Pierce cheered on his alma mater throughout the second half as they inched closer. It was almost as if he was playing.
Pierce played three seasons with the Jayhawks. As a freshman during the 1995-96 season, the 6-foot-6 guard averaged 11.9 points and 5.3 rebounds while playing 25.4 minutes per game.
In his sophomore season, Pierce upped his scoring to 16.3 points, while pulling down 6.8 rebounds. He was named the Big 12 Conference Tournament's Most Valuable Player after averaging 21.7 points.
In his junior year, he made a name for himself by putting up 20.4 points while shooting 51.3% from the floor. He was named First-Team All-Big 12 Conference and was also an Associated Press First-Team All-American.
Pierce left school for the NBA after his junior year. The Boston Celtics selected him with the 10th overall pick in the 1998 NBA Draft.
Paul Pierce showed his emotion after the Kansas comeback
During his three years at Kansas, Pierce never reached the Final Four. When the Jayhawks made it this year, he made sure he lived through them.
Pierce won an NBA championship with the Celtics in 2008 after he teamed with Ray Allen and Kevin Garnett. He even returned to the Finals two years later but fell short in seven games to the Los Angeles Lakers. He never experienced the feeling of being a college champion.
Until Monday.
For Pierce, he was into the moment. When Kansas completed the improbable comeback, it was all about "family."
"It means everything for the KU family," Pierce said, per KWCH12. "You see they always keep the former players involved. We come here, tradition stays alive."
Immediately following the game, sports anchor Harold Kuntz tracked down Pierce. He made the comment that Pierce was celebrating like he just won the national championship.
"I know, man," Pierce said. "It's cuz we family. We family. When they win, I win. When they win, I win."
Pierce spoke to the Jayhawks before the championship game
Pierce wasn't just pumped up after Kansas claimed the title. He was ready to go before the opening tap. Pierce gave a little pregame speech to the team Sunday night, stressing that same family message.
"You all have a chance to do something special, that's gonna last forever. That's gonna last forever. They're gonna talk about it forever," Pierce said. "You all represent guys like me who didn't have a chance to play in this game. Because when you all go out there, I feel like I'm winning.
"I feel like I won last night, I'm jumping up in front of people looking at me crazy, no matter where I am. To win at this period, it's about sacrifice. You all represent family, you represent the culture and you all represent a tradition. I know you all don't seen me a lot prior to games, but former players, we watch from afar. We always keep up. That's what Kansas basketball is about. We're a culture. We're a family.
"Enjoy the moment. These moments don't come around like this. Like I said, I didn't have a chance to play in this game. This is big. Soak it all in, enjoy with friends and family, get you're rest. Know what you're all here to do. Know what you're here to do — accomplish something special that's going to last the rest of your life."