Paul Pierce Drops a Pile of Steaming Truth on Infamous NBA Finals Wheelchair Game
It became an iconic moment. Paul Pierce of the Boston Celtics went down in a heap during Game 1 of the 2008 NBA Finals. He went to the locker room in a wheelchair before returning to lead the Celtics to a Game 1 win in Boston. The Celtics went on to win their first championship in 22 years, and Pierce was Finals MVP.
But conspiracy theories arose regarding the wheelchair trip. A popular idea emerged that Pierce had a toileting emergency and needed to leave the floor. The controversy got new life in 2019 when Pierce, then working for ESPN, alluded to needing to get to a bathroom.
Paul Pierce played 31 minutes in Game 1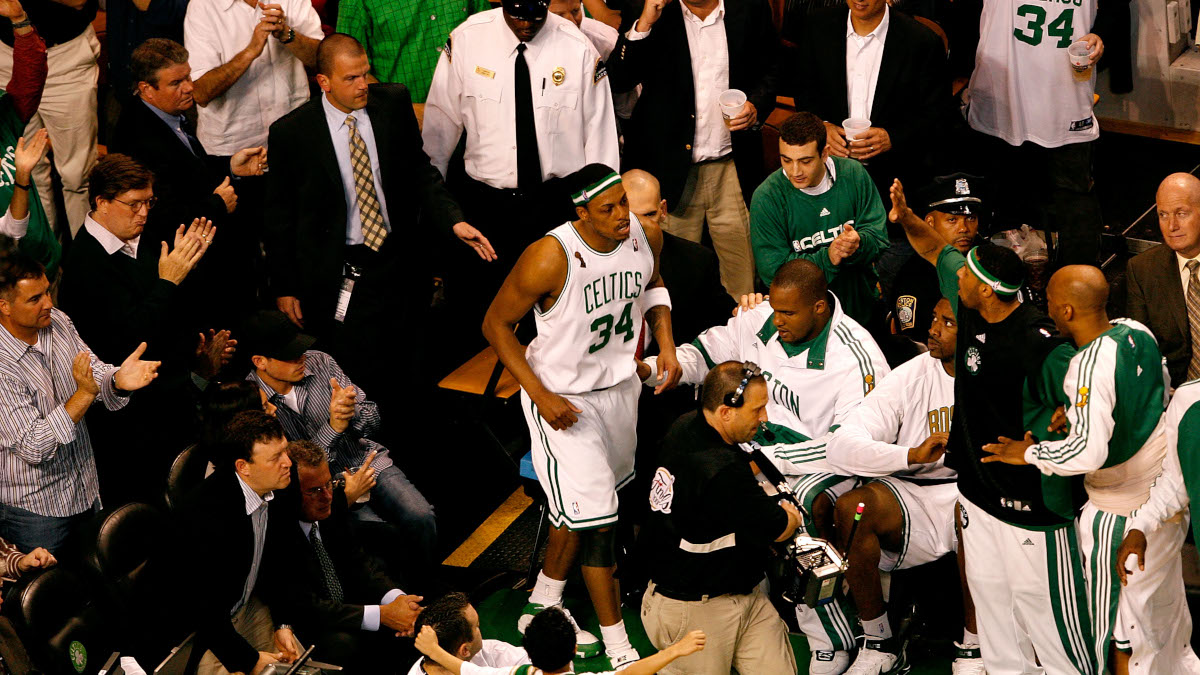 After Paul Pierce left late in the first quarter of Game 1, the Boston Celtics struggled. Pierce returned midway through the second period, but the Los Angeles Lakers went into halftime with a 51–46 lead. But Pierce erupted for 15 points in the third quarter, Boston claimed the lead, and held off the Lakers down the stretch for a 98–88 win.
Pierce finished with 22 points in 31 minutes on 7-of-10 shooting. He averaged 21.8 points, 6.3 assists, and 4.5 rebounds in 38.8 minutes in the Finals. Pierce was aggressive getting to the foul line, averaging nearly nine attempts per game. He received Finals MVP honors with a shooting line of 43.2% overall, 39.3% on 4.7 shots per game from 3-point range, and 83.0% shooting from the stripe.
The conspiracy theories started popping up after Game 1. It was a ruse, some said. It was a rope-a-dope to lull the Lakers to sleep, theorized others. Then the stuff started to hit the fan with rumors of defecation behind the wheelchair ride.
Pierce played into those rumors in 2019 during an NBA Countdown broadcast on ABC.
"I have a confession to make," Pierce said. "I just had to go to a bathroom."
Pierce's confession launched a whole new … storm. It was the confirmation many had been seeking for more than a decade. But was it true?
Paul Pierce sets the record straight, maybe
Paul Pierce was the first official guest of former ESPN colleague Michelle Beadle on her new podcast for The Athletic, What Did I Miss?
The newly minted Hall of Famer attempted to wipe away the rumors that had persisted for so many years since the Boston Celtics won their 17th title:
"If you poop your pants, does it make sense to sit down and mush it in a wheelchair? You don't sit down on your poop, right?"
Pierce dropped a serious load on the theorists who had maintained the conspiracy if that's the real story. When coupled with the alleged confirmation in 2019, the latest comments leave us all with a big pile to sort through.
It's a question Pierce often fields. It must be an awful way to be remembered for a Hall of Fame career. Maybe putting the lid down on it is the best thing for him to do for his soiled legacy.
For many, the whole thing was just a big load of doo-doo
Of all the strange conspiracy theories that have taken hold in the social-media age, the supposed legend of Paul Pierce needing to leave the court in a wheelchair so he could drop a deuce ranks among the strangest.
How this became the moment for which a member of the NBA's 75th-anniversary team became most notorious is mind-boggling. Leading a storied franchise back to championship glory wasn't enough. Instead, it became a bathroom version of William Shakespeare: To poop or not to poop?
How that became the question defies logic. We're talking about a player who scored more points as a member of the Boston Celtics than Larry Bird. Pierce is the second-leading scorer in franchise history, trailing only John Havlicek. He's the team's all-time leader in 3-pointers, free throws and attempts, and steals.
Paul Pierce played 19 seasons in the NBA. He's in the top 20 in career points and steals and in the top 10 in 3-pointers (for now). But the biggest question involved a movement not typically associated with a basketball court? Let us hope this is the last time we must take up this topic. Accidents happen. Let's choose not to pile on.
Statistics courtesy of Basketball Reference.