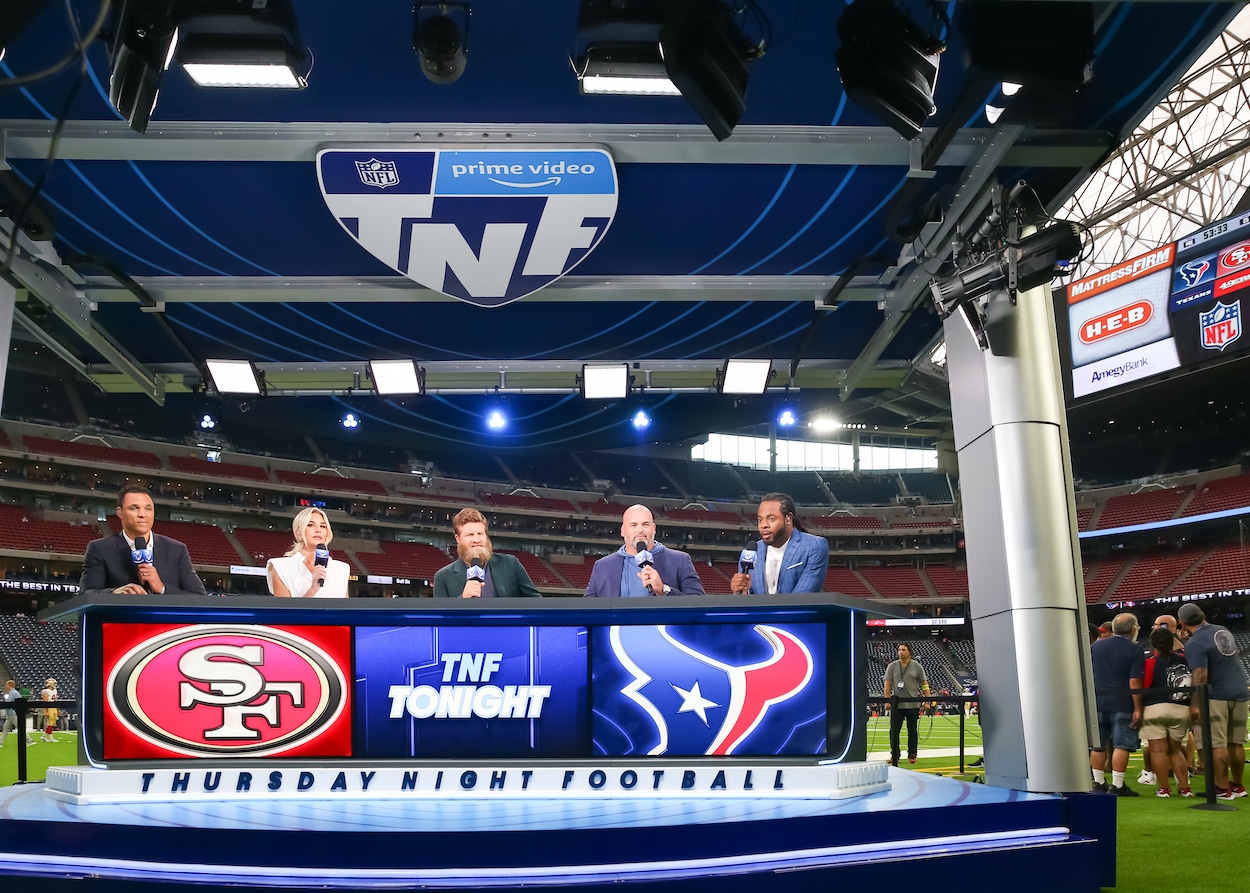 Will Amazon Prime Get a Super Bowl?
After broadcasting its first Thursday night game in Week 2, how close are NFL fans to an Amazon Prime Super Bowl?
The Kansas City Chiefs and Los Angeles Chargers played the first-ever NFL game exclusively on a streaming service on Thursday. The game was compelling (a 27-24 Chiefs win), the broadcast was solid (Al Michaels and Kirk Herbstreit), and, best of all, for Jeff Bezos and Rodger Goodell — who prominently watched the game from a skybox — Amazon Prime Video didn't crash. That's a low bar for Amazon to clear, but the Ney York Post's sports media insider Andrew Marchand says it was the first step to an Amazon Prime Super Bowl.
Will the NFL put a Super Bowl on Amazon Prime Video?
Amazon Prime Video kicked off its NFL broadcasts on September 15, 2022. Some viewers struggled with their own internet issues, and the sound at the beginning of the Chiefs vs. Chargers game was a little rough, but other than that, it was a rousing success.
After Jeff Bezos' company paid the NFL around $1 billion a year for the rights to broadcast this game, and, for Amazon, it's an investment in the future.
This TNF game likely got 7-8 million viewers (numbers will be out next week), according to New York Post sports media critic Andrew Marchand on the Dan Patrick Show. That's under the projected 12.5 million but still good enough to call Amazon's first foray into football a success.
On the sports talk show on Friday, Dan Patrick asked Marchand if this is the first step toward Amazon Prime eventually being the exclusive broadcaster of the NFL's crown jewel, the Super Bowl.
Right now, Amazon has a chance to get playoff games under the current deal if the streamer hits certain numbers on Thursday nights. However, Marchand says that while a Super Bowl is possible and will likely happen someday, it won't be in the next few years.
"The issue is, everyone's going to have to be able to get the stream perfectly," Marchand told Patrick. 'And I think people act like that's impossible — and maybe it is, I don't know the technology — but where will we be five, ten years from now."
Marchand's guess is that we'll be in a place where Amazon gets a Super Bowl:
To answer your question, do I think they'll get it next contract? I'd probably say no if I were predicting. The one after that? I can see Amazon in play for that. But even maybe next contract. I mean, they have more money than anybody. That's the scary thing for the networks when they compete with Amazon and Apple.

Andrew Marchand on an Amazon Prime Super Bowl
An Amazon Prime Video Super Bowl is on the horizon, and that makes perfect sense with the history of the NFL and its broadcasting partners.
The NFL on streaming is the logical evolution of pro football broadcasting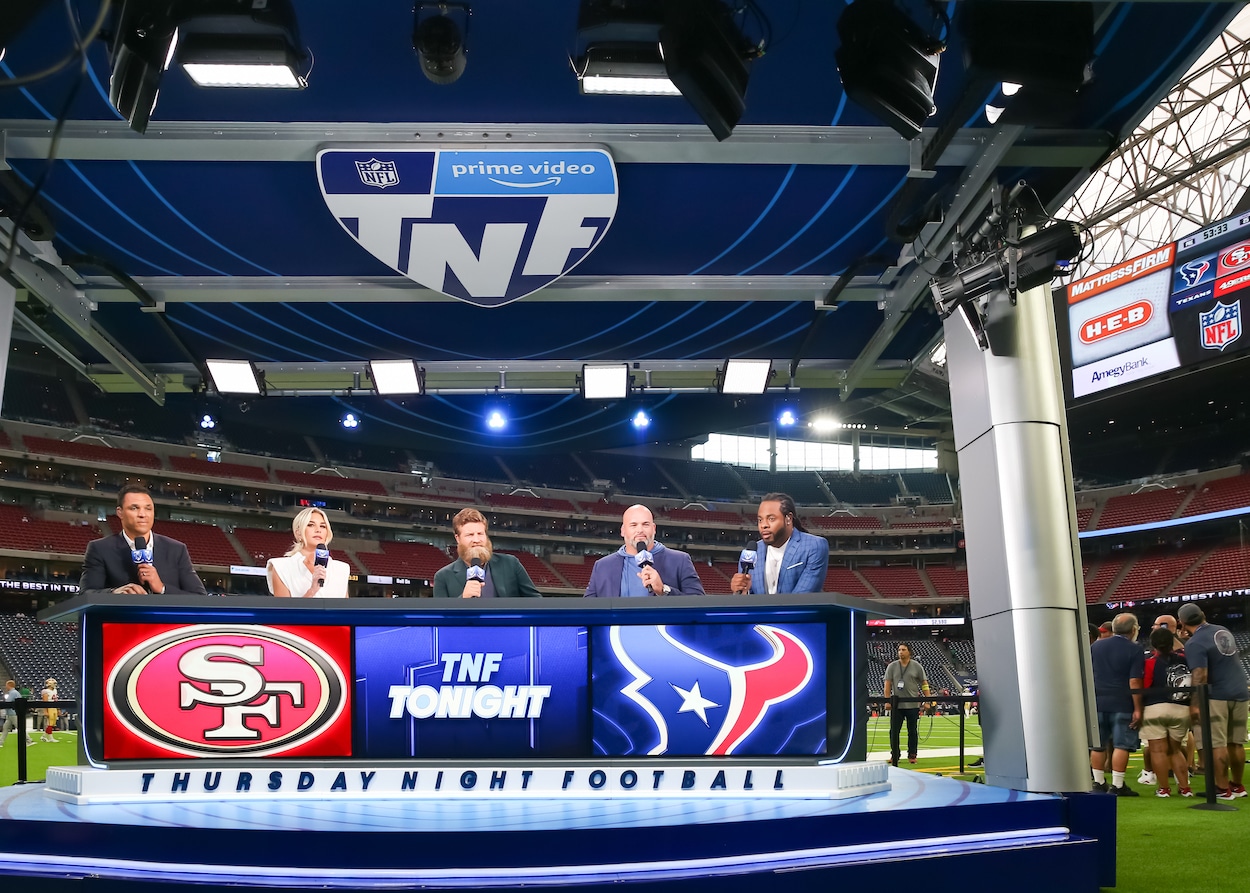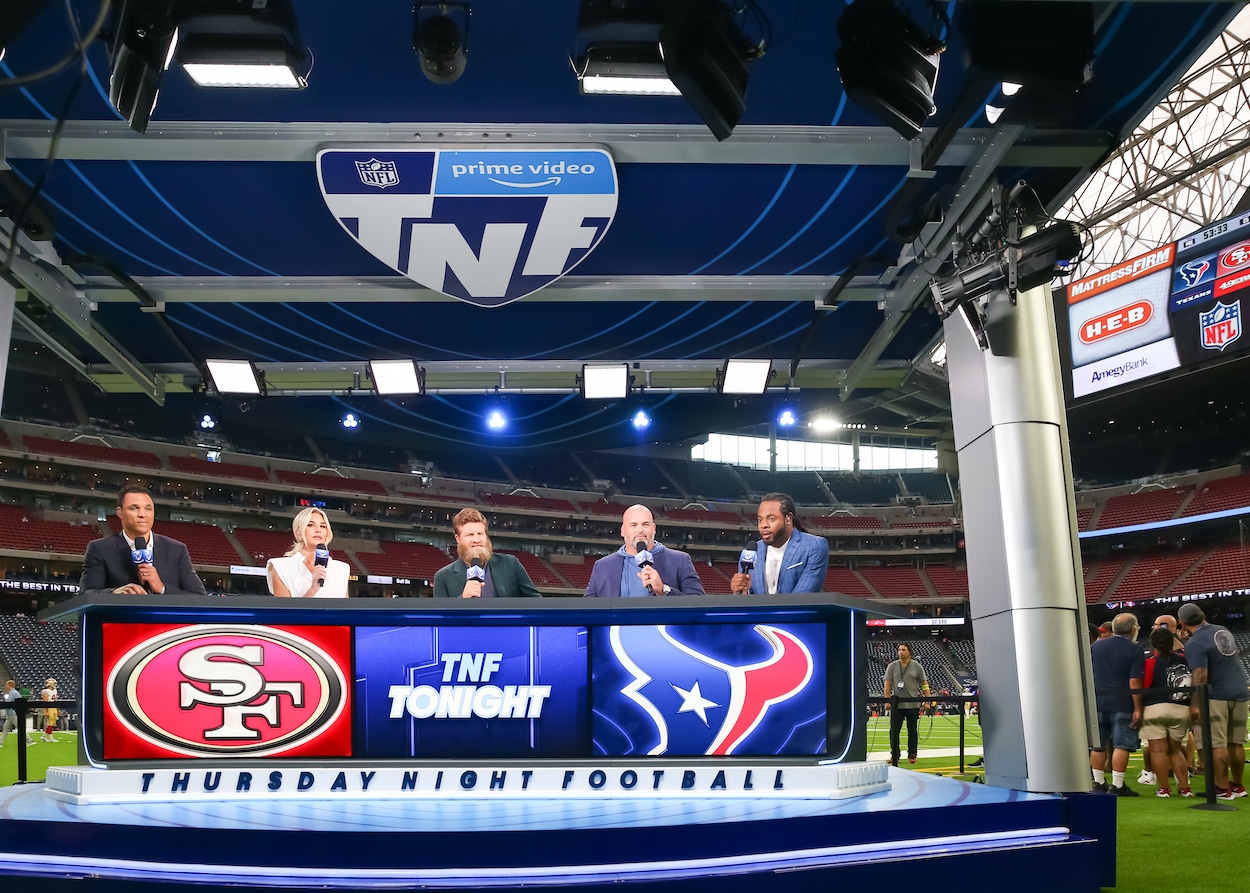 The NFL has long been the king of sports on television in the United States. There are fewer games than any other major pro sport, and they are concentrated on only a few days a week, unlike almost any other league.
Up until the 1990s, the NFL was the exclusive domain of the big three broadcast networks. From the AFL/NFL merger in 1970 until the mid-'90s, you could only find pro football in America on ABC, NBC, and CBS.
In 1987, looking to get a piece of the booming cable market, the NFL created a new timeslot — Sunday nights — and gave those games to a little cable network called ESPN. This move not only continued to expand the NFL's popularity but also legitimized ESPN (and cable as a whole in many ways), turning the four-letter channel into the behemoth it is today.
Seven years later, in 1994, the fledgling Fox Network was scratching and clawing to try to reach the level of ABC, NBC, and CBS.
To do this, Rupert Murdoch's company bid $1.58 million over four years to steal CBS's Sunday afternoon NFL package. The bid was over $100 million per year, bigger than CBS's offer, and Fox NFL Sunday was born.
The move legitimized Fox as a major network and is why there are four major networks today, not just three.
Now, in 2022, the NFL is doing it again.
Cable providers are in their dying days, and streaming services are picking up the households' cable is losing at an increasingly fast rate. The NFL once again gave credibility to streaming as the future of television by awarding Amazon the Thursday Night Football package.
Pro football has always been on the cutting edge of television (and has always made billions by being there). Right now is no different, which is why, someday, a Super Bowl will be on Amazon and likely other streaming services as well.
Like Sportscasting on Facebook. Follow us on Twitter @sportscasting19 and subscribe to our YouTube channel.