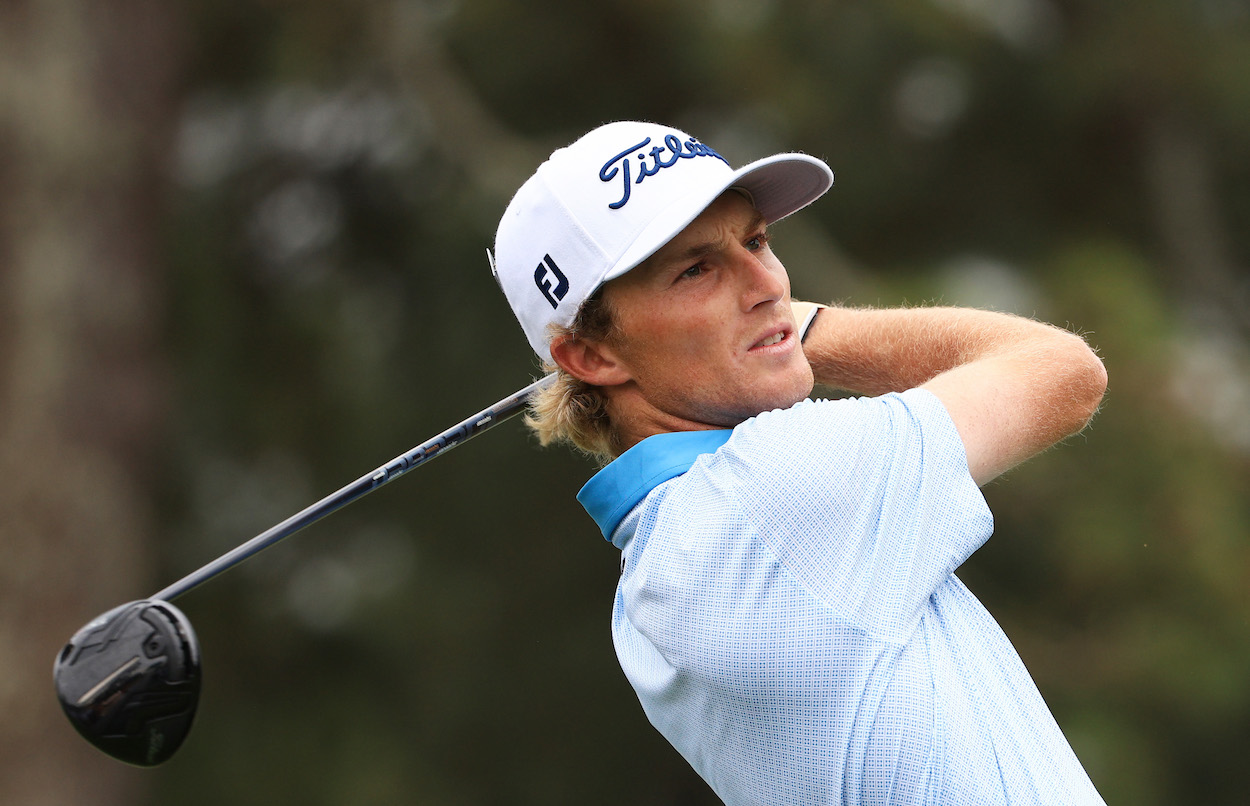 Will Zalatoris Surprisingly Has Tony Romo to Thank For Significant Improvement to His Game in the Last Year
Will Zalatoris improved his golf game in 2020 with the help of Tony Romo.
Golf fans have seen the name Will Zalatoris on The Masters leaderboard this weekend and wondered, Will who? The 24-year-old from Texas has seemingly come out of nowhere to not only find his name on the leaderboard but remain in contention heading into Sunday's final round at Augusta.
Zalatoris has experienced a meteoric rise to the top of the golf world in the last year and interestingly, he can pinpoint a specific time to when his game changed and former Dallas Cowboys quarterback Tony Romo had something to do with it.
Will Zalatoris has quietly but steadily moved way up ranks
Will Zalatoris made his first splash on the golf scene back in 2014 when he won the U.S. Junior Amateur. The kid from Dallas, who played in junior competitions with Jordan Spieth, who was a few years older, attended Wake Forest University. 
In 2017, Zalatoris won ACC Player of the Year. He turned professional the following year. As a pro, he struggled early on because, by his own admission, he was trying to be too perfect. 
In 2019, Zalatoris relied on Monday qualifying and sponsor exemptions to play in multiple Korn Ferry events. Zalatoris eventually secured his Korn Ferry status for 2020 and started the season strong, earning a fourth-place finish at the first tournament of the season. He followed it up with another top-10 performance, and then COVID hit.  
Will Zalatoris improved game with Tony Romo in 2020
In Texas, Zalatoris returned to his roots and played as often as possible. And he did so with some select company. He said playing golf without practicing opened his eyes.
"Our crew of Davis Riley, Kevin Dougherty and Tony Romo played money games five days a week for four months," Zalatoris told Golf Digest. "It made us all really sharp. When tournaments started up, I was ready to go. I realized I don't need to be on the range for hours; I need to play. The shutdown simplified things."
His change in philosophy resulted in a dramatic improvement in his game. From June to September of 2020, Zalatoris had eight top 10s, including his first win in July at the TPC Colorado Championship. 
That victory qualified him for the U.S. Open at Winged Foot, where he aced the par-3 7th hole in his first round, and more impressively, he finished the tournament tied for sixth place along with the world's top player in Dustin Johnson. 
Tony Romo has predicted greatness for years
Will Zalatoris playing regular rounds of golf with his group, including former Dallas Cowboys quarterback Tony Romo, cleared his mind and allowed him to just play the game. Romo, who is an accomplished golfer himself and has played in a handful of PGA Tour events on special invitation, said Zalatoris' game is one of the best in the world and he's believed that for a while, despite the young player not having his tour card. 
"I told people two years ago when he didn't even have status on the Korn Ferry Tour, 'I think he's a top-20 player in the world right now,'" Romo told the New York Post. "Everyone laughed at me, but I said, 'It's just a matter of time.' And you're seeing it play out pretty quickly in front of the world stage this weekend."
During the weekend at Augusta, the announcers have talked about Zalatoris' ball-striking ability. Romo agrees and says the kid has the right mindset to achieve big things.
"He's as genuine, nice, humble, down-to-earth as you'll meet for what I think is someone who's going to be a superstar," Romo said. "He knows his game. He doesn't take a back seat to anybody in the world in ball striking."
Whether or not Will Zalatoris puts on the green jacket at Augusta this weekend is still yet to be determined. One thing that is certain, according to Tony Romo and many pundits, this isn't the last you've heard from him.