Tony Romo Was an NFL Superstar but Had to Trick His Wife Into Going out With Him
During his NFL career, Tony Romo was a superstar of superstars. He was not only a successful NFL quarterback, but he was on American's team — also known as the most popular team in the NFL — the Dallas Cowboys. So, being that he was such a notable celebrity, one would think that dating wouldn't be too difficult for him. However, for his first date with his future wife, Candice Crawford, Tony Romo actually tricked her into going on it.
Tony Romo was a star NFL quarterback for the Dallas Cowboys
Tony Romo began his NFL career as an undrafted free agent in 2003 and ultimately signed with the Dallas Cowboys. He did not throw a single pass in his first three NFL seasons. In 2006, though, Romo then became a star. He earned Pro Bowl honors that season after throwing for 2,903 yards, 19 touchdowns, and 13 interceptions in 10 starts.
Romo then continued to become an excellent NFL quarterback in the years after that. In addition to earning four career Pro Bowl selections, Romo threw for 3,700 yards or more six times in eight seasons from 2007 through 2014. He also threw for as many as 4,903 yards in 2012, and 36 TDs in 2007.
For his career, Romo ultimately recorded 34,183 passing yards, 248 touchdowns, and 117 interceptions. Despite not having much postseason success with the Cowboys, Romo still proved to be one of the greatest quarterbacks in team history during his career. He is No. 1 in Cowboys history in both passing yards and passing touchdowns.
So, not only did Tony Romo play for the most popular team in the NFL, he starred on it.
Tony Romo tricked his future wife, Candice Crawford, into going on their first date
According to Showbiz Cheat Sheet, Tony Romo's wife, Candice Crawford, was a sports broadcaster in the Dallas-Ft. Worth area when she and Romo first met. They then began dating in 2009, but when he asked her out on their first date, he did so without really asking her out.
"I was like, 'A bunch of us are going to a movie tonight if you want to join in," Romo said on a March 2020 episode of In Depth with Graham Bensinger. "'I can come by, swing by, pick you up around seven if you want.' She was like, 'Oh, yeah, OK. Great.' Sure enough, I show up 6:55 or something like that. She gets out, I'm like, 'Ah, everyone dropped out. It's just me and you.'"
Romo then said that Candice told him she probably would have still gone had she known it was just going to be them two. But the thought of them going in a group made her feel more comfortable.
That, however, wasn't all that happened on their first date.
With Candice not realizing that Romo was coming over to pick her up, she ended up having her parents hide from him.
"My parents, being massive Cowboys fans, she didn't want them in the house. And they're like, 'Candice, we're already here. What do you want us to do?' And she was like, 'Hide. Hide in the back,'" Candice's brother and former Gossip Girl star Chace Crawford said on a July 2016 episode of The Rich Eisen Show. "… So she pushes my parents back [in their master bathroom]. I thought that was really funny."
Well, that sounds like an eventful first date. It all ended up working out, though.
Tony Romo has been married to his wife since 2011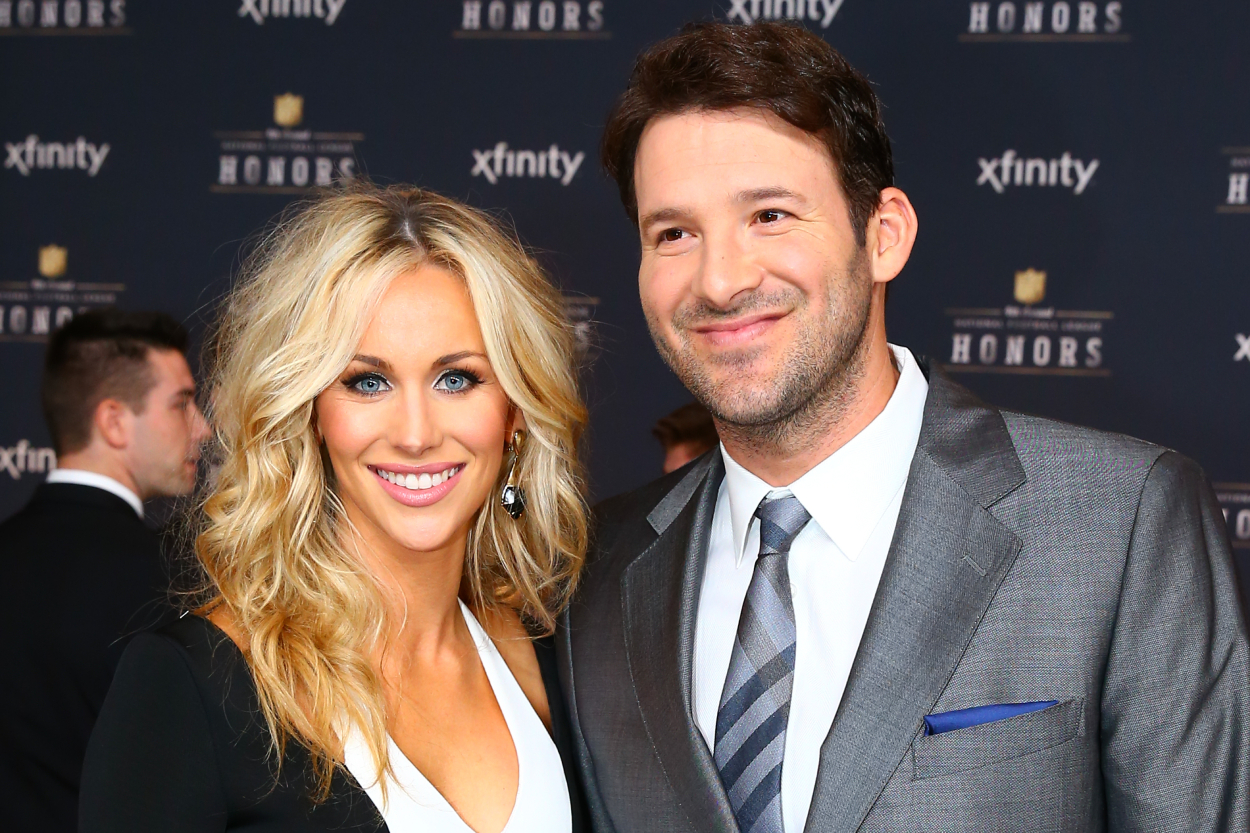 Tony Romo, who was in the prime of his NFL career at the time, married Candice Crawford in 2011, according to Showbiz Cheat Sheet. Their wedding reception was even Cowboys-themed.
Romo eventually went on to play for the Cowboys for six more seasons. He is now a very successful NFL broadcasters on CBS. As for their relationship, Candice and Romo are still together and now have three sons, Hawkins, Rivers, and Jones.
Tony Romo is a Dallas Cowboys legend and now has a beautiful family. Who knows where he would be now, though, had he not decided to trick his future wife into going out with him.
Stats courtesy of Pro Football Reference