CBS Had an 'Intervention' for 'Undisciplined' Tony Romo
When Tony Romo joined Jim Nantz in the CBS NFL broadcast booth in 2017, he was a breath of fresh air. The former Dallas Cowboys quarterback knew all the players intimately, had boisterous excitement, and was so in tune with the game he developed a reputation for predicting plays before they happened. Romo's unique approach to announcing earned him a massive contract from CBS to keep him at the network through at least 2025. Now, six years removed from his time in the locker room, though, Romo is no longer as plugged in as he used to be, and it shows in the booth. The predictions are down, and the wild enthusiasm is up. And that concerns his CBS bosses, who had an "intervention" for Romo to get him back on track.
CBS is concerned about Tony Romo regressing as an announcer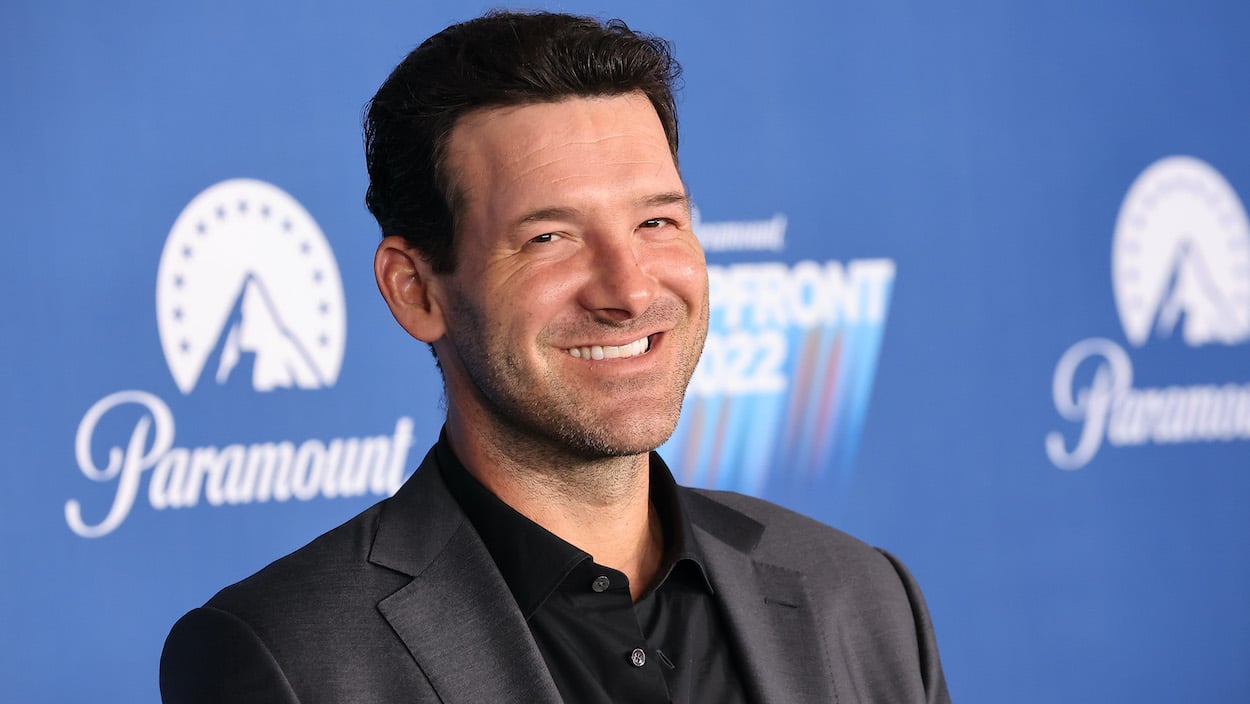 Since Tony Romo signed his 10-year, $180 million deal with CBS, his performance in the booth alongside Jim Nantz has slipped. As he moved further from his career, his knowledge of the players and the game decreased. And what was initially seen as enthusiasm that was unique and different now seems sloppy as Romo seemingly uses excitement to cover up his lack of in-depth knowledge.
On The Marchand and Ourand Sports Media Podcast, New York Post sports media insider Andrew Marchand explained the situation and revealed CBS executives are concerned enough about the issues that they staged an "intervention" in the offseason.
"Tony Romo needs to study more. He needs to be better prepared because as you move away from the sidelines, it's not studying tape, you need to do more work," Marchand shared. "And I know CBS is aware of this. They tried an intervention last offseason … but it has not gotten better, and it's a problem."
Marchand's co-host, John Ourand, added, "There's kind of a fine line between unconventional and undisciplined, and he just does appear to be undisciplined at times. We've heard those stories about him just not preparing enough for the telecast."
In a written piece on the subject in the New York Post, Marchand revealed additional details about the "intervention," writing, "In an effort to have Romo focus more on being fully prepared and to help him find a way to mesh better with his broadcast partner, Jim Nantz, executives, including CBS Sports chairman Sean McManus and CBS' lead NFL game producer, Jim Rikhoff, flew on separate trips to Romo's Dallas home, according to sources."
However, CBS Sports vehemently denies this characterization of the offseason meeting. CBS Sports spokeswoman Jen Sabatelle responded to Marchand by saying, "To call this an intervention is a complete mischaracterization, we meet regularly with our on-air talent."
Tony Romo and Jim Nantz are done in booth for this NFL season, as FOX has the rights to the Super Bowl 57. So, the duo — along with CBS execs, apparently — will have all offseason to work on Romo's issues.
However, next year is crucial for CBS and its lead broadcasters, as they own the right to Super Bowl 58 in Las Vegas in 2024. And in that Big Game booth, it will be Nantz and Romo calling the action.