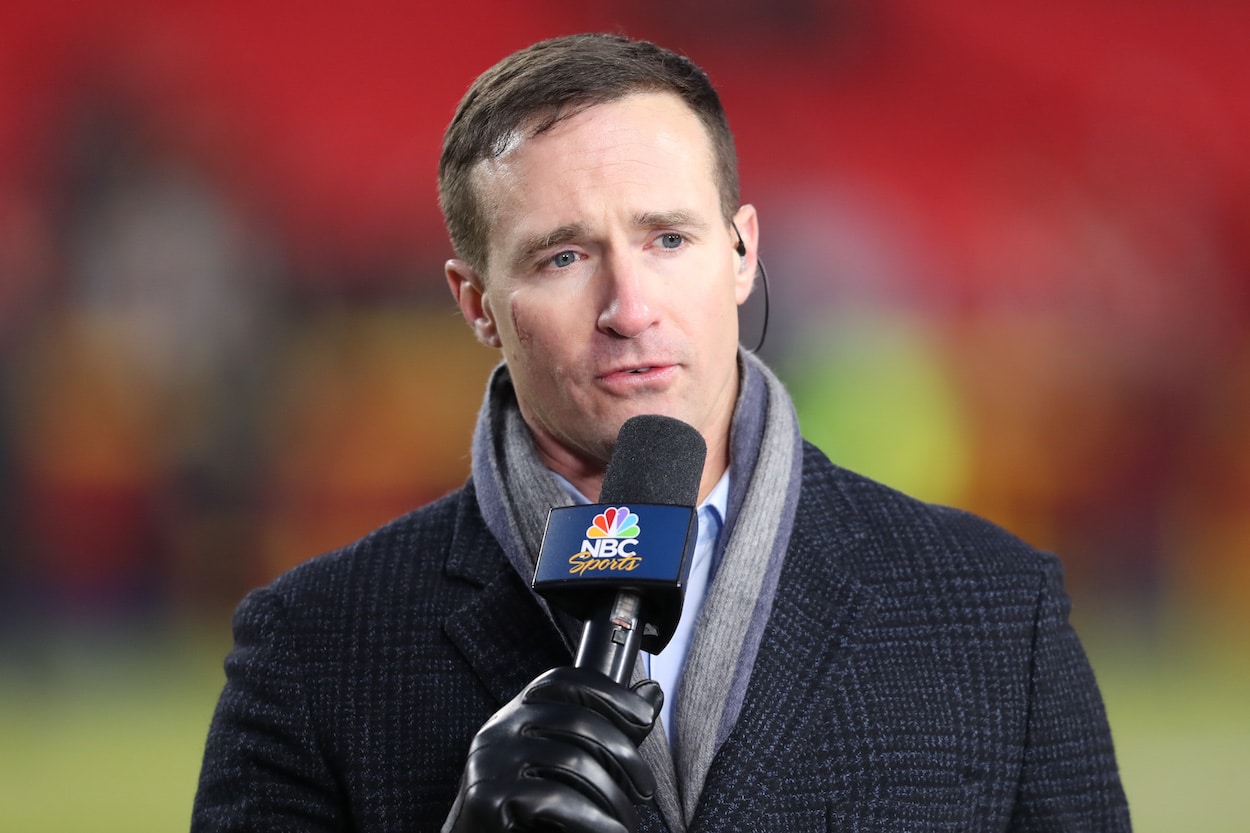 Sports Media Insider Andrew Marchand Reveals Drew Brees Could Get 1 Last Chance as a Broadcaster, but His New Network 'Won't Break the Bank'
If Drew Brees is out at NBC, he might get one more shot (at a discount) as a color analyst at Fox, which could mirror his NFL career.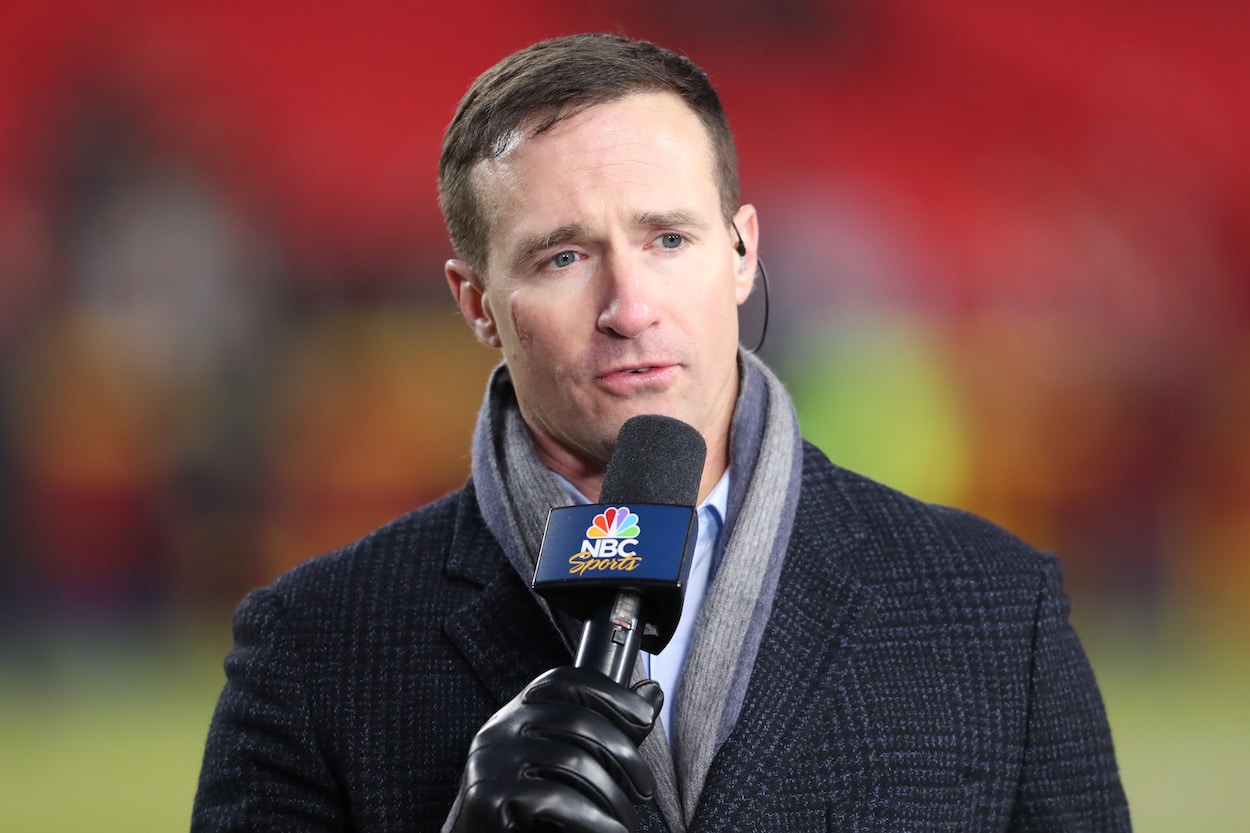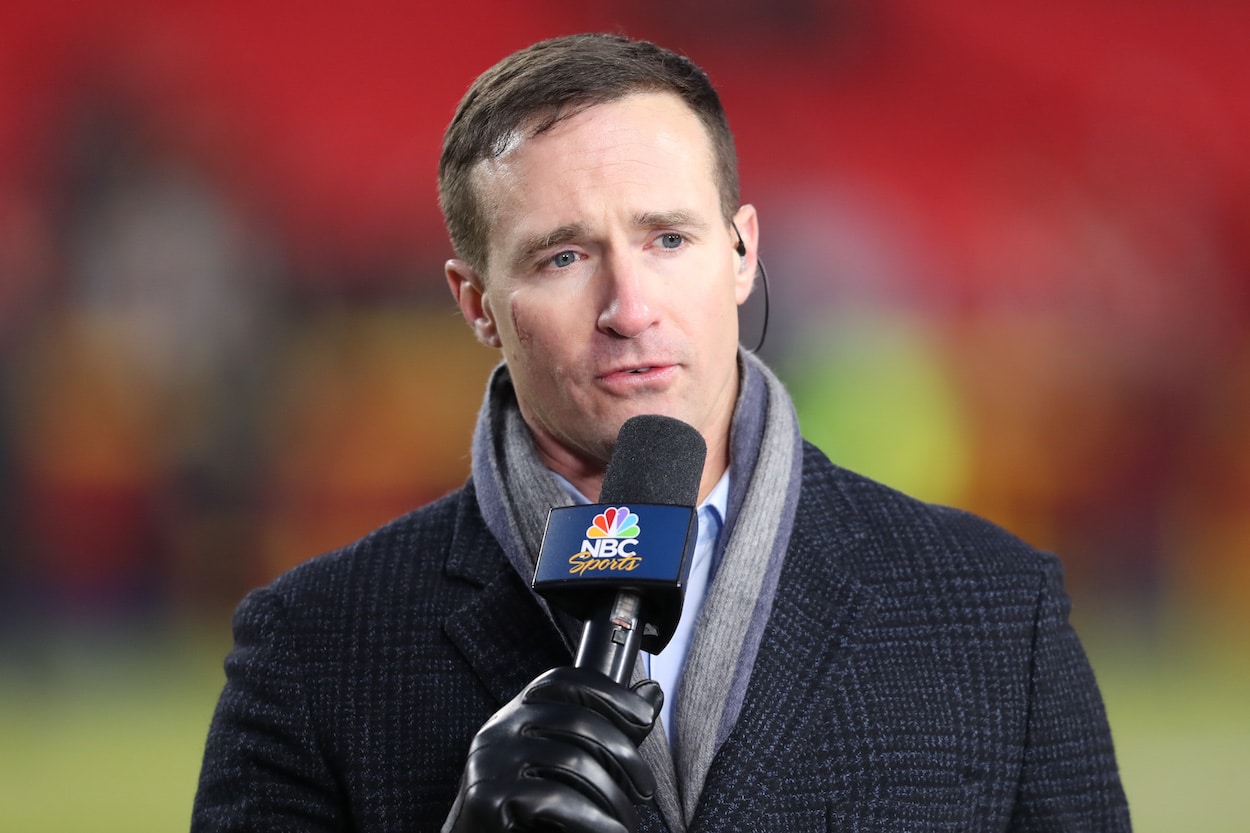 Drew Brees was an all-time great NFL quarterback. However, his first season as a broadcaster didn't go nearly as well. Now, as rumors swirl that he's out at NBC, sports media insider Andrew Marchand is reporting another network may give the former New Orleans Saint a "last chance" for success behind the mic.
Drew Brees' broadcasting career hasn't started well at NBC
Former New Orleans Saints quarterback Drew Brees retired following the 2020 season and spent 2021 in the studio for NBC on Football Night in America.
His first season on the media side didn't go great.
Critics widely panned Brees as bland and uninteresting. He also seemed hesitant to offer harsh criticism of players just a few months removed from being one himself. Alongside host Mike Tirico and analyst (and former NFL head coach) Tony Dungy, Brees' flat analysis stood out even more. Trico and Dungy are relatively low-key themselves, so Brees' lack of magnetism seemed even more pronounced.
That's not to say that Brees couldn't be good on TV in the future.
Studio shows need big personalities and hot takes that can be digested and shared in quick snippets. They need Terry Bradshaw and Boomer Esiason and Charles, Shaq, and Kenny. Brees just isn't in that mold.
That said, Brees is obviously incredibly knowledgeable about the game of football and has insight to share with viewers. That skill-set works best as a color man on a broadcast. However, at NBC, the network already had Cris Collinsworth on its weekly NFL game.
Without a full slate of games every week like CBS or FOX has, fitting Brees into the right slot just wasn't possible.
Now, though, one of those networks might give Brees a shot. But if he doesn't come across as impressive in the booth, his time on TV could be done.
Andrew Marchand Says NBC's Drew Brees could get one last chance as a color man at Fox
Sports media insider Andrew Marchand of the New York Post discussed the Drew Brees saga on The Marchand and Ourand Sports Media Podcast.
He talked about how he could see Brees moving to Fox to be the No. 2 color man on the network, likely behind Greg Olsen now that Troy Aikman made the jump to ESPN.
The issue Marchand worries about is whether Brees will be OK taking a discounted deal, especially with the megadeal Tom Brady just signed with the network. Marchand said:
If you're Fox, I can see it. … It's Drew Brees, one of the all-time greatest quarterbacks. If he was coming out now, probably be getting between $10 and $20 million to do a game. So, he'd be a number one. Instead, now he's got some experience of doing games last year. He comes to you as a number two on a discount. That's what it's going to come down to. Can Drew Brees say, 'Well, Tom Brady got this humungous $375 million contract. Can I do it for a couple of million dollars?' We all say they don't need the money, but there's ego involved.

Andrew Marchand on Drew Brees
Being on Fox's second-tier game this fall would be the ideal spot for Brees.
He could work and get better without the pressure of being one of three people in the Sunday night studio show. Also, calling a game, Brees will be able to discuss the game in long form, which also suits him better.
The future Hall of Fame QB's broadcasting career could follow his NFL trajectory
Andrew Marchand made one more interesting point on his podcast. The sports media insider notes that this move from NBC to Fox could mirror Drew Brees' NFL career.
The San Diego Chargers picked Brees in the second round (No. 32 overall) in the 2001 NFL draft. The former Purdue Boilermaker sat behind Doug Flutie his rookie season but took over as the starter in 2002.
The next two seasons, Brees and the team struggled. He was 10-17 as a starter and had 28 touchdowns to 31 interceptions. Because of this, the Chargers picked Eli Manning No. 1 overall in the 2004 NFL Draft and traded him for Philip Rivers.
The following season, though, Brees beat Rivers out and led the team to an 11-4 record (with 27 TDs and seven INTs) on his way to winning NFL Comeback Player of the Year. Brees again started in 2005 and went 9-7. However, the QB injured his shoulder late in the season. Because of this, the Chargers decided to go with Rivers in 2006.
Brees wanted to sign with the Miami Dolphins, but the franchise and then-head coach Nick Saban infamously passed because of the injury. He eventually signed with Sean Payton and the New Orleans Saints, and the rest (68,010 yards, 491 TDs, 12 Pro Bowls, 1 All-Pro team, and a Super Bowl championship) is history.
Who knows, maybe Brees at Fox is like Brees with the Saints, and he'll eventually go down as one of the greats in the booth as well.
All stats courtesy of Pro Football Reference