Drew Brees Just Strongly Addressed Nick Saban's Biggest Mistake: 'I Was Damaged Goods'
Nick Saban has become arguably the greatest coach in college football history. He couldn't, however, emulate that success in the NFL, and his failures in the pros had a lot to do with his team's one massive miss: Drew Brees.
The New Orleans Saints legend could have joined Saban on the Dolphins in 2006, but Miami chose to pass on him, which proved to be arguably the biggest mistake in franchise history — and the biggest mistake of Saban's career.
Drew Brees started his career with the Chargers
After a stellar college career at Purdue, Brees went to the San Diego Chargers in the second round of the 2001 NFL Draft. 
He threw for 209.1 yards per game in 58 games with the Chargers from 2002 through 2005, equaling 12,127 total passing yards. He also threw for 79 touchdowns and 53 interceptions during those years and earned a Pro Bowl selection in 2004.
However, the Chargers selected Eli Manning with the first overall pick in the 2004 NFL Draft and eventually traded him for Philip Rivers. Following Brees' Pro Bowl season in 2004, he then played on the franchise tag in 2005 but tore his labrum during the Chargers' final game.
According to Sporting News, the Chargers offered him a five-year deal that offseason, but Brees and San Diego parted ways due to a combination of his injury, the team also having Rivers, and Brees having specific requests for his contract.
Nick Saban and the Dolphins passed on him
The Dolphins could have signed Brees that offseason, but it's been reported that doctors advised them not to because of his injury.
Saban, though, has claimed they offered him a contract.
"That's the guy we made the first offer to," Saban said on The Dan Le Batard Show in 2012, per Bleacher Report. "Quite frankly, he didn't pass the physical with our organization so we had to go in a different direction, and there was really nothing any of us could do about that."
Many people have still blamed Saban and the Dolphins' front office, though. ProFootballTalk's Mike Florio even argued that Sean Payton found a doctor to pass Brees' physical, so if Saban really wanted the star QB, he would have found a way to get him. 
The Dolphins eventually traded for Daunte Culpepper, who only played in four total games for them.
Drew Brees addressed Nick Saban and the Dolphins' mistake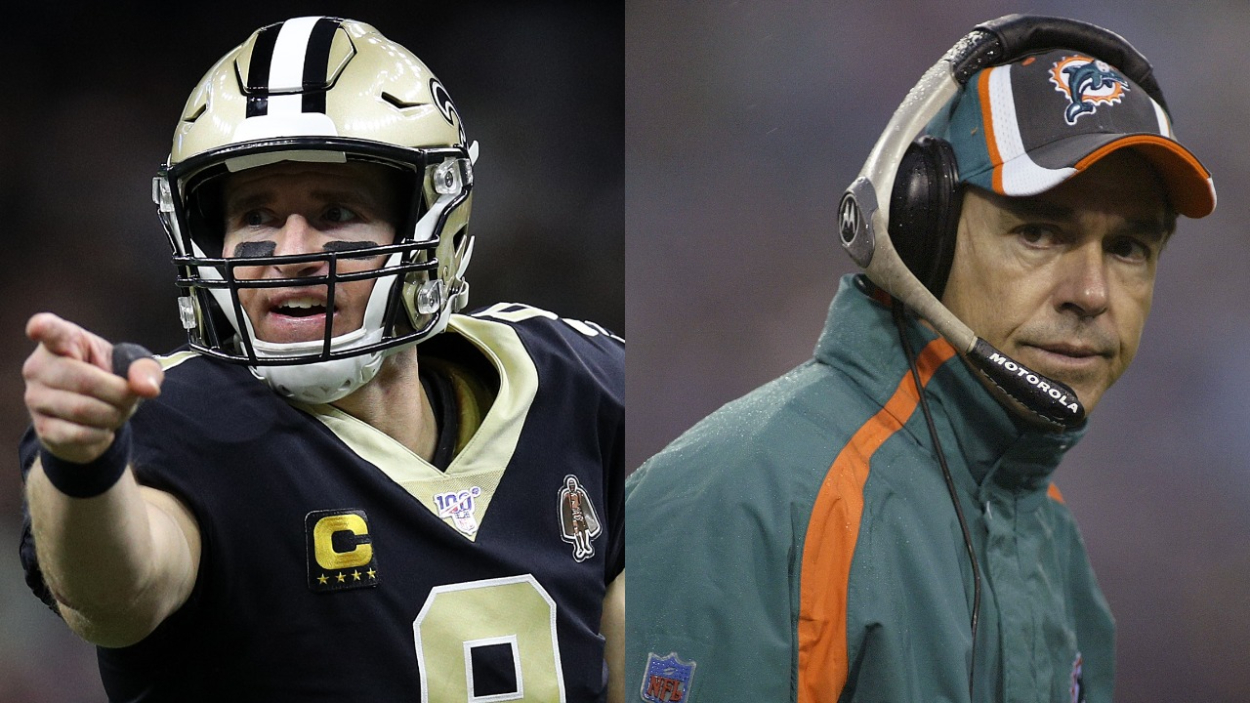 Drew Brees retired from the NFL after the Saints' 2020 season, and he recently looked back on various points of his career while appearing on the Truss Levelz podcast.
While discussing the Dolphins' decision to pass on him, Brees seemed to understand the reasoning.
"I don't blame anybody because I was damaged goods," Brees said on the July 14 episode. "I had this shoulder injury that was pretty significant. I'll be honest; there was a period of time where I didn't know if I'd come back and be the same guy because I was going to have to learn how to throw again. … I was scared, so I don't blame others for being scared too."
While Brees and Saban didn't get to team up in Miami, everything ended up working out for both of them.
"Think about how history changes as a result of that," Brees said. "What I thought was one of the worst things that could have happened to me in my career with the shoulder injury brings me to New Orleans; it takes Saban over to Alabama."
Everything worked out for Drew Brees on the Saints and Nick Saban in Alabama
Saban only spent two seasons with the Dolphins as he went 9-7 in 2005 and 6-10 in 2006.
He then went to Alabama in 2007 and has since built that program into the most dominant in the country. Saban has won six national championships with the Crimson Tide and almost always has them in the College Football Playoff.
Drew Brees, on the other hand, led the NFL in passing yards in seven different seasons while on the Saints and in passing touchdowns four times. He also earned 12 of his 13 total Pro Bowl selections with New Orleans and won a Super Bowl during the 2009 season. He finished his career with the most passing yards in NFL history (80,358) and the second-most passing touchdowns (571).
So, while Saban and Brees could have had success together, it all worked out for both of them. Dolphins and Chargers fans, though, probably lose sleep at night, thinking about what could have been had their teams signed/re-signed Brees.
Stats courtesy of Pro Football Reference